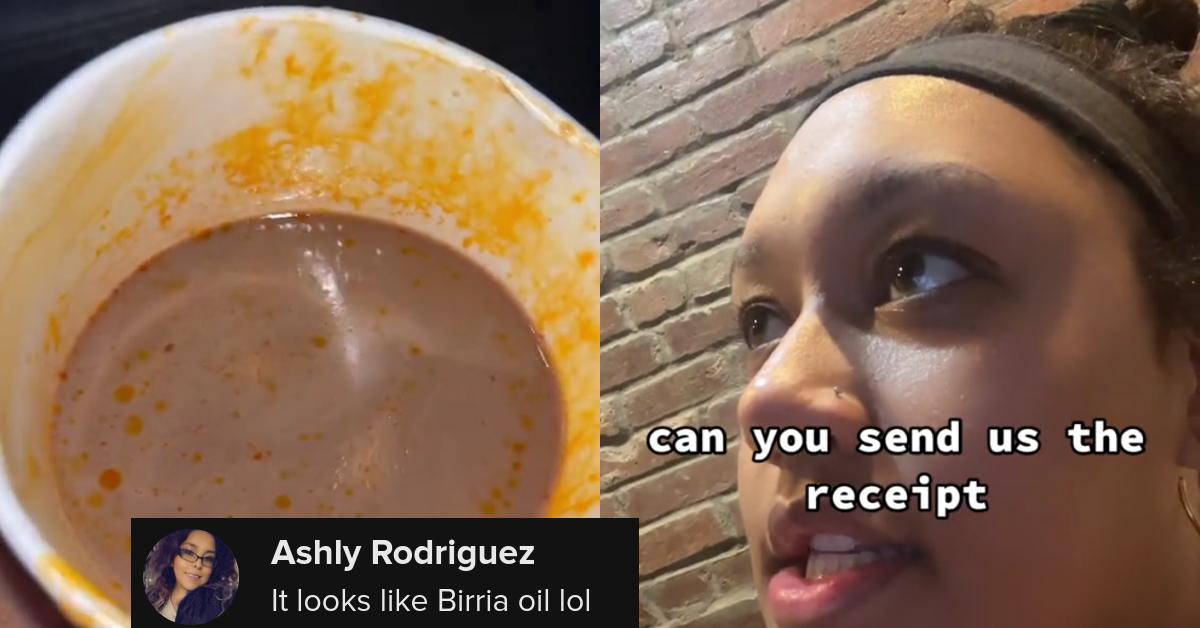 Woman Finds Mysteriously Red Oil in Dunkin' Coffee, Can't Get Answer as to What It Is
A Dunkin' Donuts customer went off on the brand after finding what appears to be red oil in her coffee, and she wasn't happy with the brand's reaction.
Everyone has their favorite food chains that they like to order from and their favorite items that they like to get from their respective chains. For me, when I shrug off the shame of eating fast food (which isn't that difficult) I'm a Taco Bell Crunchwrap Supreme and Chicken Quesadilla type of guy.
Article continues below advertisement
And there's something comforting about knowing that no matter which Taco Bell I visit, whether it's out of state or in another country, I'm more or less going to get the same experience when I chomp down on these items. So anytime there's something "off" about them, it can be a real bummer.
Usually, whatever is wrong with the food can be chalked up to a simple error when making the dish: maybe one place forgot an ingredient or went too heavy with another. In the case of this Dunkin' Donuts customer, however, she took a gander inside of her cup of coffee and saw that visually there was something amiss.
Article continues below advertisement
Ciarra (@ciarrahu) uploaded footage of the inside of her Dunkin' cup which appears to have a bunch of red specs inside of it. Upon closer inspection, it looks like spicy, oily Ramen water. Whatever it is, she was not a fan of seeing it inside of her beverage. She says in the clip: "I need someone to tell me is this normal or not to be in my f***ing coffee from Dunkin'?"
Article continues below advertisement

She continued, "What the hell is this actually someone tell me. What, what is that? I got like the brownie batter latte and I was taking it off cause it was like dripping, what is this is that like the syrup? Dunkin' I have questions. Please. What is this?"
Article continues below advertisement

Ciarra said that she reached out to Dunkin' Donuts to ask why her coffee looked like that, and she updated her TikTok account with the company's response, stating that they eventually responded: "So Dunkin' finally got back to me, after like 8 f***ing emails."
Article continues below advertisement

She continued, "Cause they're like 'what store number was it. Can you send us the receipt? What's your Dunkin' ID number? Your email doesn't match up with one you're emailing from now.' First of of all, Dunkin', I sent you everything that you needed I sent it all. And then they're like going back and forth with me and like we have credited your account $4.67."
Article continues below advertisement

Ciarra didn't think this was an appropriate response from the coffee chain: "Are you f***ing kidding me? I'm sorry I was expecting like you know oh also here's a $10 gift card or $20 whatever it may be for like my inconvenience. I'm pi**ed now, like honestly, I'm not gonna..."
Article continues below advertisement

She then mocked the idea of threatening the coffee chain from ever buying products from them ever again: "Dunkin' I'm not gonna buy coffee from you, like my own purchase is really gonna put them under, no but still, I'm pi**ed."
Article continues below advertisement

Folks who saw her post too thought that the substance in Ciarra's Dunkin' beverage could've been a red-colored oil: "It looks like Birria Oil," one user said.
Another wrote: "This is giving me Pozole juice vibes"
Article continues below advertisement

One TikTok user shared how they received a much different reaction at a Chick-fil-A restaurant when one of the store's employees forgot their dressing: "they gave me a free salad with dessert."