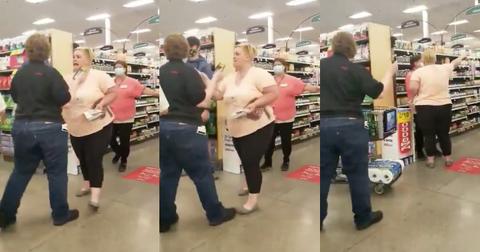 Religious Anti-Mask Karen Screams at Shoppers to Leave Her Alone 'In Jesus Christ's Name'
By Robin Zlotnick

Jul. 23 2020, Published 12:46 p.m. ET
A woman with no mask on was recorded screaming as she walked up and down the aisles of a Fred Meyer grocery store in Longview, Wash. She commanded a "demon" to leave the aisle so she could shop alone.
Article continues below advertisement
The video is just one of many to go viral in recent weeks following mask mandates in many states and counties around the U.S. But this anti-masker wasn't content to shop near other masked people. She yelled at others to get out of the aisle and leave her alone.
Religious anti-masker with a terrible hair stylist won't let anyone in the aisle until she can pick out what she wants pic.twitter.com/LuXG09E7Gu

— Fifty Shades of Whey (@davenewworld_2) July 21, 2020
Article continues below advertisement
"I said get off this aisle!" she yells when the video begins. "I command you in Jesus Christ's name to get off this aisle." When a store employee tries to approach her to calm her down, she yells, "Back off! Back off! You need to leave, in Jesus Christ's mighty name. No."
She turns around and yells at another masked person: "Back off! Get off this aisle. You are a demon. Get off this aisle and buy something!"
Article continues below advertisement
Once no one else is in her way, she stops and starts to look at items on the shelves, seemingly calmly shopping. When she hears a store employee explaining that there's a customer causing a problem in one of the aisles, she continues, "That's right, until I can buy something, then I will happily leave. I refuse you all and cast you into the lake of fire in Jesus Christ's mighty name."
Someone in the background can be heard saying, "You don't have that right." She responds, "I said stay off this aisle until I can buy something. Have respect for Jesus Christ's saints." The woman then approaches yet another person who dared to walk down her aisle and scream at them for being there.
Article continues below advertisement
You can hear the person filming the video ask, "What is wrong with people? Like is that the way you think you're really going to get your message across?" They then explain that the woman started this commotion because she didn't want anyone else to enter the aisle while she was in it so she could get what she wants.
Article continues below advertisement
In a subsequent video, also posted to Twitter, it appears that this woman ended up being removed from the situation and physically restrained by grocery store employees. The video shows her being held down on the ground by an employee and yelling, "Let go of me!"
The person filming this video explains that she was getting in elderly women's faces and screaming and chasing people off. She wasn't about to stop her behavior, so grocery store workers stepped in to physically detain her.
Article continues below advertisement
This is far from the first incident in which someone confronted people yelling and screaming because of an apparent innate inability to put on a mask and mind their own business. A woman in Trader Joe's made a scene when she claimed she had a breathing problem that precluded her from wearing a mask.
Article continues below advertisement
It's not clear what kind of ramifications this woman will face for her outburst. She clearly thinks that her belief in Jesus entitled her to special treatment, but I think the Christian principle is "Love thy neighbor," not "Scream at thy neighbor until they leave you alone in the grocery store aisle."