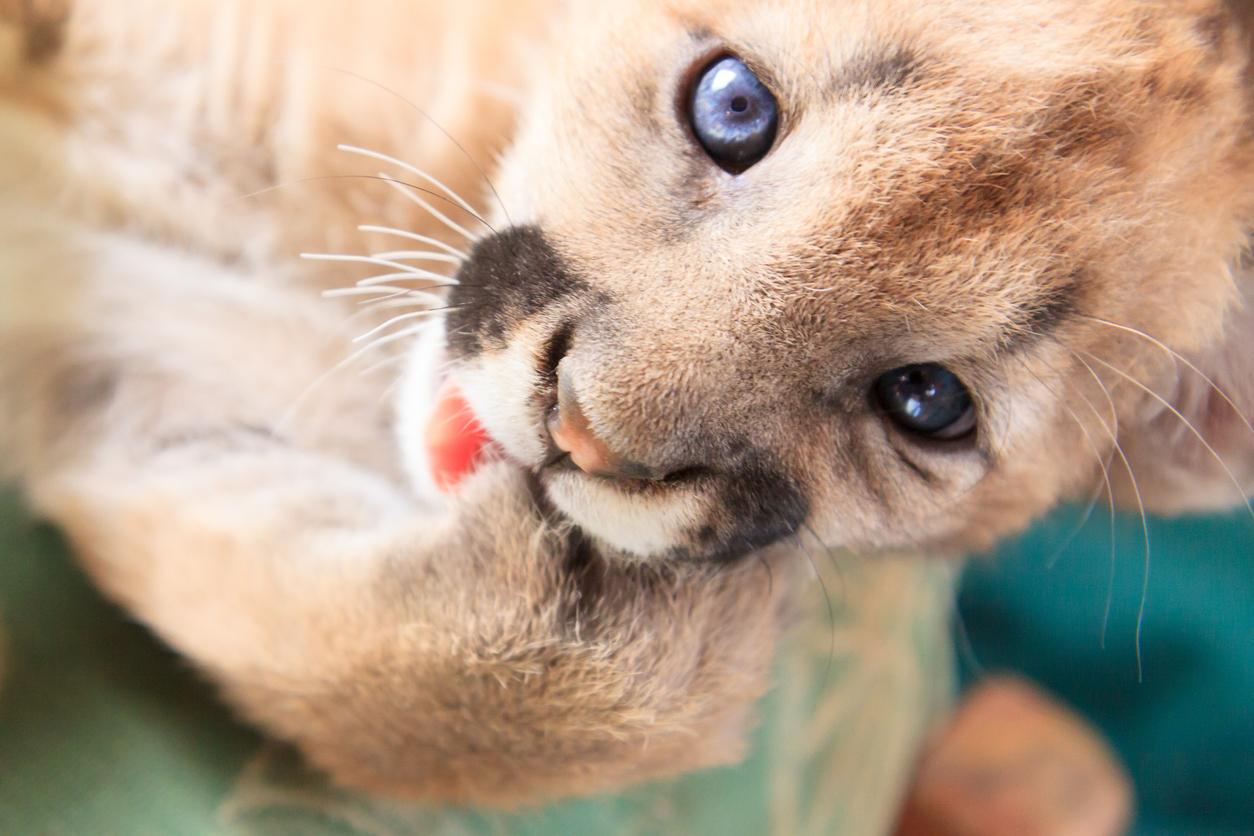 This Puma Rescued From A Contact Zoo Is Too Friendly to Be Released Into the Wild
Mariya and Aleksandr Dmitriev share a small one-bedroom apartment in Penza, Russia. Like most couples who are tight on space, they decided to get a house cat over a dog. However, that house cat just so happens to be a 90 lbs. puma.
The couple first spotted Messi at the Saransk Zoo. Back then, Messi was a sickly cub. Hoping to nurse him back to health, Mariya and Aleksandr offered to buy him. To their surprise, the management said yes.
Article continues below advertisement
Messi was one of three cubs born at the zoo. The other two were also named after famous soccer players, Suarez and Neymar, in celebration of the city hosting several games of the World Cup.
Now two-and-a-half years old, Messi has grown so attached to his human parents that any plans to release him into the wild, or even a zoo with other animals, would likely end in disaster.
Article continues below advertisement
So, the couple have since transformed their hallway into a puma play pen. The couple have even invested in a puma-sized coat and harness so they can take Messi on adventures around town.
Article continues below advertisement
Mariya, 28, explaied to The Mirror how everything fell into place:
"His name is Messi, after the famous footballer. He got his name from the zoo in Saransk where he was born, who had three puma kittens and decided to name them all after famous players in honour of the World Cup."
Article continues below advertisement
"When Messi was three months old he was sold to the zoo in our city Penza," she continued. "That's where we saw him for the first time and it was love at first site. We had three days of thinking hard about whether it was moral to keep a puma, and whether it was common sense to have one. But nothing could fight our sudden wish."
Article continues below advertisement
Mariya continues to explain that she was shocked when the zoo said yes:
"So we went to the zoo and started negotiations to buy Messi. We were surprised ourselves when they agreed. We were so happy, and even though he was quite weak and demanded a lot of attention, we didn't regret our decision at all."
Article continues below advertisement
Because of his health problems as a cub, Messi is only around two-thirds the size of a normal puma. But his relatively small size hasn't made Mariya and Aleksandr complacent.
"Of course it's quite dangerous having such a large cat at home, but Messi is a special animal," Mariya explained. Everyone who knows him thinks he is a human in a puma's skin. He is very talkative and always answers when we speak to him. Sometimes he agrees with what we say, but sometimes he can be insulted. He's and incredible animal."
The couple constantly warn their 700,000 against owning big cats, warning that Messi is one-in-a-million. Mariya and Aleksandr have raised him since his was young, and even had a handler who trained bobcats teach him commands. Messi is also so small and required so much human intervention to keep him alive as a cub, that he could never be released into the wild or even a zoo with other pumas.
Messi seems perfectly happy in the couple's one-bedroom apartment, though.