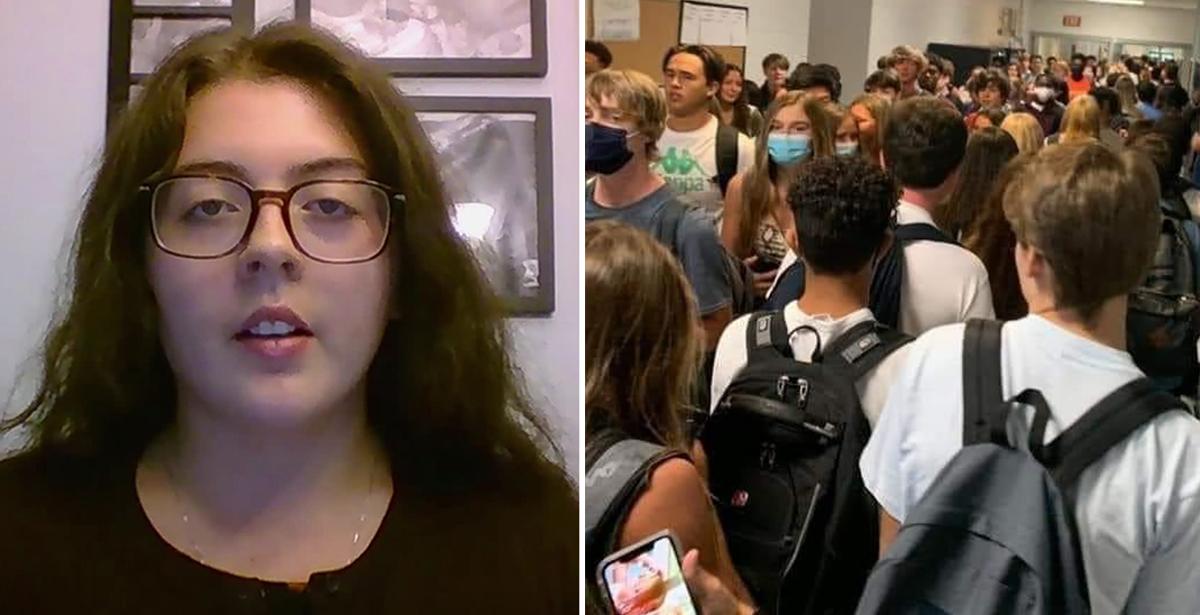 School That Suspended Students for Taking Photos Temporarily Shuts Down After 9 COVID Cases
A school that briefly suspended two students for taking photos and videos of crowded hallways has temporarily closed down for a deep cleaning after three staff members and six students tested positive for coronavirus just one week into reopening.
Article continues below advertisement
Hannah Watters, 15, and a friend posted photos of crowded hallways at their school to Twitter this week. Watters' photo went viral after it was shared by the account @Freeyourmindkid.
Watters told Buzzfeed News that she received a five-day, out-of-school suspension for posting the photo, as well as a video, to social media. The school eventually lifted Watters' suspension amid national outcry.
Article continues below advertisement
And just a few days after the incident went viral, North Paulding High School will switch to digital learning on Monday and Tuesday after three staff members and six students tested positive for the coronavirus. The Paulding County superintendent consulted with the Georgia Department of Public Health following the infections.
Officials said the school will be closed for two days to be cleaned and disinfected.
"The district will consult with the Department of Public Health to assess the environment and determine if there are any additional close contacts for confirmed cases who have not already been notified."
Article continues below advertisement
According to WSBTV, Paulding County Schools have seen a total of 53 coronavirus cases within the district since July 1.
Watters claims that she was pulled into the school's office and told that she had violated the student code of conduct after she posted the photos on Twitter last week.
"The policies I broke stated that I used my phone in the hallway without permission, used my phone for social media, and posting pictures of minors without consent," she said.
"Not only did they open, but they have not been safe," she added. "Many people are not following CDC guidelines because the county did not make these precautions mandatory."
Article continues below advertisement
In an interview with CNN, the teenager said that she's never run afoul of school rules before.
"I'd like to say this is some good and necessary trouble," she said. "My biggest concern is not only about me being safe, it's about everyone being safe because behind every teacher, student, and staff member, there is a family, there are friends, and I would just want to keep everyone safe."
Later, Watters told CNN that she has received threats since her photo went viral on Twitter. One message said, "I know where this girl lives." Others stated: "We're going to jump every girl named Hannah in the 10th grade," and "Hannah is going to have a rough day at school on Monday."
Article continues below advertisement
"I feel like a lot of teachers have my back because they know how dangerous it is going to school. But I know that a lot of the kids that I go to school with, I've already gotten backlash for it, threats and things like that," Hannah told CNN. "I know I'm doing the right thing and it's not going to stop me from continuing doing it. But it is concerning, especially since it's a lot of the people I go to school with, people I've known for years now, that are threatening me."
"I just hope that sooner or later everyone can understand that I'm not trying to shut it down and when I did expose the school district, it wasn't to cancel the senior year, not to go after anyone. It was just to keep us all safe." Hannah said. "Because you wouldn't have your senior year because sooner or later the school was going to shut down and if we shut down or just go online for a week earlier, we can contain it quicker and we can use the rest of your senior year, the rest of the school year normally."
In a statement after the videos initially went viral, Superintendent Dr. Brian Otott said that schools are following guidelines from the state, and that although some areas will be crowded from time to time, students are in contact for less than 15 minutes.