"I'm Going Crazy" — Woman Shares That She Has a Seashell Stuck in Her Ear
In a viral post, a woman said that she has a seashell stuck in her ear after a surfing accident and folks are a bit confused as to how this happened.
If you frequent the beach, there are a few things you can count on seeing. Typically, children can be seen frolicking in the water, families building sandcastles, and men having fun on jet skis and other motorized watercraft.
Article continues below advertisement
Not to mention, depending on the time of day and location, you can see surfers taking on waves. While it's common for surfers to crash out while out in the water, the last thing anyone would expect is for something to end up lodged in their ears.
However, one TikTok user shared that after a surfing accident, she learned that she had a seashell stuck in her ear. Here's the full scoop.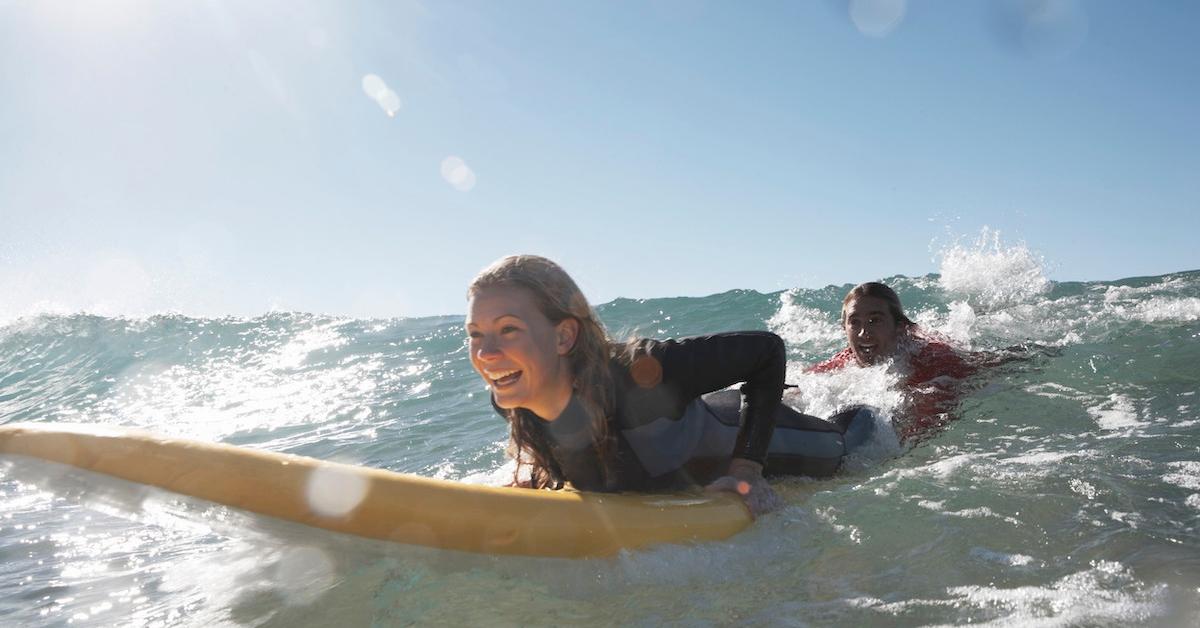 Article continues below advertisement
A woman says that she got a seashell stuck in her ear after falling while surfing.
Say it ain't so! In a June 30, 2023, TikTok video, creator Maddie Castellano (@maddiecastellano) shared that she went through a painful experience after surfing.
"The ultimate test of my patience," the video caption reads.
As the video starts, Maddie shares the shocking details.
"What do I do?" Maddie asked viewers. "We are in Costa Rica right now and three days ago we went surfing. I was surfing with my sister and I fell off my board."
Article continues below advertisement
"I fell in the water and my board shot up in the air and it came down and it landed on my head like this," Maddie said while showing a visual of the board falling at an angle in her ear. "It tomahawked my ear immediately, like excruciating pain, and started bleeding.
Maddie said that she was dizzy and couldn't hear out of her ear.
"The whole day it was leaking pus and everything, so I was like, "OK, I think I busted my eardrum," Maddie said. "I'm not sure, so I went to the doctor the next day."
Article continues below advertisement
While at the doctor, Maddie said that the doctor looked in her ear with a tool and told her, "I can't see your eardrum because you have a shell stuck in your ear."
The doctor then tried to get the shell out while Maddie suffered through the pain. However, the doctor wasn't able to get the shell out. The doctor then told me to come back in two days.
"I go back today and the good news is she can see my eardrum, it is burst, I love that for me," Maddie said. "I'm going on a flight tomorrow and I can't swim for a month. But she said that the shell is still in there. She tried everything to get the shell out and it hurt really bad."
The doctor ended up telling Maddie that she can't get the shell out.
Article continues below advertisement
"It's just going to have to work its way out," the doctor told Maddie.
Maddie said that she was going crazy given the fact that all she can do is play the waiting game.
Article continues below advertisement
TikTok users immediately shared advice on how to get the seashell out.
Naturally, TikTok users are willing to give folks advice on any problems they may encounter and Maddie's seashell predicament is no exception.
"I flew with a burst eardrum and it felt so much better because the pressure had somewhere to go. And my doctor said it was completely OK," one person shared.
Article continues below advertisement
"Hi, ENT nurse here! Go see an ENT once you get home. They have the tools to do it. Don't let anyone try to flush it out since your eardrum is ruptured," another user said.
"ICU RN here, so ask for antibiotic ear drops and immediately call USA ENT for an appointment when you get back to the USA. You can't dive, but you can fly," another person shared.
Some folks also gave pointers on how to handle a fall while surfing, including putting your arms up over your head. On the flip side, other people were worried about the pressure from the airplane causing the shell to lodge in Maddie's ear further.
Stay safe folks.