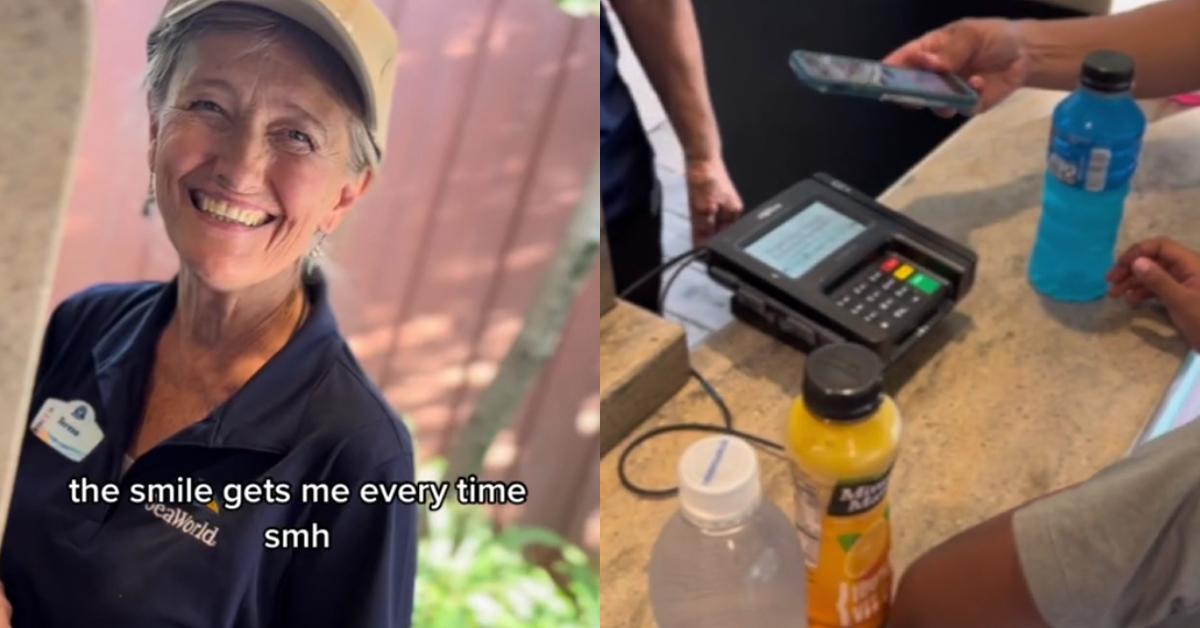 Internet Sides With SeaWorld Employee Who Told Customers to "Hurry Up" at Checkout
SeaWorld customers were accused of trying to frame a cashier in a viral TikTok as being rude; viewers who saw the clip are divided.
The fact that most people have a camera in their pocket and can, within minutes, publish whatever video footage they want for the entirety of the world to see has significantly impacted the way folks interact with one another on a daily basis in public.
Article continues below advertisement
In many ways, folks feel as if they're afforded a bit of protection in certain situations due to this fact of life. If someone's trying to con or scheme them at a business, knowing that they can put someone on blast at a moment's notice must give them a sense of some security.
However, there's a flip side: there are instances where folks are quick to whip out their phones as a means of fomenting outrage or leaving out particular details of a story to selectively paint someone in a bad light.
This is what some TikTokers think happened in this clip uploaded by a user named Bran (@thebenjaminfam).
Article continues below advertisement
Bran says that their family was being treated rudely by a SeaWorld cashier who told them to "hurry up" in a video as they were purchasing some drinks at the Orlando vacation destination.
Article continues below advertisement
"On family vacation and this happens at Seaworld," the text overlay reads as we see someone place their phone over a POS system to pay for some beverages at the counter.
"Hurry up," the SeaWorld employee behind the counter says. "Did you say hurry up?" the TikToker asks, "Did she say hurry up?"
Someone else asks, "Did you say hurry up?"
"She's waiting," she motions to the woman recording the video, who replies: "I'm her daughter. We're together."
Article continues below advertisement
The TikToker adds, "And don't tell her to hurry up. You can wait."
The video then transitions to the customer exclaiming how ridiculous they thought the entire situation was: "She done lost her mind!" she says before she records the SeaWorld employee some more.
Article continues below advertisement
The woman smiles at the TikToker recording the video and hands her a receipt. The clip ends on a still image of the SeaWorld employee's grin, with a text overlay from Bran that reads: "The smile gets me every time smh"
They add to a caption of the clip: "we spend way too much money at these parks for stuff like this to happen"
As upset as the TikToker was at the situation, there were a lot of viewers who saw the clip who thought that the entire situation was a bit suspect from the get-go.
Article continues below advertisement
Some found it odd that anyone on a vacation would be recording something as mundane as buying a few beverages, especially when you've got all tons of ocean animals jumping around and performing tricks and such.

Article continues below advertisement
Others remarked that when they've worked as cashiers, they would tell the machine to hurry up when it was taking too long to process a transaction, not the customers.
There were other commenters who thought that the TikToker and their mother were just looking to try and start a problem and that the cashier behind the counter did nothing wrong.
Article continues below advertisement
"maybe she was telling the card reader to hurry up?? like talking out loud??" one said.
Another wrote, "I'm not gonna lie to you, as someone who works as a cashier, sometimes I'll tell the machine to hurry up, not the person"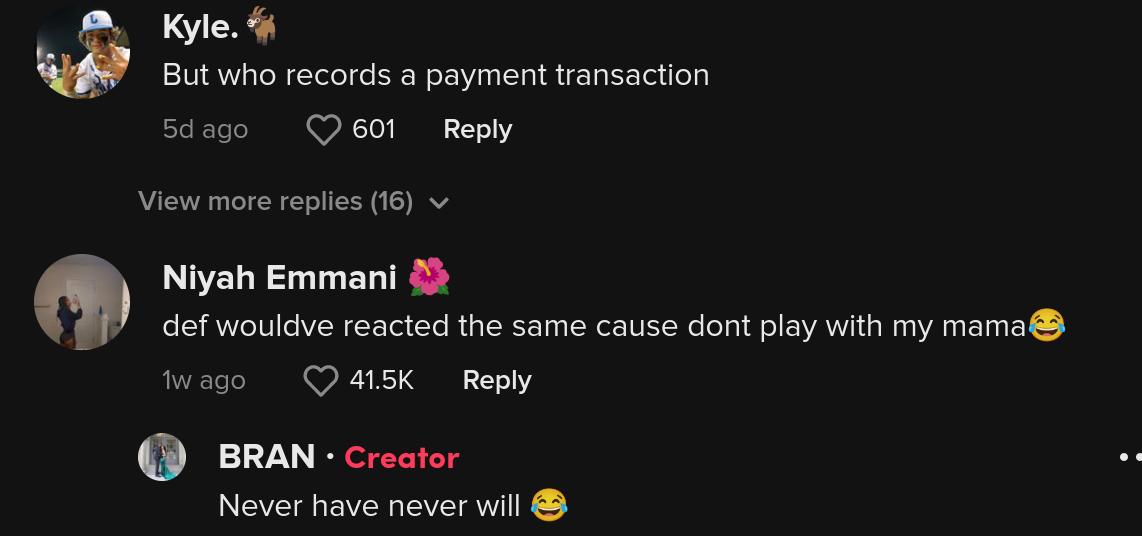 Article continues below advertisement
Others appeared to accuse the TikToker of trying to stir up drama for no reason: "I wish I was able to say this to customers yall be taking too damn long and why were u recording in the first place? Tryna find sum to complain abt"
What do you think? Were the customers trying to create social media drama for views? Or did they just happen to record a transaction to get some montage footage of their clip and just happened to capture a rude cashier in the process?