Man Encourages People to "Shame" McDonald's and Starbucks Customers with Judgmental Looks
A man on TikToker is urging folks to "shame" McDonald's and Starbucks customers for the companies' support of Israel.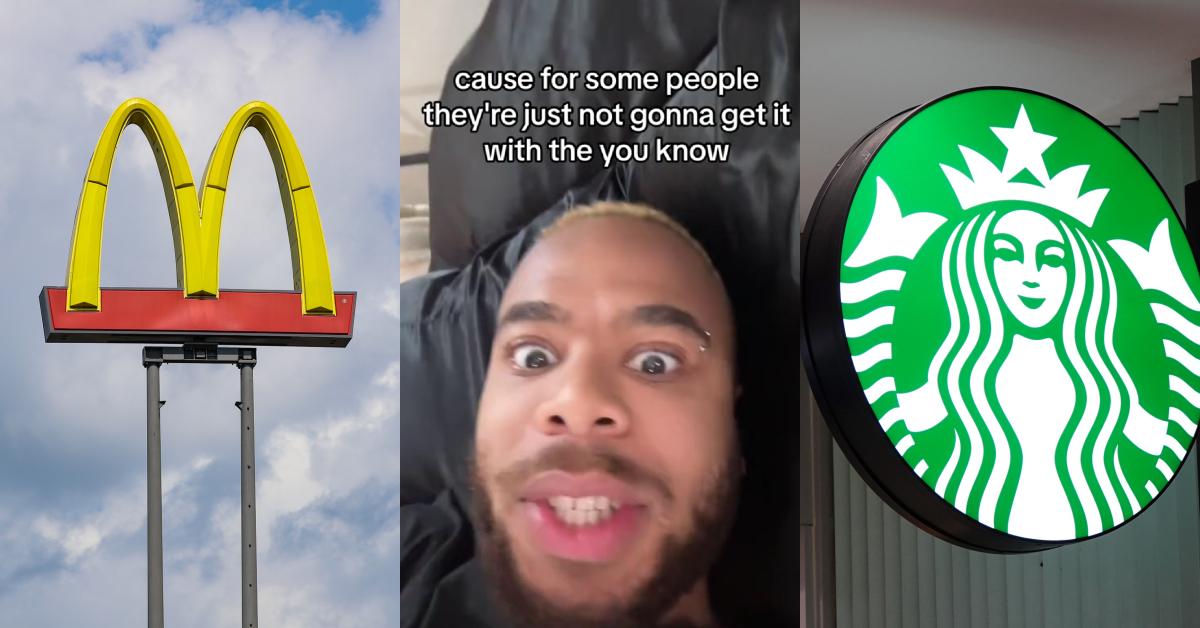 A TikTok user named Serge (@flowerboyserge) posted a viral clip of him lying down and suggesting that folks shame individuals who decide to frequent Starbucks and McDonald's as a means of protesting Israel and standing in solidarity with the terrorist group Hamas and the Palestinian people.
Article continues below advertisement
Serge says in his video: "I need you guys to start shaming people when you see them in a Starbucks or if you see them in McDonald's. Like if you're in a mall or some establishment or even just passing a Starbucks walking and you see people just like look at them." The TikToker then gives a demonstration as to the type of side-eye he's talking about.
"And just size them and be like, like I'm telling you shame people. Shaming works, shame work, cause for some people they're just not gonna get it with the you know blood money thing. Cause some people literally just don't have empathy. Some people just don't care. So just shame them."
Article continues below advertisement
Serge continues to argue why he believes shaming individuals who shop at Starbucks and McDonald's is ultimately a good idea: "Be like eww, you got Starbucks? You see a co-worker or a friend with Starbucks just look at them be like eww, be like you're supporting blood money? Shame people. I bet you it'll work too."
Article continues below advertisement
He adds in a caption for the video: "There are some things people should be ashamed about. This is one of them."
Throngs of people on TikTok and other social media platforms have urged folks to stop purchasing Starbucks products due to the chain's support of Israel.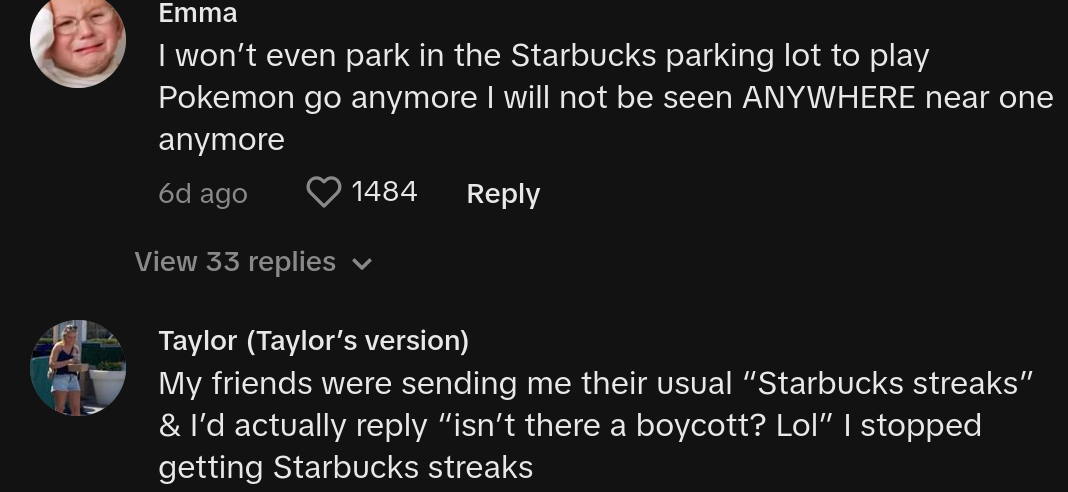 Article continues below advertisement
Starbucks, however, has responded to longstanding claims that it provides funding to the Israeli government and Israeli Defense Force on its website. The coffee chain highlighted that since it's a publicly traded company it must disclose all of its financials and that any assertions that it hands money to the country are "absolutely untrue."
Article continues below advertisement

Article continues below advertisement
Israel has come under heavy criticism on social for retaliating against the terrorist organization which intentionally embeds itself in areas with civilians as a means of attempting to escape attacks from the IDF. The October 7th attack resulted in the kidnapping of 240 Israeli civilians, including babies, children, and the elderly; between 1,200 and 1,400 died in the attack.
Some of the victims were foreign nationals visiting from other countries, like 23-year-old Shani Louk, who was one of many people attending a music festival who were ambushed by Hamas and killed.
Article continues below advertisement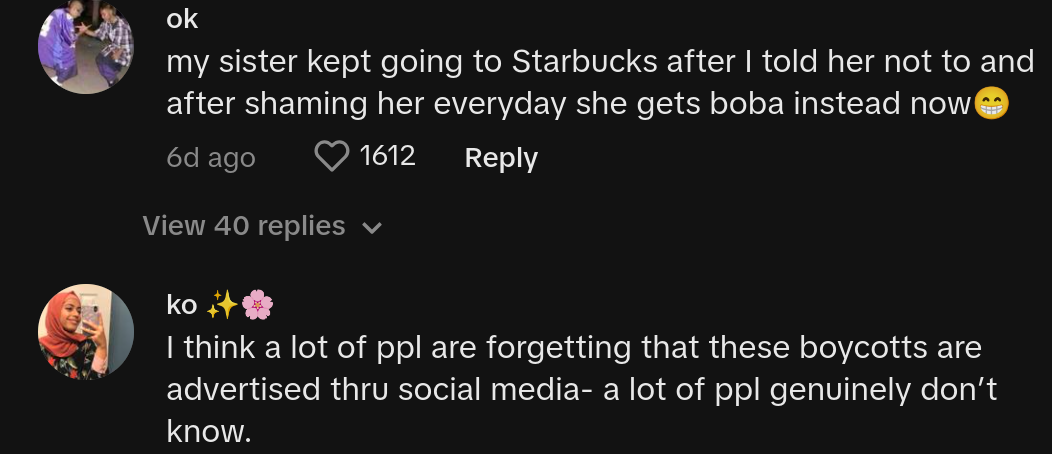 A number of political leaders have called out a rising trend of Antisemitic sentiments being disseminated over TikTok as one of many reasons to ban the social media application. Notably, Republican Presidential hopefuls Ron DeSantis and Chris Christie agree that TikTok was intentionally designed by the Chinese Communist Party as a means of brainwashing US citizens into espousing certain political views, i.e. sympathizing with a terrorist group that rapes concertgoers, kidnaps babies, and murders the elderly.
Article continues below advertisement
However, TikTok has responded to these claims, stating that the application isn't intentionally promoting pro-Palestine content over posts that support Israel: reps from the application have mentioned that teens using the app just so happen to be more supportive of Palestine.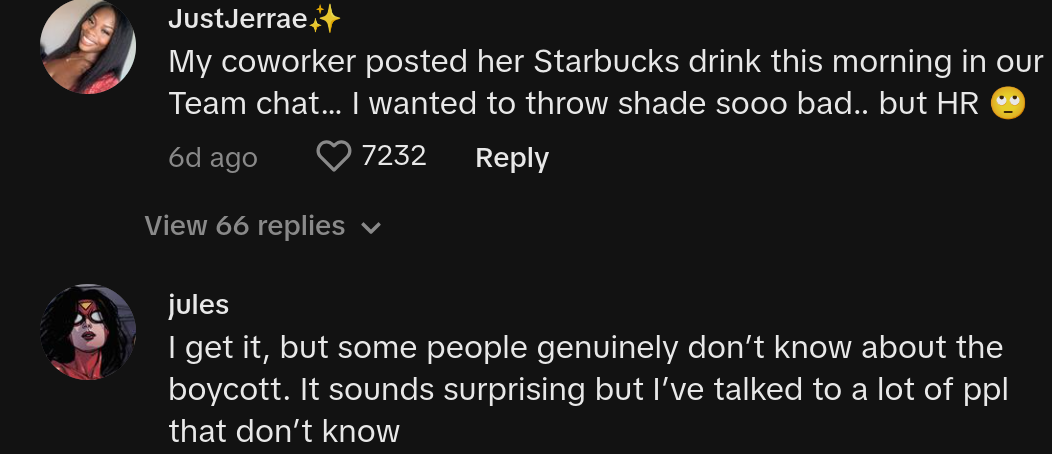 Article continues below advertisement
According to the BDS Movement, there are a number of corporations that are being actively targeted on social media for supporting the state of Israel in addition to Starbucks:
Domino's Pizza
Pizza Hut
Wix
Papa John's
Burger King
Re/Max
Soda Stream
Ahava
AXA
Puma
Carrefour
Siemens
HP
The group also published a list of "Pressure (NON-BOYCOTT) targets" as well, i.e. large-scale companies the movement isn't urging people to ban them completely but to pressure them to condemn Israel. Among them are:
Google
Amazon
Expedia
Disney
Airbnb
Booking.com