Those of us who spent hours of our pre-teenage years crouched in our friends' basements playing Skate, Skate 2, and Skate 3 are psyched for the release of Skate 4, which video game company Electronic Arts teased on June 18.
The last installment of the franchise was released a full decade ago, and needless to say, fans are hyped. Celebrate the return of the franchise with these incredible Skate 4 memes.
The release of 'Skate 4' literally screams "romance."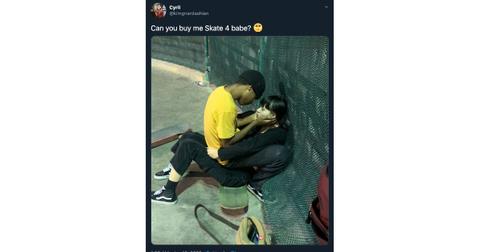 Nothing says "I love you" quite like buying your S.O. a video game that they'll probably end up playing under a weighted blanket in the basement instead of bothering to go out on dates with you. But in reality, that's what true love is.
We might end up self-quarantining until the end of time after this highly-anticipated release.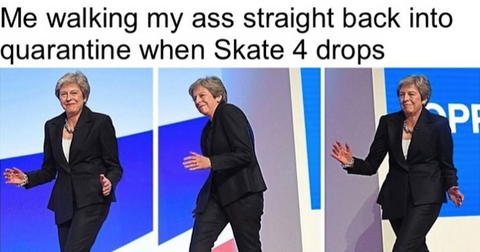 The coronavirus quarantine may not last forever, but our self-quarantining might, with the highly anticipated release of Skate 4. At this point, the rest of our lives will most likely be spent in solitude and that's A-OK.
Our real-life stunts are about to get way cooler.
There's no denying that playing any of the Skate games gives all of us a little more confidence and a lot more swagger, so don't be surprised if you see your neighbors casually stunting down the sidewalk. Clearly, they just played Skate 4 for a few too many hours and they want to test out some moves IRL.
Some of us may feel brave enough to try some ~riskier~ stunts at home.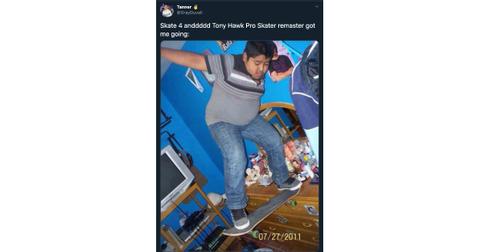 Don't be surprised if you walk into our homes and see a few broken mirrors, destroyed pieces of furniture, and scuff marks on the floor... we've just been shreddin' in light of Skate 4 and Tony Hawk Pro Skater Remaster.
You have aged a bit since 'Skate 3' came out, but don't worry — you still got it.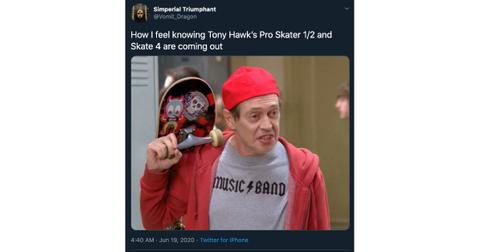 Quite a bit has happened in the last 10 years since Skate 3 came out, whether you got married, had kids, or moved out of your mom's house. There's a chance you'll return to the Skate series feeling — well — a little older than the last time you played, but trust us, you still got it.
The hype is real.
Every Skate fan is literally dancing and celebrating in the comfort of their homes, because they've been waiting 10 long years for this epic game release.
We've been waiting for this day for quite a while.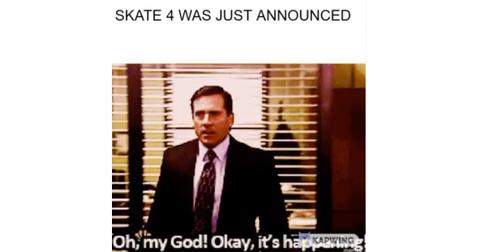 Some of us lost hope, and others held onto the fact that Skate 3 couldn't possibly be the final game in the franchise. Needless to say, the announcement was what all of us were waiting for.
The announcement of Skate 4 is — by far — the best news of 2020. And although the release date and any sort of game play is yet to be unleashed, we're looking forward to seeing the fourth iteration of our favorite game in this lifetime. We seriously couldn't be more relieved.