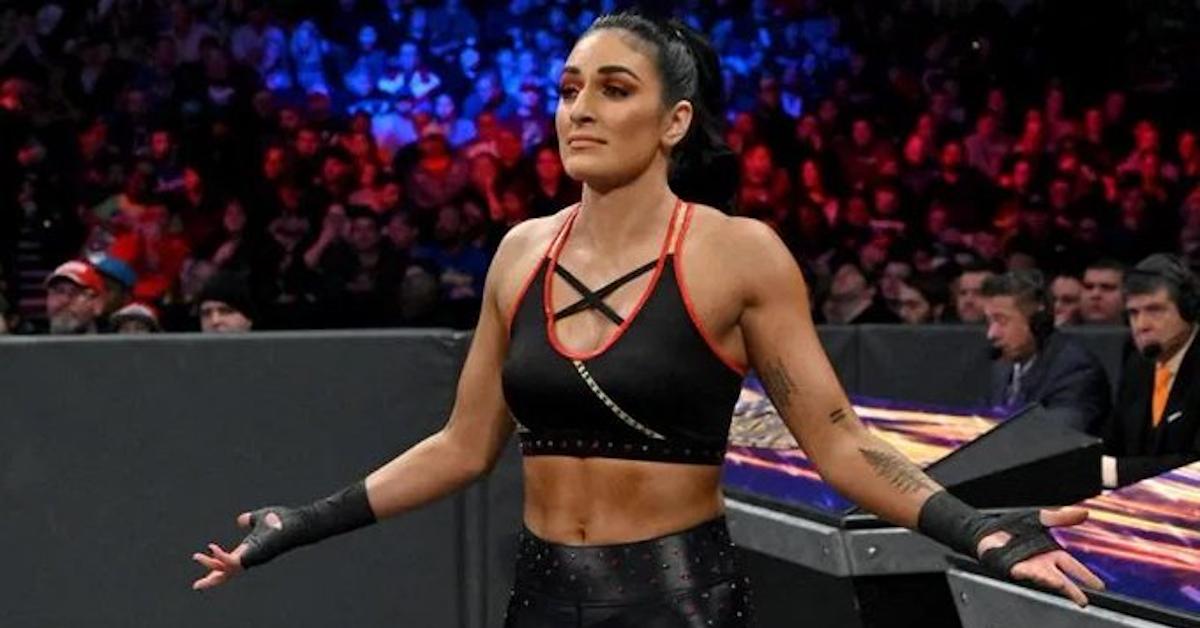 Sonya Deville's Involvement in the WWE's "Hacker" Storyline Came to a Head
The WWE's "hacker" storyline saw a shocking development involving both Sonya Deville and Dolph Ziggler, when it was revealed that the Diva was the one responsible for costing Otis his Valentine's Day date with Mandy Rose.
While the rumor mill has already been churning as to who the "hacker" is (with many thinking it's Mustafa Ali,) the tech genius' identity has yet to be divulged to fans.
Article continues below advertisement
Whoever the man behind the screen is, he's also been responsible for a series of glitches that have been plaguing WWE programming for the past few weeks.
The biggest bombshell, however, was the leaked security camera footage that revealed it was Sonya who sent the devastating text message from Mandy's text to Otis — which paved the way for Dolph Ziggler to swoop in on Mandy Rose on Valentine's Day.
Additional footage revealed that Sonya and Dolph were in cahoots the whole time, much to Mandy's chagrin. So who is this mysterious "hacker," and what could they stand to gain by driving a wedge between Mandy and Sonya while simultaneously outing Dolph as the kind of man who isn't about engaging in some skullduggery to get what he wants? (In all fairness though, that's not exactly a secret.)
The best thing to come from this is the joke that Takeshi 6ix9ine had something to do with this leak:
Article continues below advertisement
Article continues below advertisement
How will this play out for WrestleMania 36?
The WrestleMania 36 pay-per-view is interesting to consider, as it's already been taped and will air over two nights this weekend: April 4 and April 5.
The big question on a lot of fans' minds is how whatever occurs during the super long, double-feature event will tie into the most recent happenings on Raw and SmackDown.
As anyone who watches pro-wrestling can attest, all it takes is one wrong move in a match to sideline a wrestler and put a kibosh on any potential storyline. So to "pre-empt" the events of NXT, RAW, and SmackDown leading up to Wrestlemania is a risky endeavor that could throw continuity out the window. Heck, Roman Reigns pulled out of the spectacle due to health concerns mere days before it went down at the WWE Performance institute.
Article continues below advertisement
It could very well be that the WWE is airing WrestleMania 36 as a standalone PPV with only light references to events that occurred on its weekly televised programming. The more nitty-gritty plot details of the pro-wrestling storylines might be left up to NXT, RAW, and SmackDown, with WrestleMania reserved for insane spectacles of in-ring insanity.
Article continues below advertisement
WrestleMania 36 spoilers are unlikely.
Because the event was pre-taped, the organization had to work extremely hard to ensure that whoever was involved in taping the event was kept to a minimum. In fact, the number of WWE administrative employees present at 36's taping was strictly limited: Vince McMahon, Kevin Dunn, Paul Heyman, and Bruce Prichard, along with the company's "most trusted agents."
Article continues below advertisement
Those "trust agents" include employees of the WWE Performance Center along with Shawn Michaels, Brian James, and Adam Pearce.
Obviously, making sure everyone keeps their lips sealed is a tall order for a such a huge spectacle, so the WWE has a strict "no leaks" policy for WrestleMania 36. If anyone is found releasing spoilers, they're going to be summarily fired from the organization.
Article continues below advertisement
As harsh as it may sound, the policy seems to be working, as details regarding the pay-per-view have definitely been kept under tight wraps. So what do you think's going to happen at WrestleMania 36? Who will Goldberg wrestle in the main event? Will Sonya Deville make an appearance? Will we discover the identity of this "hacker"? We'll find out tonight and tomorrow!