TikToker Says Flight Left an Hour Early, Only Notified Passengers After It Already Departed
Tons of passengers got stranded after a Spirit Ailrines flight left early without notifiying passengers beforehand.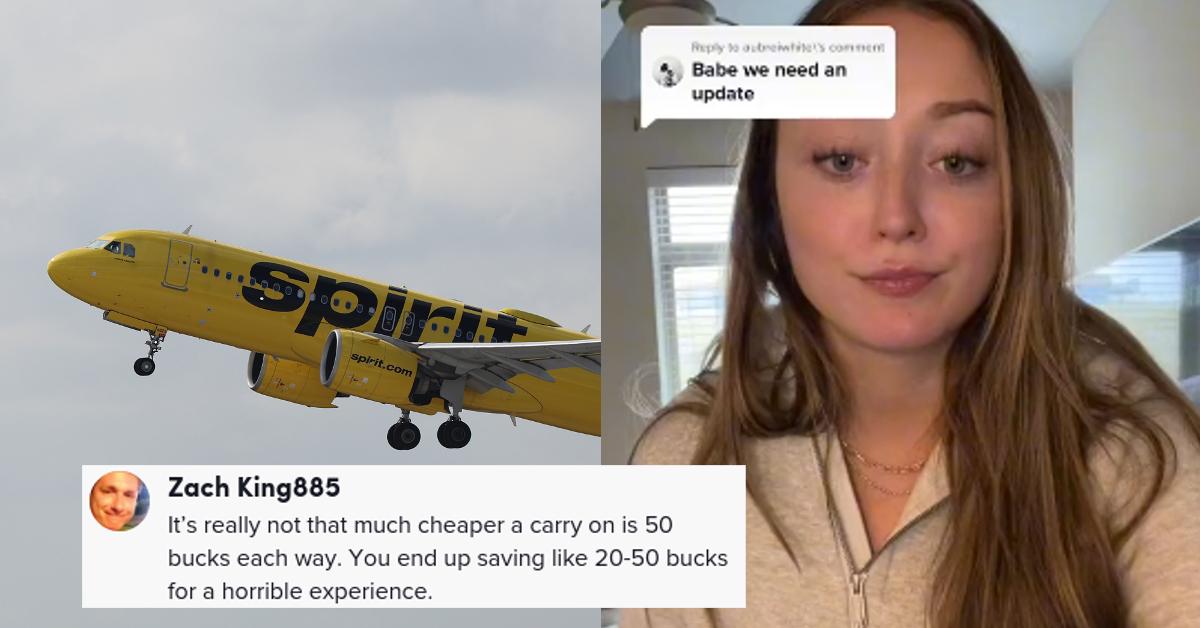 There are a few airlines that are "endearingly" referred to as the Dollar Trees of skies: chief among them are Spirit and Frontier. If you're trying to travel by plane somewhere on the cheap, it's hard to get a better bang for your buck than these air transportation providers. Of course, there are a lot of things to consider whenever you're flying on their planes and other similar low-cost services.
Article continues below advertisement
If you pack light and usually only travel with a backpack (like me) then you should be fine on Spirit or Frontier, even if there are signs that lead customers to believe that even backpacks now require additional payment to be brought on board, depending on the size. Personally, I've had to fly Frontier and Spirit and saw those signs that make it look like I can only bring a fanny pack or one of those little drawstring things aboard, but I've never had any issues with a normal-sized backpack.
You'll also have to pay a little more than you would other airlines for checked bags. There usually aren't any free snacks or drinks aboard these planes, and in the case of the Frontier flights I've been on, the seats are a notch above a lawn chair...and it's not a big notch either, we're talking small notches here folks
The thing I'm most concerned with are planes leaving on time, and of course, a lot of that is out of the airline's hands.
Article continues below advertisement
Article continues below advertisement
Kaley, who posts under the handle @kaleyreed_ states that she received an email from Spirit Airlines two minutes after her plane had already taken off. Depending on the airport you're in, passengers would typically need up to an hour to navigate from terminal to terminal in order to get on the correct flight.
Article continues below advertisement

Or, if you're flying in/out of Washington D.C., sometimes airlines will move your flight to a different airport entirely, leaving you with the taxi/Uber bill in order to board your plane. Be sure to keep an eye on those airport codes, people, because your layover flight may not connect to a plane that's in the same airport, for whatever frustrating reason.
Article continues below advertisement

Kaley says that her Spirit flight was originally supposed to leave at 4PM, but it instead decided to go up in the air at 3PM instead. The email notification she received read 3:02PM.
Article continues below advertisement

Kaley went on to say that she spoke with other customers who received the late notice and missed their flights as well. One would figure that Spirit would do its best to help her in her situation, but Kaley went on to say that customer service did nothing to help her out. They didn't issue refunds, a gift card, or an offer to put her on another flight.
Article continues below advertisement

"We're trying to talk to the customer service rep, and she's like, 'You missed your flight. It's your fault.' I just don't know how they're getting away with this," Kaley said.
The TikToker went on to dispute Spirit's charge on her American Express card and said that a member of Spirit's customer service team reached out to her on her Instagram account, but then went silent.
Article continues below advertisement

As a result of the flight "snafu" Kaley had to stay in Las Vegas an additional two days. Not only did they have to foot the bill for accommodations and other costs they didn't account for, but her husband also missed those two days of work.
Article continues below advertisement

The TikTok went viral and tons of other Spirit customers chimed in with their own horror stories in the comments section. Some joked that they would rather travel via Heelys before flying Spirit, others mentioned that they've experienced countless delays into cancellations after booking with the airline.
Article continues below advertisement

I've traveled Spirit a few times and have mostly experienced either massive flight delays, but never a cancellation, something that many people who commented on Kaley's post said they endured.
What has been your experience with the company?