TikToker Says Starbucks Barista Filled Cup Halfway After Asking for No Ice in Drink
A TikTok user claims that they were given half of a beverage after asking for no ice at a local Starbucks, sparking debate on the platform.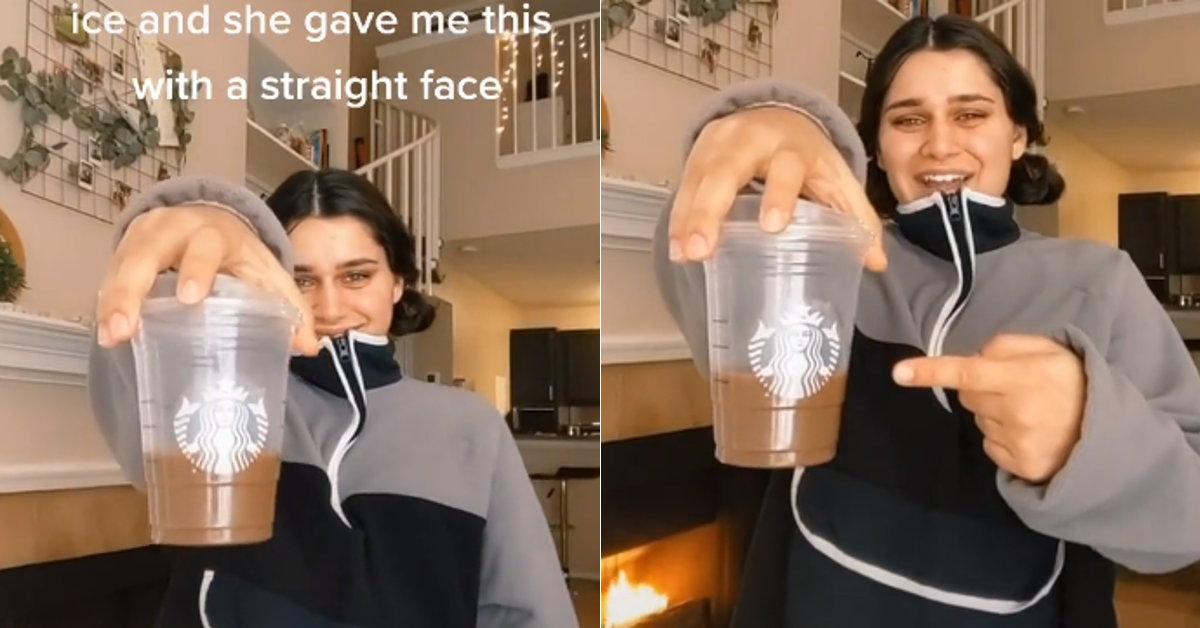 "The ice is how they get you." There were a lot of ways everyone was trying to "get you" according to my dad. Whether it's eating reheated, old fries at a diner, or not paying for the insurance from a rental car company when you're traveling on a long road trip you have no intention of subjecting your own vehicle to the unholy amount of miles you're about to put the discount Kia Sephia you rented through.
Article continues below advertisement
However, he did have a point about to-go beverages at fast food establishments and the amount of ice that's filled to the brim in these things. It almost feels like after just a few gulps your drink's almost done, which isn't cool.
What's more, is that the beverages from the fountain dispensers almost always come out cold anyway, so why go through all of the trouble of putting a bunch of ice in it?
You ultimately end up with more of said beverage in your cup when you ask for no ice, which is a good thing unless you really want ice.
That is unless you've got a Starbucks employee like the one this TikToker encountered who only filled their cup up halfway when they specified that they didn't want any ice in their latte.
Article continues below advertisement
A user who posts under the handle @chronicavida says that while frequenting a local Starbucks she regularly visits she ordered a beverage without any ice. However, the person behind the counter gave her a cup with only a few ounces of the drink in it.
Article continues below advertisement

She asked for the cup to be filled but was informed by the barista that doing so would incur a cost of an additional 70 cents. "I'm crying, I asked for no ice and she gave me this with a straight face," superimposed text over the video reads.
Article continues below advertisement

A number of TikTok users chimed in the comments section of the video, with many of them stating that the barista was "petty" for not filling up the cup.
Article continues below advertisement

"Bruh I am SURE Starbucks can afford to give u more than 2oz of coffee for $6," one commenter wrote.
"I'm a barista it's not like the milks come out of our paychecks come on yall," another remarked.
Article continues below advertisement

While there were a lot of folks who thought that there wasn't any reason for baristas to fill up the cup, as folks are paying a lot of money for coffee and it isn't coming out of their paychecks, there was also some resistance to that notion in the comments section of the now-viral TikTok clip.
Article continues below advertisement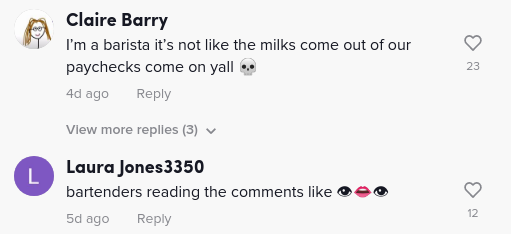 Many stated that the drinks called for pre-mixed per-serving recipes. Others stated that if the beverage was espresso-based especially that asking for no ice in the drink would be the reason why it seemed like such a small amount.
Article continues below advertisement

What do you think? Is it the same as ordering liquor from a bar and the amount that you get is the same whether or not you asked for it on the rocks or neat? Or should baristas fill it to the brim considering how large the profit margins on a cup of coffee are?