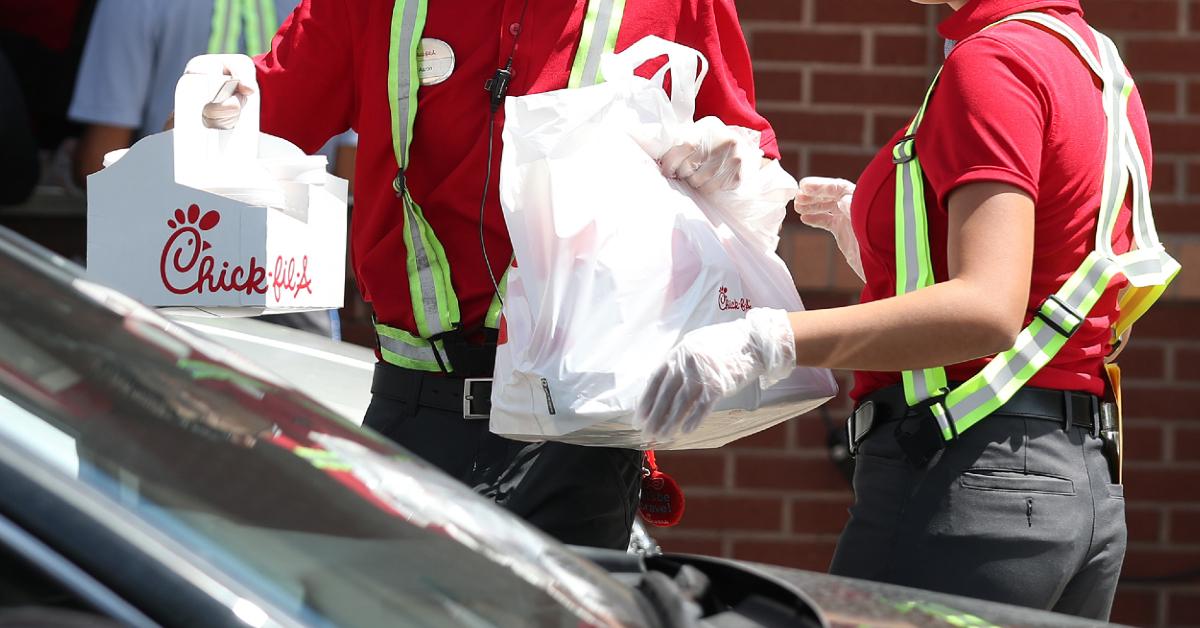 High School Students DoorDash Lunch to School, Get Sent to Admin's Office in Viral TikTok
If Fast Times at Ridgemont High was filmed today, a scene very much like the one captured in this viral TikTok would probably appear in the movie.
And while these girls probably didn't have to do as much pre-planning as Jeff Spicoli did in order to get that pizza pie delivered to his classroom, they still seem to have angered school admins as much as their movie counterparts.
Article continues below advertisement
TikToker @daddy.wendy.chill uploaded a video of what appears to be two high-school-aged girls (presumably her and her friend) laughing while eating Chick-Fil-A.
According to the text overlay in the video, they ordered their meals via DoorDash and had it delivered to the school. They munched down on their fast food from an admin's office while phone calls were made to their parents.
Article continues below advertisement
A text overlay in the clip reads: "When y'all order door-dash to school and have to eat in front of admin and getting a phone call home."
In a follow-up TikTok, Wendy shows more footage of her and her friend eating their Chick-Fil-A while sitting in the administrator's office.
Article continues below advertisement
The other video, which is set to audio of someone saying "It was never that serious," Wendy writes in a text overlay: "Eatin Chick-Fil-A in shame in admin office after getting phone calls home for ordering doordash"
Article continues below advertisement

She added they were "eating in shame" and that it "felt like [they] were in detention" after getting caught with the DoorDashed order.
Article continues below advertisement

It appears that different schools have different policies when it comes to ordering food. NJ.com penned an article in February of 2022, which mentioned a Gloucester County High School that allows students to order delivery to school as long as they adhere to the building's safety guidelines.
Article continues below advertisement

District Superintendent Greg Cappello spoke with the outlet, stating that it really isn't that big of a deal for student to order meals in while they're on school grounds: "It's basically just like any other visitor we get, whether it's a pizza delivery person or anybody else. If they come down to the office, if the students in the cafeteria, no problem."
Article continues below advertisement

Cappello added that a member of the school's administrative team would then get the student to meet with the driver and that the deliveries should be scheduled to lunch time hours.
Article continues below advertisement

It seems that students are relying on delivery services to get the grub they crave delivered to schools, with more and more teens using them throughout the country, but not all districts are on board. It appears that the biggest criticism of the apps is that they pose potential security risks as non-students are being called, sometimes at times when administrators aren't on hand to meet with them, and are interacting with students.
Article continues below advertisement

What do you think? Should students be allowed to order DoorDash while they're in school as long as they follow the building's security guidelines? Or do you think it's distracting and they should either pack their own lunch or eat whatever fare is offered at the school?