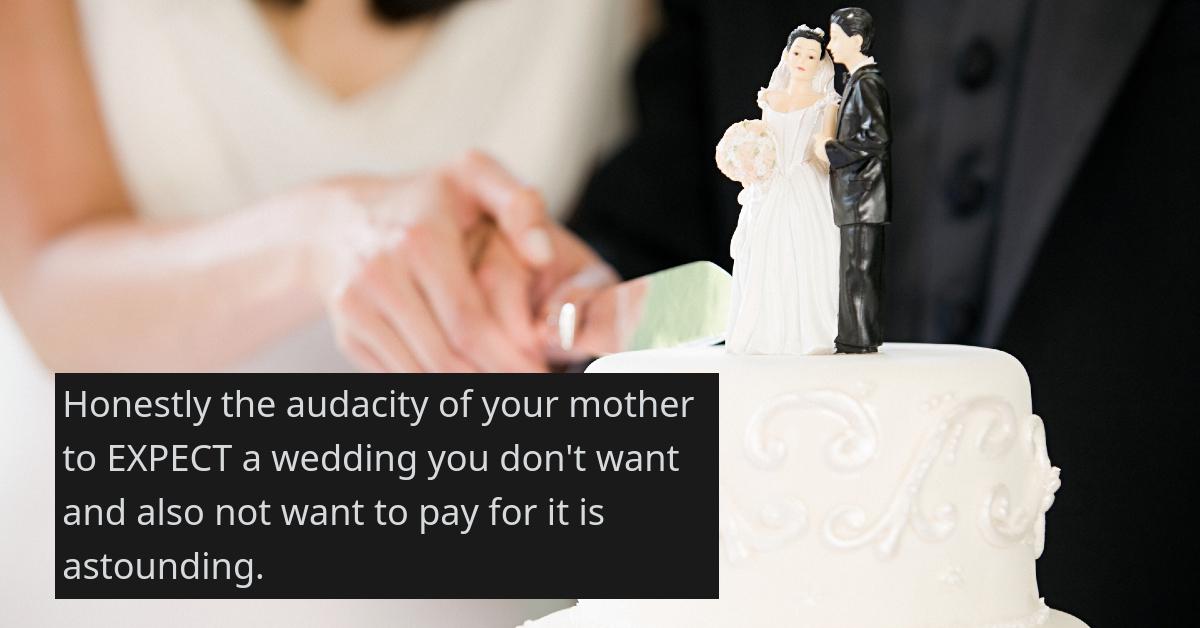 Woman's Parents Demand She Pay for Expensive Wedding She Never Wanted in the First Place
There are some parents who jump at every opportunity to use their kids as a means of showing off. They'll brag about the degrees their child has received or the jobs they work, the car they drive, and the property or properties they own.
They'll even brag about how hot and successful the person they managed to bag for marriage is too.
Article continues below advertisement
And while it's normal to feel a sense of pride over the accomplishments of your children, especially if you busted your hump to make sure that they grew up to be successful and contribute something meaningful to society, there comes a point where all of the accolades are more of a way for them to show off how great they are as opposed to how wonderful their children turned out.
It seems like a twisted way for someone to vicariously flex through someone else, but people do it. Which is exactly what Reddit user @relevant-ostrich-352 said her parents are attempting to do with her wedding.
Article continues below advertisement

According to the bride-to-be, her parents expect her to foot the bill of an expensive local church wedding where they would invite a ton of guests. She estimates that the total cost for such an affair would be a whopping $35k-$45k.
Article continues below advertisement

Her original plan for a wedding was for a gathering at a resort which only came out to $10,000 which includes the cost of travel for the groom's parents and his nephew.
Article continues below advertisement

Her mother, however, didn't like that idea and the Redditor said she would throw the more lavish church wedding and reception, but since her parents wanted it so badly, she said that they could front the cost for the difference of the wedding, meaning she and her husband would pay $10k, and her parents could cover the rest.
Article continues below advertisement

She says that her mom called her an "a**hole" for not paying for the entire thing since she does well for herself and her and her husband's combined income is more than enough to foot the bill.
Article continues below advertisement

However the Redditor doesn't feel like dropping the price of a new Tesla Model 3 on a wedding, and she's now beefing with her parents as a result. And speaking of cars, she says that her folks could definitely afford to pay for it, but that would mean they wouldn't be able to buy themselves a new vehicle this year.
Article continues below advertisement

She asked Reddit's AITA sub if she was indeed an a-hole for refusing to pay for a large-scale wedding just to make her folks happy so they could show off to their friends, and unsurprisingly, folks told her she was indeed in the right.
Article continues below advertisement

One commenter wrote, "If they want the $40k wedding, then they pay for it. Otherwise, stick to your $10k plan. In fact, do that anyway. That's what you and partner want, and this is YOUR wedding."
Article continues below advertisement

Another penned, "I never understood that mentality. As a parent, I would want to help pay for my child's wedding simply because I love them and want them to be happy. I would not use it as leverage to force my desires or ideas on a wedding that's not even mine.. That's super controlling, in my opinion."
Article continues below advertisement

What do you think? Is the Redditor right for asking her parents to pay the difference if they want a Church wedding so badly? Or do other people need to be considered when it comes to large scale events such as this?