ESPN Gives Fans a Behind-the-Scenes Look at the Kobayashi vs. Chestnut Nathan's Hot Dog Rivalry
The new ESPN documentary interviews Takeru Kobayashi and his wife about his ups and down in the world of professional eating.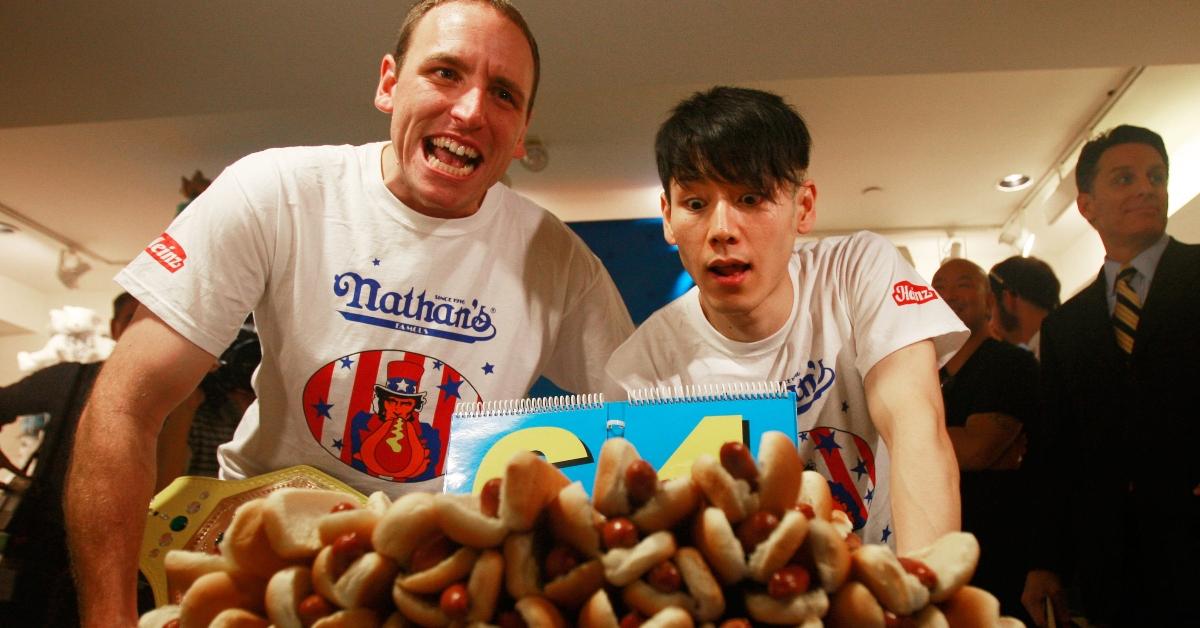 Engorging yourself on pounds of food may seem like it's reserved for Thanksgiving Day, but for professional eaters, it's a way of life. Each Fourth of July, Coney Island hosts the infamous Nathan's Hot Dog Eating Contest, which showcases individuals from all over the world shoveling the iconic American staple down their throats in hopes of being crowned champion.
Article continues below advertisement
A new ESPN documentary titled The Good, The Bad, The Hungry gives fans a closer look inside the rivalry between pros Joey "Jaws" Chestnut and Takeru Kobayashi. The Japanese competitor, Kobayashi, single-handedly put professional eating on the map with his revolutionary techniques (like dipping hot dog buns in water), and became seemingly unbeatable at the popular holiday spectacle … until he wasn't.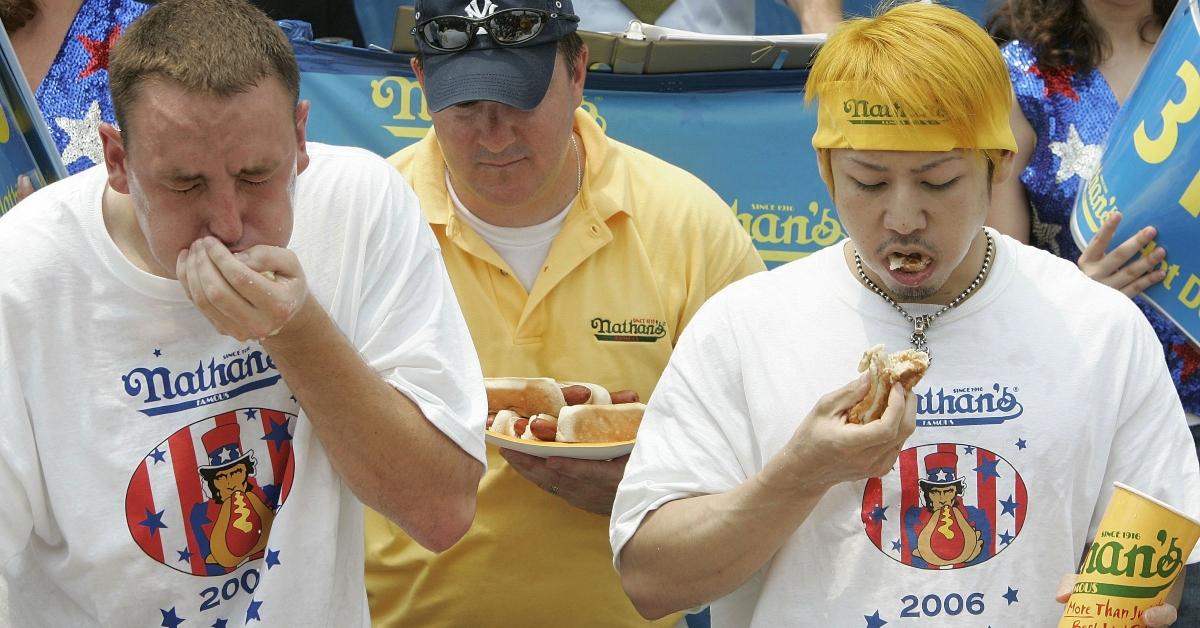 Article continues below advertisement
Director Nicole Lucas Haiems paints a compelling narrative between the American and Japanese pros as they faced off for years in the public eye. Their disdain for one another is still very prevalent, as Takeru Kobayashi says (via his wife, translator, and manager Maggie James): "I don't like him, he doesn't like me. But that's just the way it turned out to be. We're totally different people."
Why was Kobayashi banned from Nathan's Hot Dog Eating Contest?
The six-year champion's meteoric rise to fame was nothing short of amazing; however, as fast as he stuffed those hot dogs down his throat was seemingly the speed in which he lost the platform he helped create.
Article continues below advertisement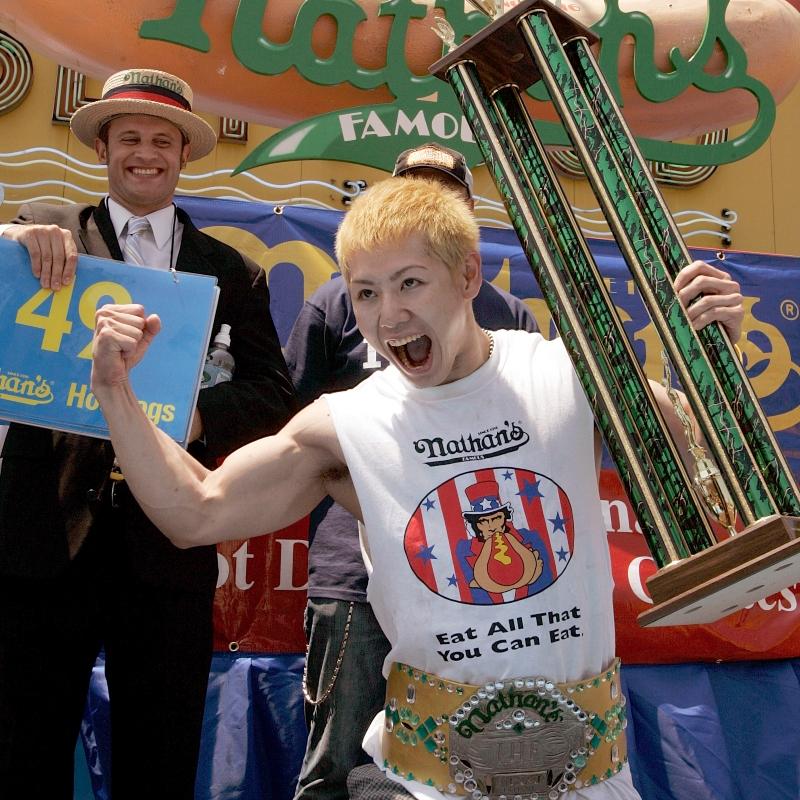 In 2007, the small-framed eater was dethroned by California native Joey Chestnut. And, the public soon turned on him. The 30 for 30 documentary shows a clip of people waving American flags and yelling: "Go home, Shanghai boy!" With tears in his eyes, he recalls, "I was shocked." Adding, "They used to cheer for me, and I started to feel I wasn't welcome in America anymore."
Article continues below advertisement
The decline of Kobayashi continued in the next few years. In 2010, the competitive eater announced he would not be participating in the famed Nathan's Contest because of contract disputes with Major League Eating. His refusal to sign the deal left him banned from all MLE events, including the Coney Island Fourth of July competition.
That same year, Kobayashi showed up to the event as an audience member. However, when he reportedly tried to make his way to the stage after Chestnut won (again) wearing a "Free Kobi" shirt, he was arrested.
"He got excited when people chanted his name after the contest .... so he jumped up on the stage because he wanted his fans to see him and (he thought) maybe they would chant, 'Let him eat,'" his manager (and wife) told CNN at the time.
Article continues below advertisement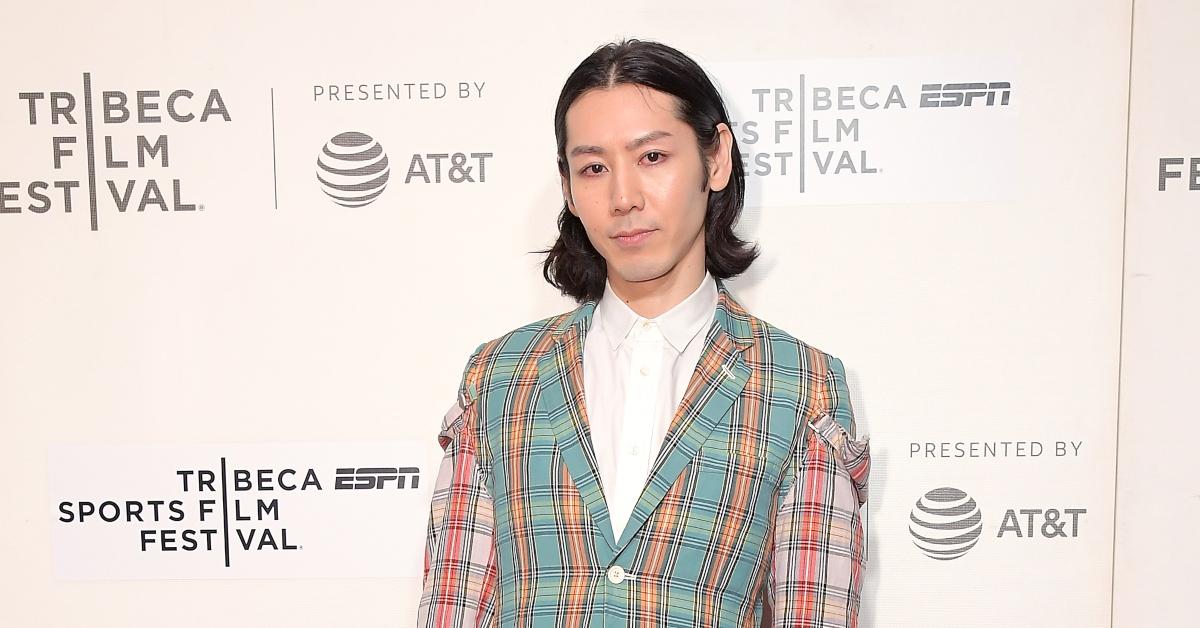 As for if he'll ever go back there, Kobayashi states in the documentary that he has "no desire at all." He explains: "After enjoying my own freedom, I've realized I have this growing sense of how satisfied and happy I am that I made the choice to not be with something I didn't believe in. So it's hard to find any desire to go there again." For now, fans of the Japanese eater can continue to watch him compete at other events such as the Gringo Bandito Taco Challenge.
Catch the new 30 for 30 documentary The Good, The Bad, The Hungry on ESPN.