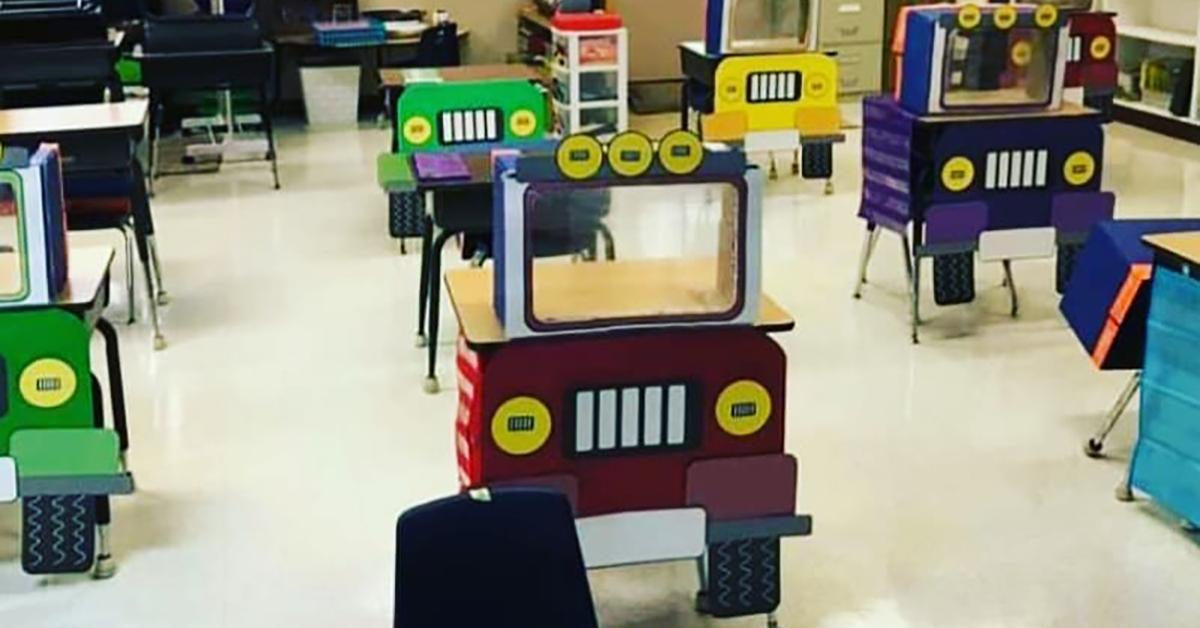 Teacher Turns Desks Into Socially Distanced 'Trucks' to Make the Classroom Fun
Schools across the country are beginning to reopen, with many students, parents, and teachers concerned about going back to class in the middle of a global pandemic. In Georgia's largest school district, at least 260 students and eight teachers have either tested positive or been exposed to coronavirus in the few days since reopening.
Article continues below advertisement
But Jennifer Birch Pierson, a kindergarten teacher from Texas, is hoping to ease some of that anxiety while keeping her kids socially distanced. A photo of her classroom went viral after it was shared by the popular Facebook group, "Maybe I'll Shower Today."
Article continues below advertisement
In a caption alongside the image, the page explained: "No playing. Masks all day. Six feet apart at all times. School seems like a frightening place, when you read about all the safety measures kids will have to adhere to this year."
"Thankfully, there are educators, like Jennifer Birch Pierson, a Kindergarten teacher from Texas, who are making lemonade from some very sour lemons and making their classrooms as welcoming and comforting as possible for our littlest learners."
Article continues below advertisement
"Check out how she set up her classroom desks to look like a bunch of trucks on the road. She even makes the required desk shields look like windshields."
"Those students who enter her classroom may have a tough time, but clearly they are in the hands of a caring teacher, and that's something all parents can be grateful for."
"Thank you to the teachers, who, like Ms. Pierson, are doing all they can and more to make our kids feel safe and happy."
One user, claiming to be a friend of the teacher, added in the comments: "This is my longtime friend's classroom this coming fall. Like the rest of us, she is apprehensive about the upcoming school year."
Article continues below advertisement
"Instead of criticizing HER, who didn't have the choice to work from home, we need to hold our elected officials accountable for treating us and our profession like second class citizens. One thing I can tell you about Jennifer Pierson is that over our 20+ years of friendship, she has exuded a passion for education and children, and her creative background as an art major and teacher has turned the classroom into an extra special learning environment."
"She comes come up with a vision, and she and her husband execute it. I'm often jealous of her artistic flair and attention to detail. Jennifer teaches in a rural, title one district in East Texas. I know she had come out of her own pocket time and again, like many of us do."
Article continues below advertisement
"But it shouldn't matter if she taught there or in the richest district in Texas. We as educators should be more supportive of each other. Like the original poster claimed, she decided to make lemonade out of lemons. I am so very proud of MY FRIEND."
Facebook users seemed to appreciate of the effort as a whole, with one user writing: "Thank you for making it an inviting place to come especially for kindergarten, it is so sad and inappropriate to expect kids to not play when we know that's how they experience the world around them."
While another added: "I've always marveled at the way teachers decorate their classrooms. I bet the kids will just be happy to be there with friends."
And one user concluded: "I have to say I think the teachers of this country are amazing and I have the upmost love and respect for them! Whether you're starting your school year virtually or teaching in person, thank you for rolling with the punches with all of us and doing the best you can in unprecedented times. Y'all are the real MVPs."