Mom Ecstatic State Banned Squatted Trucks, Records Son's Angry Reaction to the News
A teen threw a temper tantrum as his mother expressed her delight at squatted trucks being banned in the state of South Caroline in a viral clip.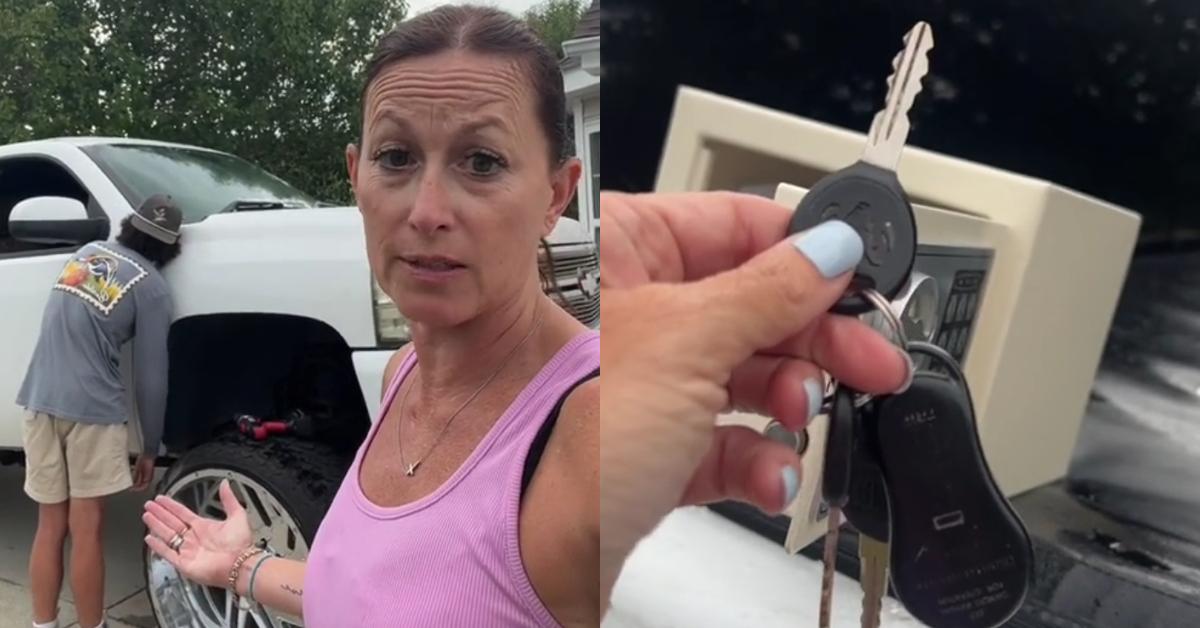 For some reason, people love doing ridiculous things to their vehicles, no matter how silly and embarrassing they look. Folks who slap fart gaskets on an '01 Honda Civic to make their exhausts sound like they have an extreme case of IBS are one such demographic deserving of ridicule.
Article continues below advertisement
And then there are folks who put tacky decals on their vehicles, or spoilers meant to stabilize vehicles traveling over 150 mph on a car that takes 15 seconds just to reach half that speed and don't instill much confidence that they'll be able to sustain that mileage per hour without a few pieces falling off.
Or the weird bow-legged tires, aka, tilted wheels, which make your vehicles look like they grew up with parents who never corrected their posture and now have a severe case of scoliosis, what gives with those?
Article continues below advertisement
Some car modifications are being outright banned depending on where one resides, and unfortunately for this TikToker, they just discovered that the particular modification they put on their vehicle was no longer legal upon learning that it recently became illegal in his area.
Article continues below advertisement
TikToker Brett Michaels uploaded a video of his mother speaking into the camera and chastising him to his followers about a recent ban on "squatted" vehicles.
For the uninitiated, "squatting" a vehicle involves cutting out the back suspension of a truck so that the front end sits higher than the rest of the car.
Article continues below advertisement
This gives the whip a distinctive look of a dog that recently pooed dragging its butt across a lawn in order to clean it. Some folks are fond of the appearance, but there are some states that have banned car owners from legally driving squatted trucks.

Article continues below advertisement
Getaway Couple writes that North Carolina and Virginia have officially issued laws that prohibit folks from bringing these monstrosities on the road, stating that they are the only two states to expressly forbid them from cruising on streets and freeways.
However, WMBF News also states that recently, South Carolina has issued a ban on squatted cars as well. The outlet writes: "The South Carolina Senate gave final approval Tuesday to a bill that would ban what's known as the 'Carolina Squat.' It's typically defined as being when the front end of a truck or SUV is higher than the back end."
Article continues below advertisement
The Senate states any vehicular modifications "that result in the motor vehicle's front fender being raised four or more inches above the height of the rear fender" would be strictly prohibited.

Article continues below advertisement
In Brett's clip, he doesn't seem too happy about the news, or his mother finding out about it, as she speaks into the camera. He can be seen angrily stomping around his driveway and putting his hands on his head in frustration that he doesn't get to drive around a truck resembling Quasimodo dragging his leg around a historic French cathedral.
His mom says, "He wasn't gonna tell me but they banned squat today in South Carolina." The video then transitions to her holding up his car keys in front of a lockbox: "I'm locking his keys he never told me it was banned."
Article continues below advertisement

The clip then transitions to the young man leaning against his truck: "He already got a warning just for it sitting in the driveway today. There's only 180 days before it goes into effect but I'm only giving him..."
Article continues below advertisement

Brett then throws his hat on the ground in anger as his mother expresses her delight for the state of South Carolina banning squatted vehicles.
Some TikTokers seemed to agree with the mom and thought that they should be banned as well: "This guy when his pedestrian killer 5000 becomes illegal"
While someone else remarked, "yay! he can finally fix it and drive a normal truck!"