Mom Texts Daughter "I Love You" and the Teen's Response Is Heartbreaking
One mom sent her daughter an "I love you" text message and was shocked by her teen's absolutely heartbreaking response to the message.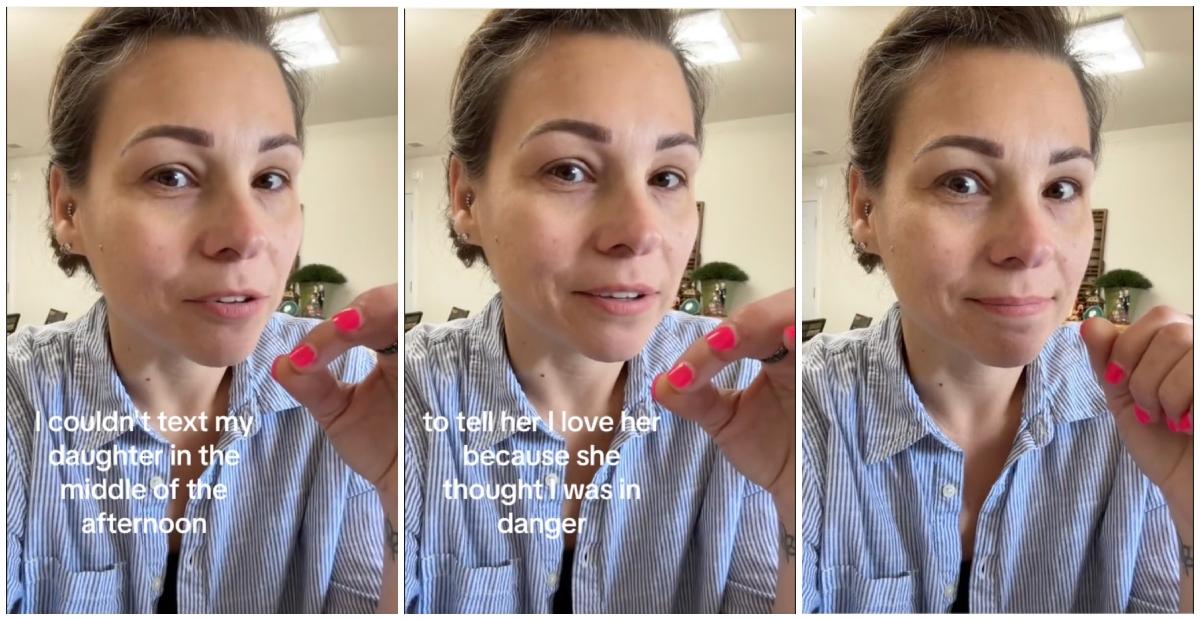 While sending an "I love you" text to you a family member may just be an innocent and thoughtful way to show them that you're thinking of them, many kids don't see it that way.
Article continues below advertisement
One mom just took to TikTok to share her daughter's response to her "I love you" text, and it's making us weep.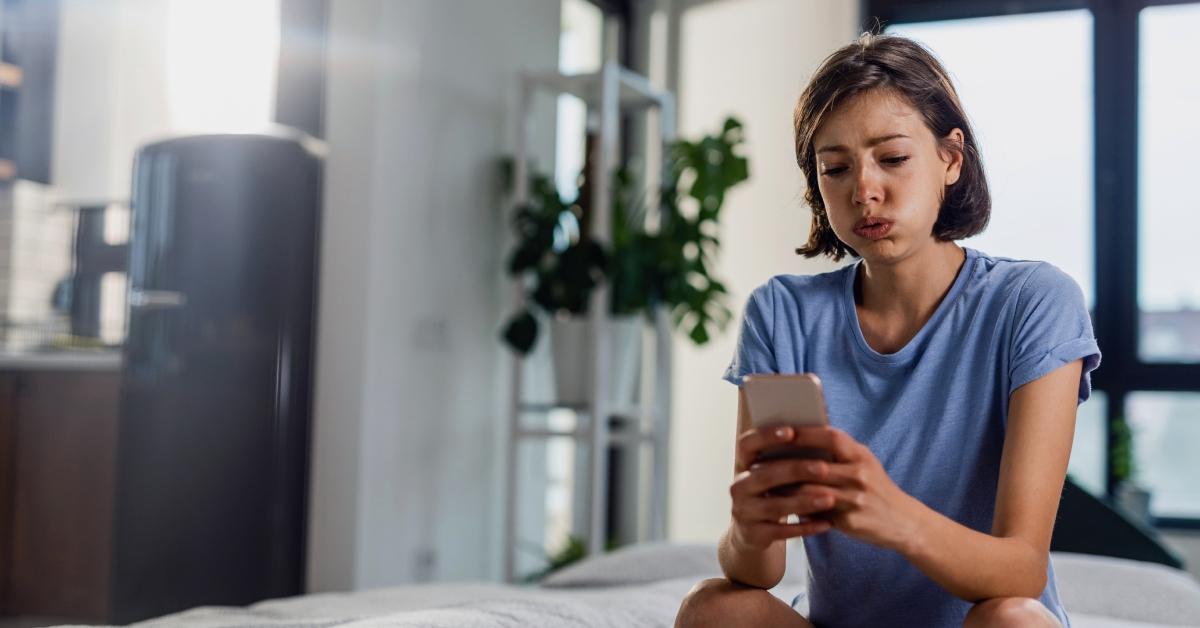 Article continues below advertisement
Mom says she texted her daughter "I love you" and her daughter had the most heartbreaking response
A mother named Shari took to TikTok (@gen3raleducation) to discuss a jarring text exchange between her and her daughter.
"I'm at the office and my daughter, who is going to be 14 in August, is at home by herself today," she explains, while filming from her desk.
Earlier that day, Shari explained that she was thinking about how her daughter was alone and sent her an "I love you" text. After sending it, she got up from her desk for a bit.
Article continues below advertisement
When Shari returned to her desk her daughter, she had two new messages from her daughter. The first one asked her if she was OK. And before Shari could even read the second text, her phone lit up as she had an incoming call from her daughter.
"I answered the phone and she was like, 'Are you OK?'" Shari explained, perplexed by her daughter's worry.
Article continues below advertisement
Her daughter explained that "I love you" is not a message you can just send leisurely. "That's what you send when you're in trouble... like a school shooting," her daughter told her.
Shari was absolutely floored by her daughter's response.
"I couldn't text my daughter in the middle of the afternoon to tell her I love her because she thought I was in danger," she said as she ended her video, adding, "F--- this s---."
Article continues below advertisement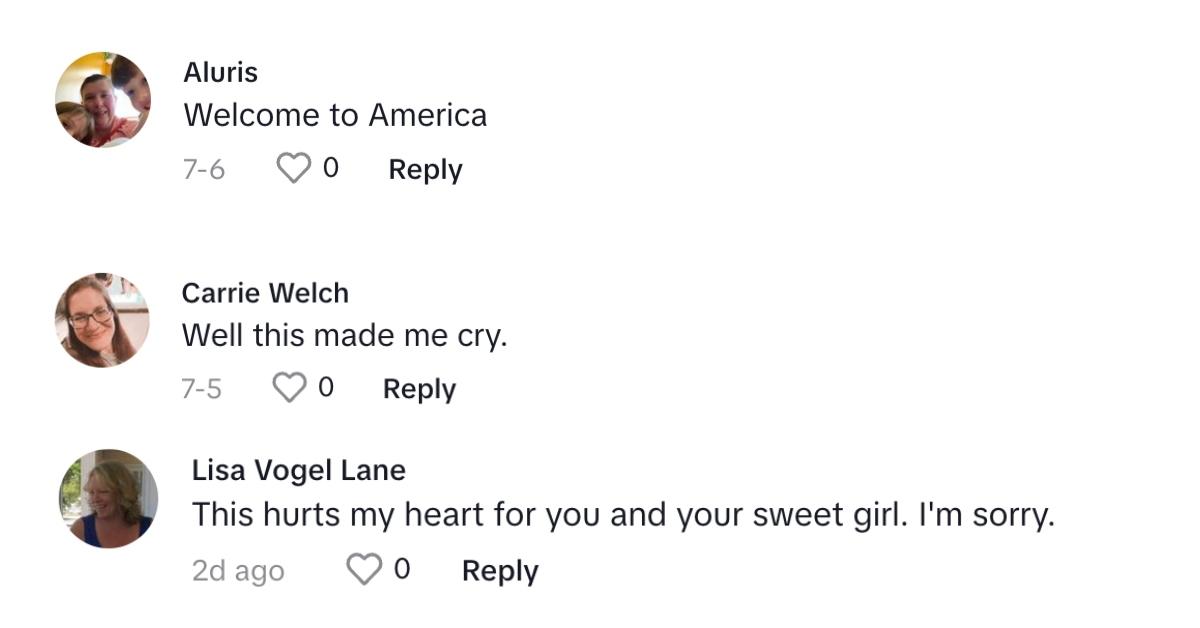 Users in the comment section felt the mother's pain. "This hurts my heart for you and your sweet girl. I'm sorry," read one comment.
Another wrote: "Well, this made me cry."
Many users, however, understood Shari's daughter's logic completely.
"The trauma these children have been put through with active shooter drills. The results are gonna be horrible. They should all be getting therapy," read one comment.
Article continues below advertisement
Another comment read: "Got those messages from my kids a year ago. (Uvlade, Texas) It's the worst."
This mother was seemingly referring to the mass shooting that happened at Robb Elementary School on May 24, 2022, where 19 students and two teachers were killed.
Fortunately, the mom followed up and explained that her kids, who were not students at Robb, are fine, but were affected by the shooting as they attended a different school nearby. "They were just on lockdown hiding under desks and such for hours. It was a horrible tragedy."
Article continues below advertisement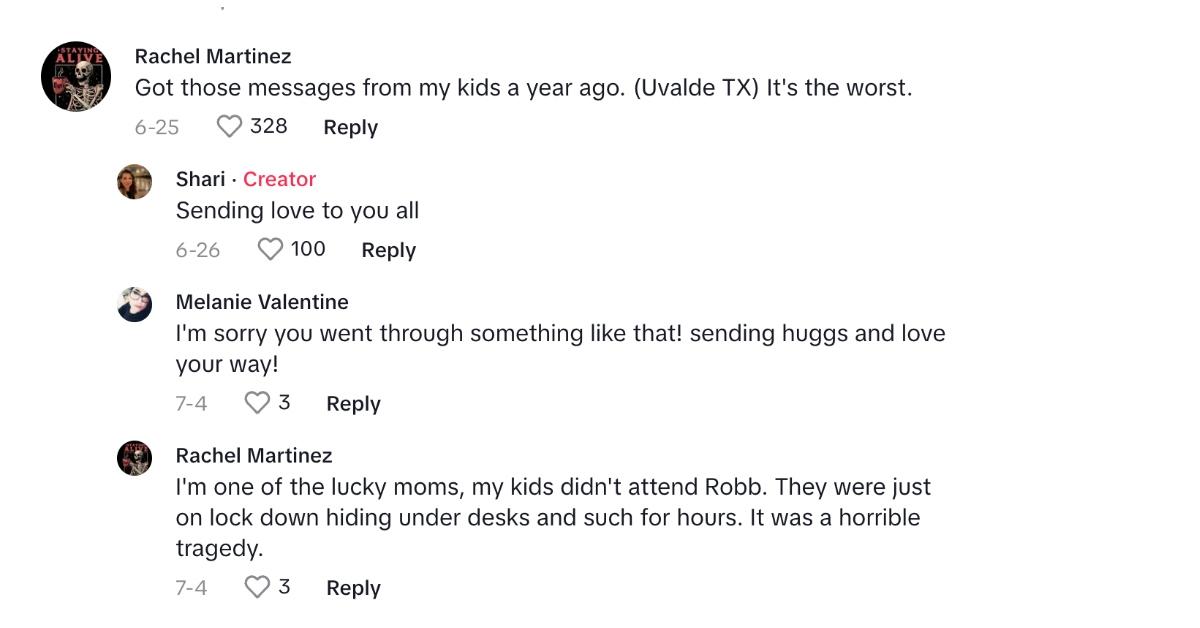 Another user wrote that she was a high school teacher and her husband told her not to send "I love you" texts because it scares him.
From Jan. 1 to June 30, 2023, the U.S. had 28 mass killings with 140 total victims. Per PBS, that was the deadliest six-month period of mass killings recorded since at least 2006.