'Terminator: Dark Fate': Where Is John Connor?
Where is John Connor in 'Terminator: Dark Fate'? Fans want to know if Edward Furlong is in the latest 'Terminator' film.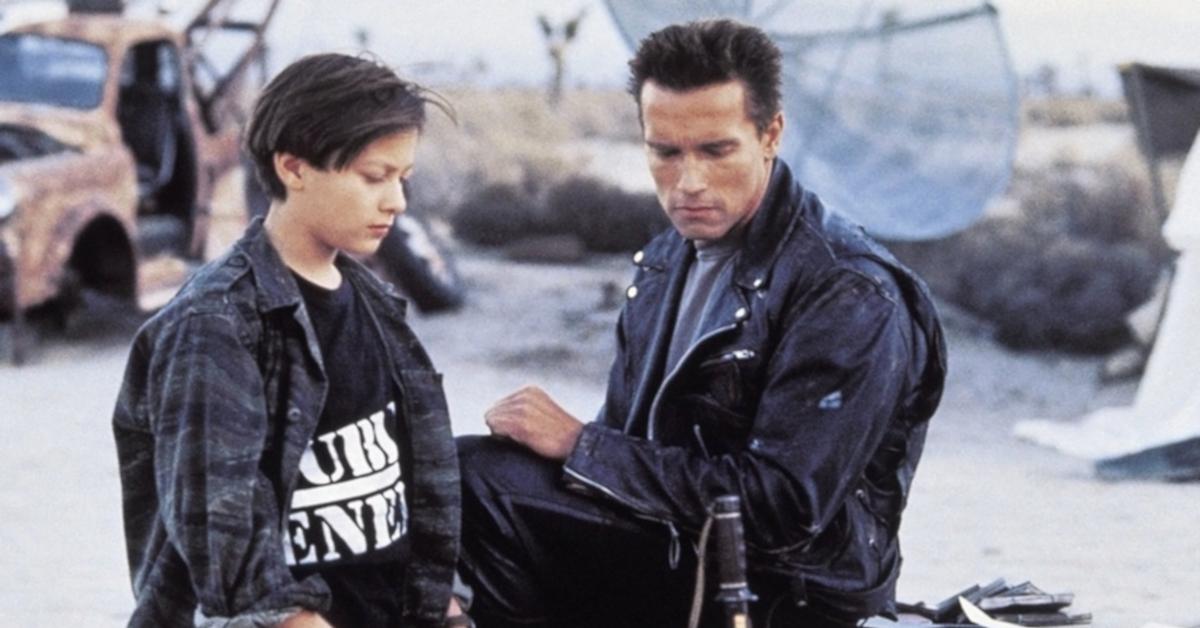 From the first trailer that was released for the upcoming film, we can already see that director Tim Miller has a different take on the franchise and that Terminator: Dark Fate seems to disregard any movie after Terminator 2: Judgement Day.
What's even more intriguing is the build-up for what seems to be a whole other John Connor (played by Edward Furlong). So what will become of the "savior of mankind" as this series progresses?
Article continues below advertisement
Fans want to know: Is Edward Furlong in Terminator: Dark Fate?
An exciting fan theory from Twitter user @Bodie293Loe may shed some light on "which" John Connor we're dealing with and where the Terminator franchise as a whole is headed.
It also could have everything to do with the Dark Fate part of the film's title.
"I have a theory on why we don't see John Connor and why we see the T800 still alive: I think in this timeline, the events of T2 ended badly, The Terminator failed to protect John Connor and he dies, causing the T800 to live out his days as a lonely Terminator. Sarah goes awol trying to find any sign of a Terminator because if they are still coming back from the future, that means humanity has[n't] lost yet..." the fan wrote.
Article continues below advertisement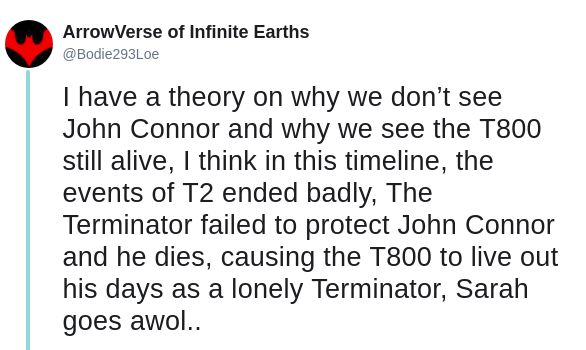 "Just because John won't be the leader of the resistance doesn't mean someone else won't take his place, hence why Sarah needs to protect this woman from being killed, and because she's the mother of the future leader of the resistance now, she needs to be protected. Skynet thought by going back in time to kill John Connor, that all their troubles were over, they are wrong."
Article continues below advertisement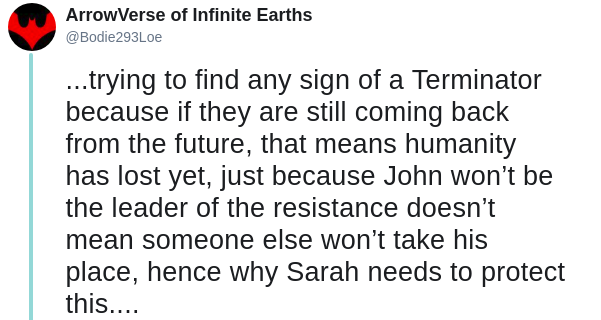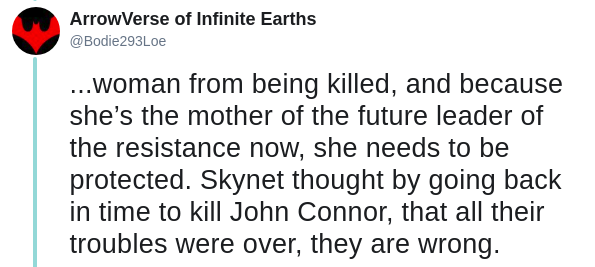 Article continues below advertisement
Pretty heavy, right? So according to another theory, the John Connor we all loved from Terminator: Judgment Day is actually dead and there's a new hero to lead humanity's resistance. This kind of "playing" with narrative ultimately works for the Terminator franchise, because it deals heavily with time travel.
In fact, it's pretty much all about time travel.
Terminator: Dark Fate trailer:
Paramount Pictures just released the latest trailer for the upcoming Sci-Fi action flick and it starts out with two characters trying to protect Dani Ramos (played by Natalia Reyes). We see Dani fraternizing with a possible Terminator, possible human/machine hybrid... not quite sure yet but it's actress Mackenzie Davis as Grace.
Article continues below advertisement
Out of the smoke, we finally see a familiar face: Linda Hamilton as Sarah Connor. What we can infer is that these characters can see into the future, and although we can't predict how it will pan out, they have questions for each other and they're still fighting Skynet. Grace is seen specifically asking about Sarah Connor's focus on protecting Dani.
Article continues below advertisement
If we weed out a few important lines as the trailer progresses, we can see yet again how the scenarios in this film are going in a different direction than the other films in the saga. Both of the characters sworn to protect Dani provide this insight, which can imply a variety of different outcomes.
Like, the possibility that Dani Ramos is humanity's new savior in place of John Connor.
The trailer shows the three leads — Sarah, Dani and Grace — all on the roof of a train when Dani asks, "How do we win?" Maybe it just refers to the future rise of the machines that if won would put humanity back on top? Who knows.
Article continues below advertisement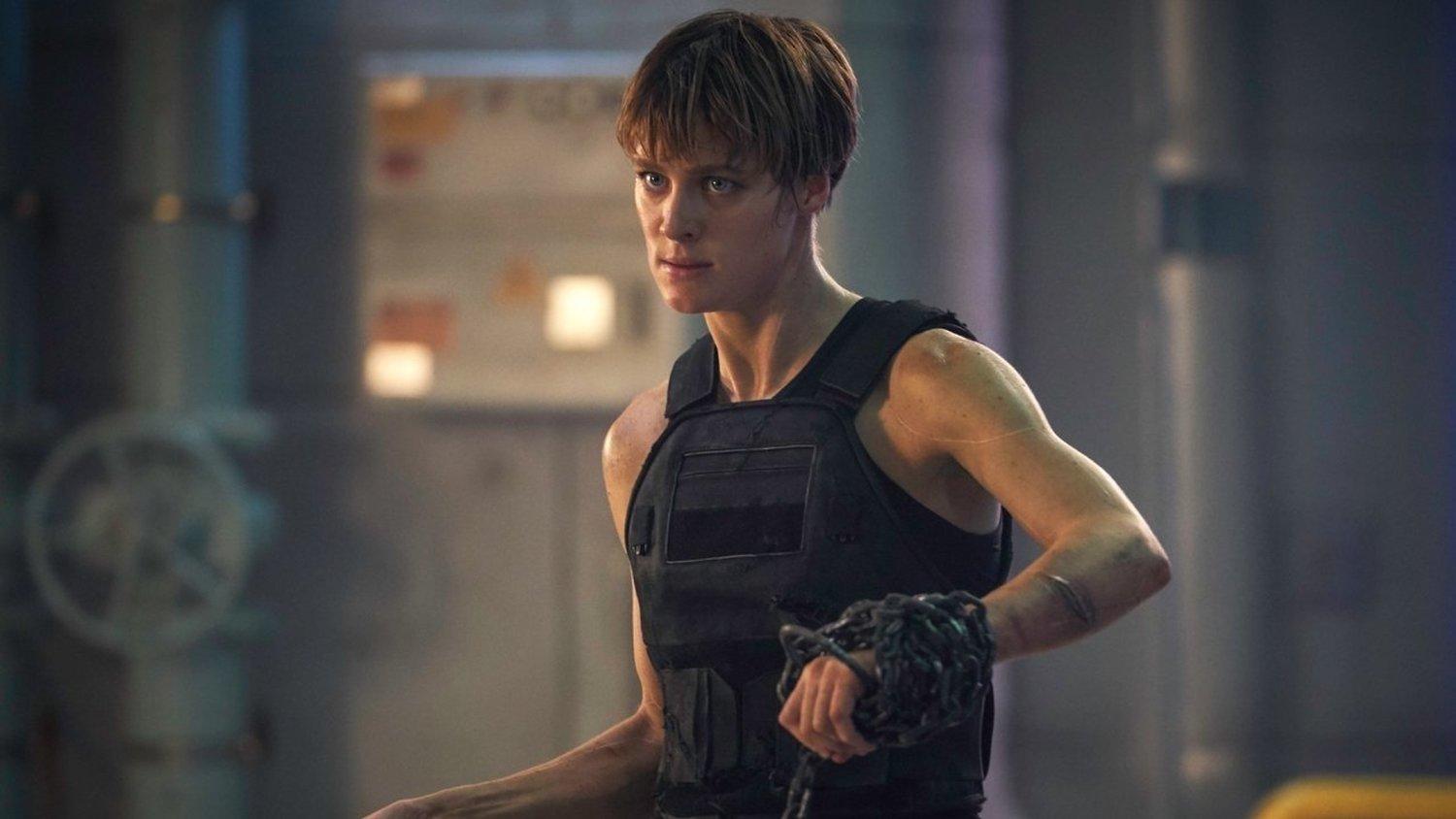 We'll see if Bodie's theory holds any weight come November 1st, 2019. Are you excited to check this flick out, or has every Terminator after Judgment Day just left a bad taste in your mouth?