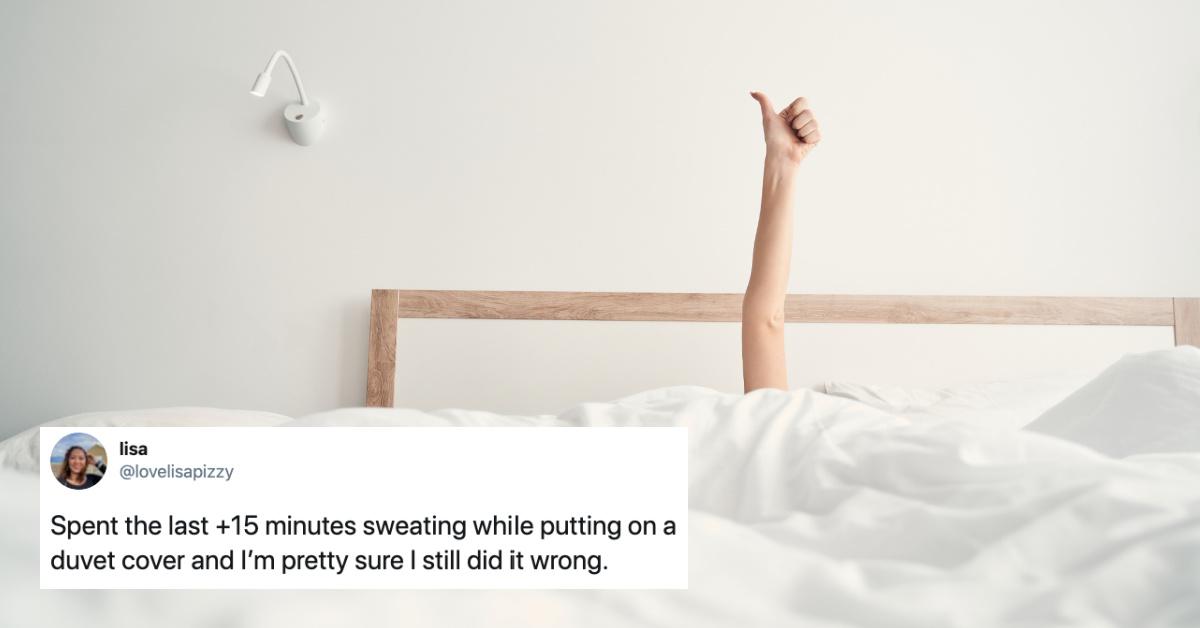 TikTok's Duvet Cover Hack Will Make You Feel Like a Bed-Making Genius
Putting the duvet cover on your duvet has always been the worst part of making the bed — until now, thanks to this TikTok hack. See for yourself!
It's nice to know that you can rely on the people of TikTok to share hacks that are basically guaranteed to make your life better. So far, TikTok has "hacked" coffee, egg sandwiches, dating, folding towels, washing strawberries — the list goes on, but you get the idea. And now, there's another hack from TikTok that is going to make things a lot easier when it comes to making your bed: a duvet cover hack.
Article continues below advertisement
If you have a duvet cover on your bed, you're very familiar with the struggle of getting said cover onto your actual duvet. It takes forever and you usually end up stuck inside the thing, trying to find the dang corners and wondering where in your life you went wrong. Until now!

Article continues below advertisement
Here's how to do TikTok's duvet cover hack.
As it turns out, you don't have to put your entire body inside your duvet cover in order to get it onto your duvet. You don't even have to do some kind of impressive Superman/starfish-style leap onto the bed and wrestle with your blankets for 30 minutes. Go figure! All you have to do is follow TikTok user shadyysandyy's directions.
(A brief note before we share those directions with you: They make absolutely zero sense. Even watching people perform this duvet hack looks like a legit magic trick. It doesn't look like it should work, but it does. Trust us on this one. Or trust the thousands of people who have already used the hack to great success.)
Article continues below advertisement
First, flip your duvet cover inside out and spread it out on your bed. You should put the opening of your cover near the headboard (or just the top of your bed, if you're not fancy enough to have an actual headboard). Then, spread your duvet cover out on top of the inside-out duvet. If your duvet has those handy loops, now is a good time to attach them to your duvet cover with the ties in the corners.
Article continues below advertisement
Next, starting at the bottom of your bed, roll up the duvet and duvet cover in a tight spiral. Roll them up all the way until you get to the top of your bed. This is where things get really wild. (As much as making your bed can get wild, anyway.)
The next step is to flip the duvet into the cover. It's hard to explain with words exactly what this means, but you're basically pulling the duvet cover around the entire, rolled-up duvet-and-duvet-cover sushi roll. It looks like you've messed up, but you haven't. Tie (or button) your duvet cover to close it.
Article continues below advertisement
And then (drumroll, please), unroll it. We know. It doesn't look like you can unroll it. But you can. Somehow. And once you do, your duvet cover will be placed perfectly on your duvet. As a bonus, you don't feel the need to immediately take a nap after making your bed (although you totally can, of course).
It's easy to see why this hack is going viral on TikTok. It's the perfect mix of making life easier and appearing to use magic that appeals to everyone's sensibilities. We can't wait to give it a try!