TikTok Users Are Creating Insensitive Holocaust POV Videos for Views
In a recent trend, TikTok users are role-playing as victims of the Holocaust in point-of-view videos, drawing backlash from Jewish creators.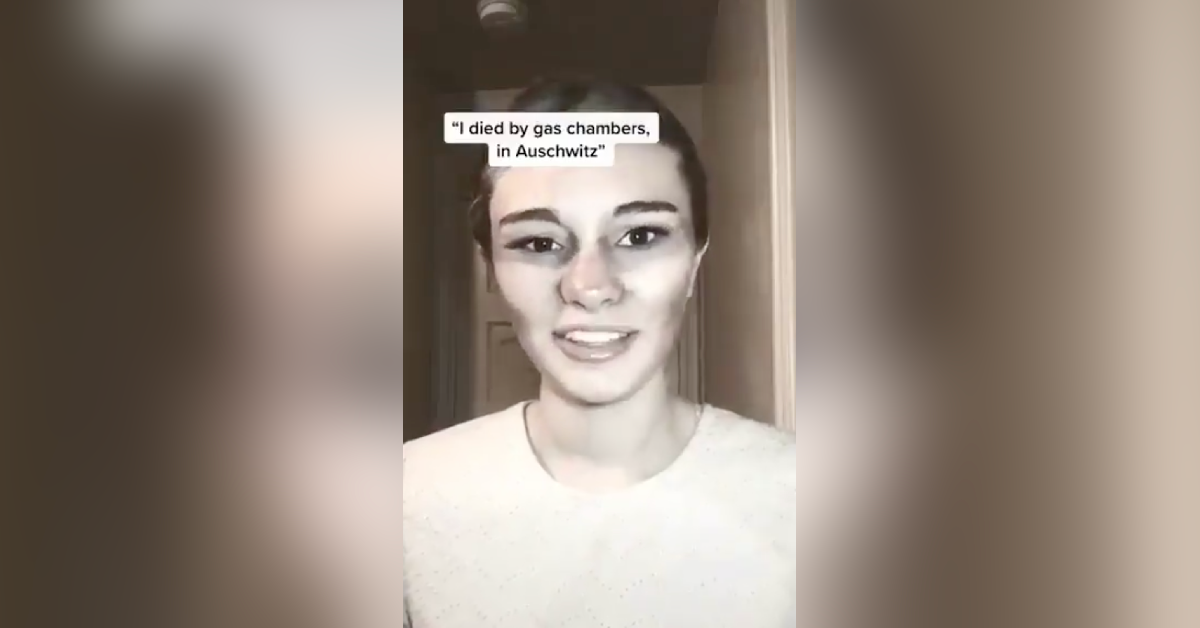 Creators on TikTok are being accused of "trauma porn" for posing as Holocaust victims in point-of-view videos on the app. The point-of-view, or POV, videos usually center around some prompt or alternate reality, usually involving an entirely impossible scenario with superpowers or special abilities.
Some of these videos have been used to make a statement, bringing attention to issues like bullying and domestic violence, though many have called this recent trend tasteless and inappropriate.
Article continues below advertisement
The Holocaust, which took place between 1941 and 1945, targeted primarily Jewish, LGBTQ, POC, and other minorities, in total claiming the lives of up to 11 million people.
At a time when TikTok is on the verge of being banned in the U.S., many are appalled at what they say is the trivialization and romanticization of the tragedy.
Article continues below advertisement
Jewish creators are unhappy with the Holocaust POV videos.
While many on the app admit these videos can easily have an impact on viewers and some have positively raised awareness to an issue, the problem, especially with these Holocaust POV videos, lies in who is creating the videos.
Many Jewish creators who have stumbled across these videos on their "For You" pages have pointed out the insensitivity in them, especially when created by users who are not Jewish themselves.
Most of the videos that come up when you search "Holocaust POV" on TikTok are centered around mass killings, and many are, unfortunately, set to Bruno Mars' "Locked Out of Heaven." There are hundreds of videos under these search terms, and many of the users' issues are with those who are creating the POVs.
Article continues below advertisement
These videos often include makeup to replicate bruises or burns or other special effects to make the user look emaciated. Some include imagery similar to many other works about the Holocaust, including striped pajamas or the Star of David, which Jewish people were forced to wear to identify themselves, isolating them from the rest of society.
Special effects makeup and clothing is common in POV videos, though this factor is especially what some feel make the videos insensitive.
Article continues below advertisement
"I personally feel like in the context of the Holocaust, videos about it should be carefully thought out," Taylor Hillman, a deaf Jewish creator, told Wired. "There are many young creators who range from about 12 to 16 that use the Holocaust trope for fame. They know it will get views and make them more popular, but most of the time they are not Jewish and it feels as though they are mocking the actual victims of the Holocaust."
Will TikTok remove the Holocaust POV videos?
At this time, it doesn't seem as though the platform has any plans to remove these videos. There has yet to be a public statement from the social media site, though it's understood the app has reviewed the content and decided it doesn't violate any of their user guidelines.
A handful of the users who have been criticized for making these videos, especially those who aren't Jewish, have taken them down from their profiles, though there are still many that remain.