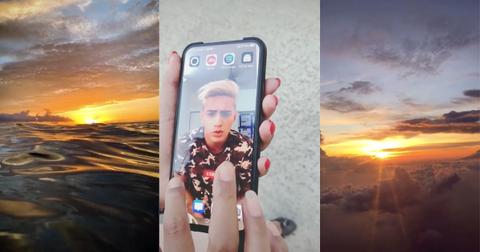 Here's How to Save TikTok Videos as Live Wallpapers for Your Phone
By Abi Travis

Updated
You may think you're a big fan of TikTok, but are you really? Sure, maybe you know the Renegade dance. Maybe you ask over and over again, "Can I pet that dog?" whenever you see a dog. Maybe you're constantly telling Karens to respect the drip. All of those things are good, but they're not the mark of the truest TikTok fans. For that, you need to participate in the TikTok wallpapers trend.
If you don't know what that is, don't worry. That's what we're here for! Here's everything you need to know about turning TikTok videos into live wallpapers on your phone. You know, like a real TikTok fan.
Here's how to participate in the TikTok wallpapers trend.
The premise is pretty simple (yet also quite impressive to those of us who grew up with cell phones with 1-inch screens). People are taking TikTok videos and saving them to use as the wallpaper on their phones. When you do this, your phone's background image (the wallpaper) will move! Because it's a video! We're truly living in the future, people.
OK, first thing's first: You'll need to open TikTok and navigate to the video you want to save as your wallpaper. From there, things vary slightly based on whether you have an iPhone or Android. Let's start with iPhone users.
TikTok Live Wallpaper for iPhone:
Once you're at the video you want to save as your wallpaper, tap the "Share" icon (the arrow pointing to the right) and select "Live Photo" — you may have to scroll over a bit to find that option. Note that if a video's creator has disabled the video saving feature, you won't be able to save a video via TikTok. It is possible to do via third-party apps, however.
Anyway, it might take a couple of minutes to download that TikTok video as a Live Photo, but once it's on your phone, it's super easy to set it as your wallpaper. View the Live Photo in your Photos collection, tap the share icon in the bottom left-hand corner, and select "Use as Wallpaper." Set the Live Photo as your Lock Screen background and ta-da! You're all set! Note that on iPhones, the photo will only move if it's your Lock screen (not your Home Screen). Tap and hold the screen to see it move.
TikTok Live Wallpaper for Android users:
First, you'll want to make sure you've downloaded the TikTok Wall Picture app from the Play Store. Then, navigate to the video you want, tap the "Share" icon, then select "Live Photo." Once the video is downloaded as a Live Photo, you'll see the option for "Set Wallpaper" pop up on your phone. Tap that, then select whether you want the Live Photo as your wallpaper or your wallpaper and lock screen — on Android, the photo will move in both!
And there you have it. Finally, a way to show the world that you're a true fan of TikTok. You'll also be able to revisit your favorite TikTok videos (or part of them, anyway) every time you glance at your phone — without taking the 3 seconds to open the app! Now all you have to do is choose which video you want to download. That's easier said than done — of course, you can always switch it out later with a new one!