TikToker Slapped with $20 Fee for Canceling Uber Driver Coming from 1,200 Miles Away
TikToker gets charged $20 for canceling ride from a driver who was reportedly 1,200 miles away, raising gripes from other users on the app.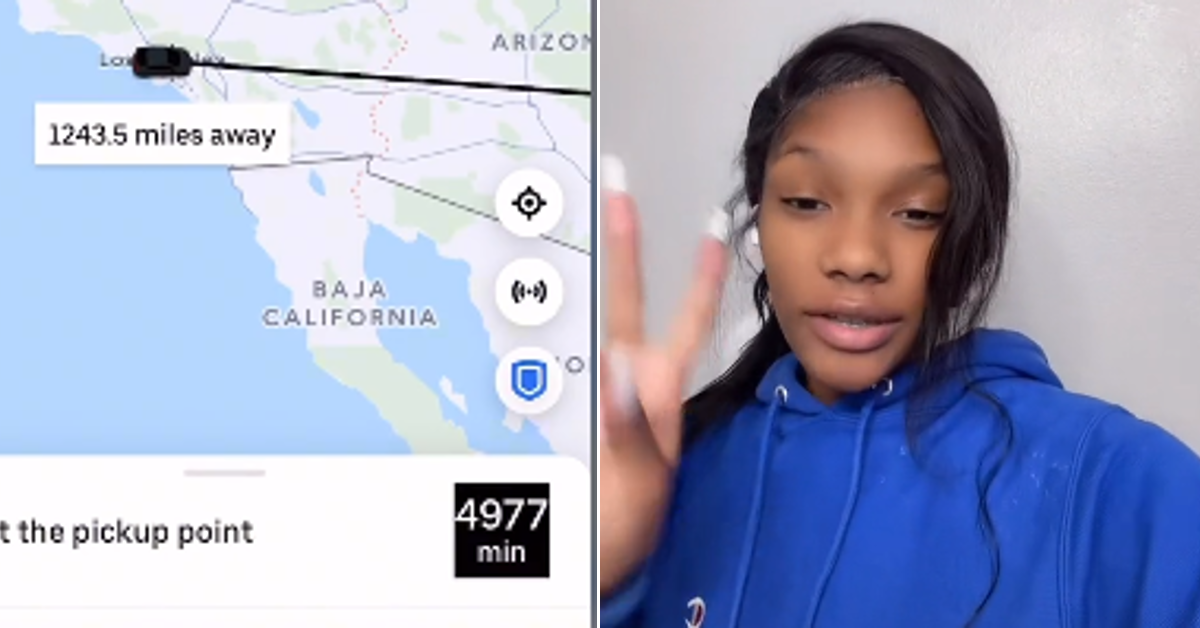 Rideshare applications like Lyft and TikTok live and die by the algorithms that their developers implement. Through a combination of location-based services, and driver turnaround, these apps are fairly adroit at quickly finding you an available driver who is actively using the app to pick you up in a decent amount of time and take you to your destination in the fastest way possible.
Article continues below advertisement
In order to make sure that drivers are receiving some form of compensation for their time during canceled rides, these apps also implement cancellation fees. If you take a ride and then decide that you don't need one, it'll usually cost whoever requested the ride around $5 to cancel. However, depending on the distance that the driver is coming, that amount can be higher.
One TikTok user, however, must've encountered a strange error with her Uber app that for some reason, tried to pair her up with a driver who was over 1,200 miles away from where she needed to be picked up.
Article continues below advertisement
TikToker @thatsyanaa posted a clip of her phone's screen recording which shows her pick-up location in Dallas, Texas, and her driver's location in Los Angeles, California. In the clip, she explains that she canceled the ride, but she was shocked to learn that Uber was going to hit her with a $20 fee for the cancellation.
Article continues below advertisement
No one in their right mind would want to wait 4,977 minutes for a ride, which is what the Uber app quoted as her driver's estimated arrival time, which is close to 83 hours. And her driver probably wouldn't even make that journey in the first place. So she canceled the ride thinking it was an error but was still hit with a fee.
Article continues below advertisement

Why would Uber's software pair her with that driver in the first place? Location settings could have something to do with it: perhaps the Uber driver was using a VPN on their phone that tricked the Uber application into thinking that they were in Dallas, Texas, and then hoped they would collect cancellation fee dollars?
Article continues below advertisement

Or maybe the TikToker in question had their location settings calibrated to Los Angeles for whatever reason, or maybe the app just glitched? It's hard to say exactly what happened in this instance.
Article continues below advertisement

What's even stranger is that the cost of her ride was $14.85, which makes the cancellation fee cost even that much more perplexing as it cost more than the original pick-up itself.
Article continues below advertisement

Other TikTokers in the comments section shared their own long-distance Uber stories. One user said that they were based in Dallas and the same exact thing had happened to them, while another mentioned that the same exact driver OP listed in her video came up in their own long-distance "accidental" ride request.
Article continues below advertisement

Others stated that the furthest driver Uber ever paired them up with was 2 hours away, but many also mentioned that it could be a "scam" and there's a driver who changes their VPN in the hopes of gathering cancellation fees without having to do any work.
What do you think? Has anything like this ever occurred to you?