These Are the Most Instagrammed Tourist Attractions in the World
These are the 20 tourist attractions in the world that have been tagged on social media the most.
You know how that old saying goes: if you traveled to one of the most iconic sights on the planet and you didn't Instagram it, were you even there? The constant sharing of our life experiences on social media is a fairly new phenomenon, but the idea of preserving your special memories in photographs is not.
People all over the world are flocking to tourist attractions to have a once in a lifetime experience...and get a bunch of likes for it. But which are the most famous tourist attractions for influencers and other Instagrammers? TravelBird released a study ranking 470 tourist destinations all around the world based on the number of times they were tagged on social media. Two attractions from each region were considered. These are the top 20. Some of them might surprise you!
Article continues below advertisement
20. The Empire State Building – New York, U.S.A.
The top 20 kicks off with a true icon. However, despite growing up in New York, I have never been to the top of the Empire State Building. I'm sure it's lovely, though. My impression of the top of this pointy skyscraper stems entirely from that scene in Sleepless in Seattle, so if that's at all what it's like, welcome to the romance hub of NYC!
19. Myrtle Beach – South Carolina, U.S.A.
Of all the beaches in all the countries in the world, I didn't quite expect Myrtle Beach in South Carolina to make the top 20. But it's got that old-timey boardwalk feel complete with an amusement park and a 60-mile stretch of beach, so there really is no beating that. According to Wikipedia, the city attracts about 14 million visitors every year, so it's no surprise that some of them Instagram their beach town vacays.
Article continues below advertisement
18. Yosemite National Park – California, U.S.A.
Home to Half Dome and some of the world's most breathtaking natural beauty, it makes sense that Yosemite National Park has a spot on this list. Plus, there are bears in the park, and who wouldn't want to take a trip where there was a possibility of spotting a bear? Yosemite has something for everyone. Whether you're a camper, a hiker, a rock climber, a horseback rider, a skier, or someone who just likes to drive around and look at nature, Yosemite is a can't-miss destination.
Article continues below advertisement
17. The Colosseum – Rome, Italy
If you've ever been to the Colosseum in Rome, you know that it is gigantic, imposing, and impressive. It really lives up to its name. Seeing it in person trumps any picture you could take. There is so much fascinating history surrounding this ancient amphitheatre, so between rounds of pizza, pasta, and gelato, make sure you tour the Colosseum when in Rome!
Article continues below advertisement
16. Burj Khalifa – Dubai, UAE
Dubai is the center of luxury and fancy living, and Burj Khalifa is the impressive skyscraper in the middle of it all. It's the tallest building in the world and clearly breathtaking, even in photos. There's an insanely amazing fountain at the base of the building and an observation deck on the 124th floor, nearly 1500 feet in the air. I'm already nervous just thinking about being that high! But if I ever travel to Dubai, I'll have to suck it up because this is an incredible sight to see.
Article continues below advertisement
15. Waikiki – Hawaii, U.S.A.
Waikiki is probably one of Hawaii's most famous beach towns. The Honolulu neighborhood is home to incredible beaches and high-end shopping centers. Sure, it's touristy, but it's touristy for a reason — namely that it's absolutely gorgeous. Hawaii is paradise, after all. If you have the chance, it's 1000 percent worth a visit. And yes, I mean a thousand percent.
Article continues below advertisement
14. The Grand Canyon – Arizona, U.S.A.
I have never actually been to the Grand Canyon (yet), but I have seen the episodes of The Brady Bunch where they visit it like, a bunch of times, so I kind of get it. As far as canyons go, it doesn't get much grander or canyon-ier than the Grand Canyon. It's kind of the tops, so you probably don't want to miss it.
Article continues below advertisement
13. Valle Sagrado (Machu Picchu) – Cusco, Peru
The Sacred Valley, or Valle Sagrado, is home to Machu Picchu, one of the most famous archaeological sites in the world. The ruins of the ancient Incan citadel are truly a sight to see. In fact, it's such a popular destination for travelers that, in 2007, Machu Picchu was voted one of the new Seven Wonders of the World. Oh yeah, and also there are llamas and alpacas. You can't beat that.
Article continues below advertisement
12. Niagara Falls – Ontario, Canada
Niagara Falls falls (get it?) on the border of Ontario and New York, and they are some of the most impressive waterfalls in the world. The cataract is a popular tourist destination in Canada and the U.S., with the number of visitors averaging around 20 million every year. Seeing Niagara Falls in person, which I did when I was a kid, is truly a rush... of water.
Article continues below advertisement
11. Mardi Gras – New Orleans, Louisiana, U.S.A.
New Orleans is an incredible vacation spot at any time of year, but things get especially rowdy during Mardi Gras. The festival is celebrated all over the world, but the parties held in New Orleans are kind of unbeatable. There are parades in the street! Beads everywhere! Cakes with little plastic babies hidden inside! I was in New Orleans for one night not during Mardi Gras, and it was insanely festive, so I can't even imagine what it's like when the real party gets started.
Article continues below advertisement
10. Oktoberfest – Munich, Germany
Speaking of parties, Oktoberfest in Munich, Germany is the ultimate get-together for beer drinkers from all over the world. While there are Oktoberfest celebrations in many cities across the globe, the original happens in Munich every year, and it is epic. It's 16 to 18 days of nonstop beer, food, games, and other activities. Oktoberfest has been known to get out of control in the past, so if you're a hardcore partier, this one's for you.
Article continues below advertisement
9. Notre Dame – Paris, France
Notre Dame in one of the most gorgeous Catholic cathedrals in the world. Unfortunately, it faced tragedy earlier this year when it caught fire. While the main structure is intact and firefighters saved much of the rest of it, the fire totally destroyed the spire and roof, and nearly $1 billion was raised to help restore the 12th century building. While it was an unthinkable tragedy, it made it clear just how important this incredible structure is to people all over the world.
Article continues below advertisement
8. Times Square – New York, U.S.A.
If you live in or around New York City, you probably try to avoid Times Square like the plague. It's always overrun with tourists, extra loud, and the flashing lights are too much to handle. But those are also the things that make it one of the most enthralling sensory experiences in the world. Tall buildings, giant billboards, people dressed as knock-offs of Sesame Street characters, and a whole multi-floor store devoted to M&M's. What more could you want?
Article continues below advertisement
7. Big Ben – London, U.K.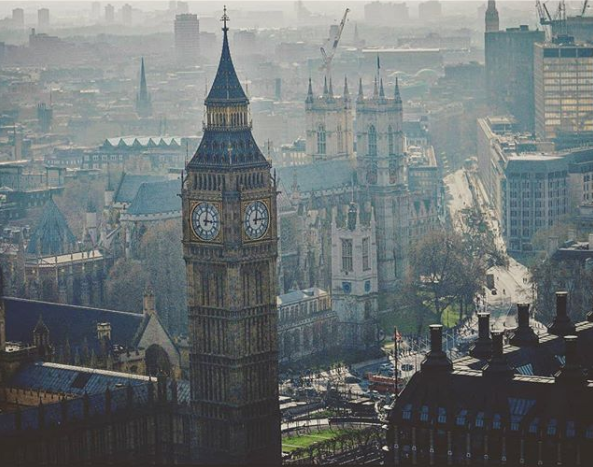 I think it's safe to say Big Ben is the most popular clock in the world. It helps that it's part of the Palace of Westminster in London, which I happen to think is one of the coolest-looking buildings. Big Ben is a must-see if you are in London, which is definitely a destination that should go on your list. Between the history, the art, the theater, the food, and the shopping, it has something for everyone.
Article continues below advertisement
6. Las Vegas Strip – Nevada, U.S.A.
If you were thrilled by the sensory overload of Times Square, you need to head to the Vegas Strip. Simply put, there is no other place like it in the world. It's simultaneously glamorous and seedy, awe-inspiring without being intimidating. And you definitely don't have to be a gambler to enjoy Vegas. The shows, the hotels, the lights, the fountains, the food... It's a one-of-a-kind destination. And remember, what happens there stays there, so *wink wink*.
Article continues below advertisement
5. Berlin Wall – Berlin, Germany
There is so much raw history and emotion in the Berlin Wall that I'm not at all surprised it appears on this list. It wasn't that long ago that it was torn down, but some of it remains standing as an open-air gallery, full of art and graffiti from a different time. In fact, Berlin is known as one of the most innovative and artistic cities in the whole world. It's a perfect destination for the creative type.
Article continues below advertisement
4. South Beach – Florida, U.S.A.
South Beach is a neighborhood in Miami, Florida and apparently one of the most Instagrammed locations in the world! This isn't too surprising. Miami seems to be a popular destination for the rich and famous, the glamorous sect who can't get enough of the beautiful beaches and beautiful people. Everything about it is Instagrammable!
Article continues below advertisement
3. Walt Disney World – Florida, U.S.A.
We're in the top three! If you, like me, were wondering where Disney World was on this list, well, it's right here! Walt Disney World near Orlando, Florida, is a massive Disney park. It's got the Magic Kingdom, Epcot, the Animal Kingdom, two water parks, and more! It's one of the most popular tourist destinations in the world, with an average annual attendance of more than 52 million people, according to Wikipedia. That's a lot of people Instagramming every time they meet Mickey.
Article continues below advertisement
2. Eiffel Tower – Paris, France
I bet we all have several Instagram friends who have taken that artsy photo of the Eiffel Tower on their trips to Paris. It's the thing to do in the City of Lights! This whimsical structure was constructed as the entrance to the World's Fair in 1889, but since then it's become one of the most iconic symbols in Europe. You can't go to Paris and not see the Eiffel Tower, just like you can't not eat a croissant or pretend to remember all your high school French.
Article continues below advertisement
1. Disneyland – California, U.S.A.
Perhaps surprisingly, Anaheim, California's Disneyland is the number one most Instagrammed tourist attraction in the world. It's much smaller than Florida's Walt Disney World, but it gets historical points for being the first one. And I have to say, I've been there a few times because I live on the West Coast now, and every single visit is truly magical. Oh, and you bet I Instagram my trip. What am I, not going to take a boomerang of those creepy singing animatronics on It's a Small World?