"Worst Decision of My Life" — Woman Says Military Recruiter "Lied" to Her to Get Her to Enlist
A TikToker claimed a military recruiter lied to her in an effort to get her to enlist, which she says ended up bring the "worst decision" of her life.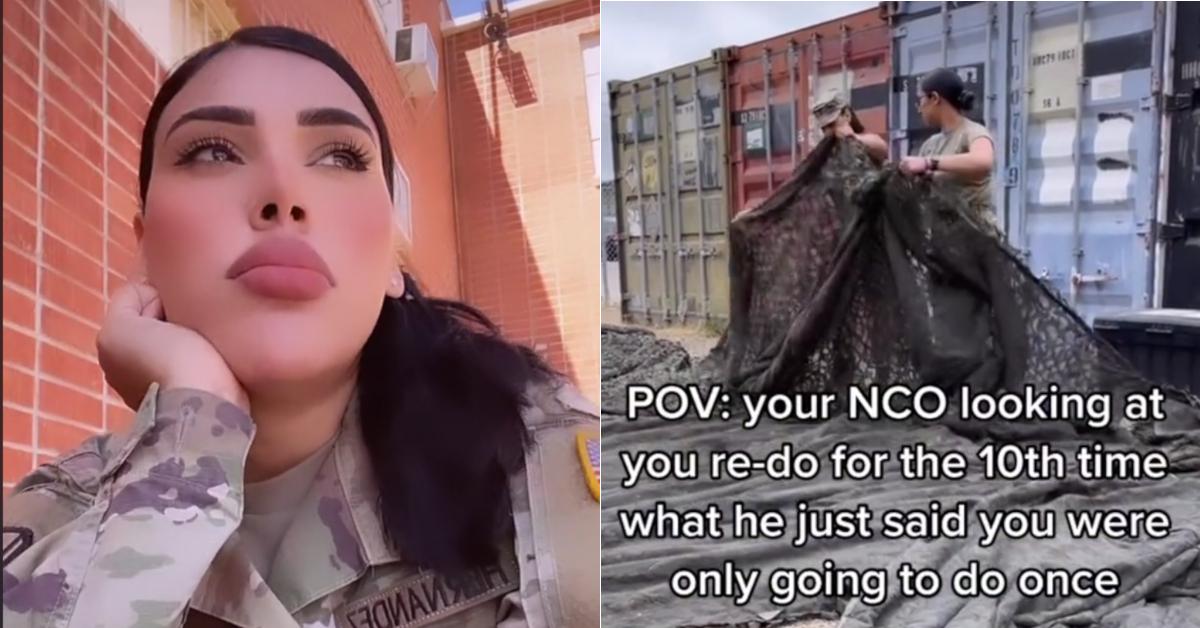 There's a strong argument to be made that being a military recruiter is identical to being a sales representative, but instead of trying to screw someone over on the price of a car or getting them to sign up for an overblown cell phone/internet/cable plan, you're getting them to dedicate four years of active duty (typically) followed by four years of reserve service.
Article continues below advertisement
And just like most salespeople, recruiters have been said to "massage the truth," hype up atypical redeeming hypothetical scenarios, or flat-out lie to get folks to sign on the dotted line.
As it turns out, there are tons of resources available online, like Operation Military Kids clearly delineate what some of the most common, and grimy, sales tactics military recruiters pull in order to get folks to sign up.
TikToker Itzel Hernandez claims that she fell victim to one of these hoodwinks and her video should be used as a message for anyone who has any personal stipulations when it comes to joining the military: if your recruiter is promising you something that is a dealbreaker, then make sure it's part of your contract.
If it isn't in writing, then it ain't happening.
Article continues below advertisement
So what was the lie that Itzel was told? The TikToker claims that her recruiter said she wouldn't be deployed into active duty and that she'd only have to partake in "field exercises once or twice a year."
But that wasn't the case: Itzel says that she's been forced to partake in monthly field routines. "This life is not for me," she writes in the viral clip's caption, followed by a clown emoji.
Article continues below advertisement
Oh, and she also learned that she's headed to Iraq next year on a deployment detail, many who speculate as pre-cursor to a long-standing multi-year US political initiative to try and send troops into Iran.
In Itzel's clip, she's shown talking into the camera as music plays with makeup on her face, it then transitions to videos of her partaking in military training exercises.
Article continues below advertisement
Her post incited a variety of different responses from other TikTokers. Some said that they enjoyed their time in the military, while others said that the particular way of life is definitely not for everyone. Others shared their own "recruiter horror stories" while others criticized Itzel for being naive and thinking that an officer trying to get her to sign up for the military was going to be entirely forthright.
Article continues below advertisement
"Doesn't matter how strong you are before or what your morals are, the military life is NOT for everyone. The military has a horrible attrition rate."
"The military is literally training to DEPLOY…."
Article continues below advertisement
"only when you get out will you realize that those were probably the best years of your life"
"I hated being in the military but it gave me the chance to go to school full time afterwards and graduate without debt. Goodluck. Hope it gets better"
"Don't understand how people say they are lied too what did you think the Army was"
"My recruiter said the same thing 'they only send the infantry' but deploying was one of the best things that I've ever experienced."
Article continues below advertisement
"You must've been in the clouds if you signed without believing you'd get deployed.. that's literally the point of training"
"the recruiters will say anything just for you to join"
Article continues below advertisement
And then there were some TikTokers who said that they loved their time in the military, even though their recruiters lied to them: "Mine also lied to me. But it turned out great… after almost 5 years of nothing in the reserves. I was able to get activated twice, great experiences."
What do you think? Should Itzel have known what she was signing up for and not complain? Or do you think that military recruiters can be untruthful and a bit shady in getting people to sign up?