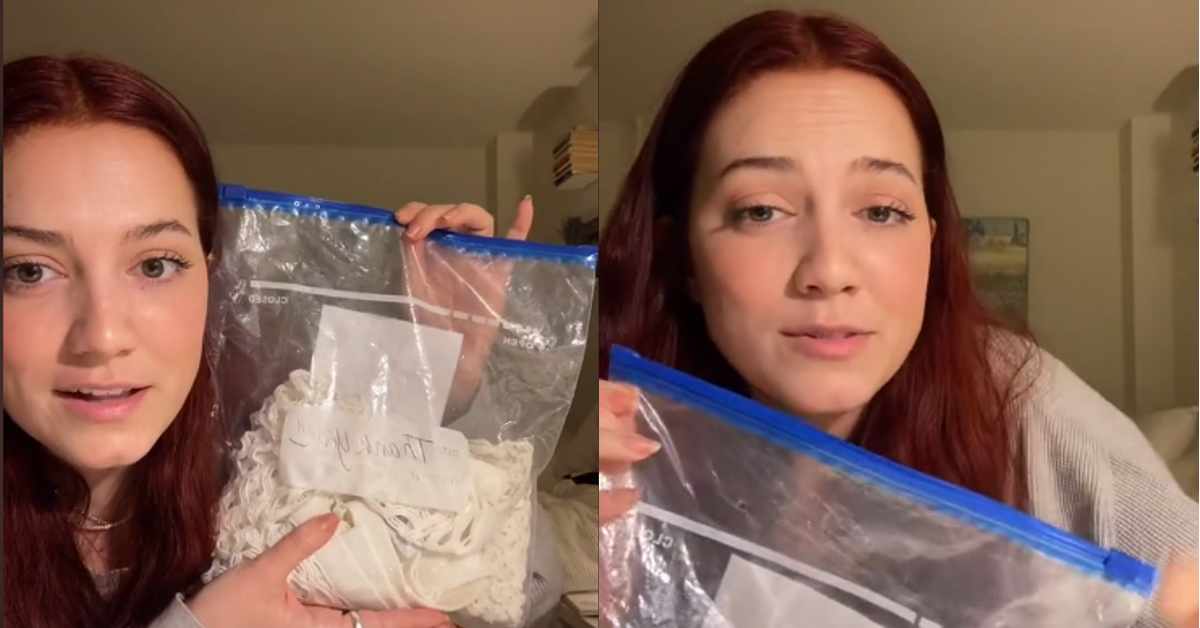 Woman Shows How Her Poshmark Order Came Shipped in a Clear Ziploc Bag in Viral TikTok
Human beings have an infinite capacity for adaptability and resourcefulness. Charlie Chaplin was able to make a hilarious scene without words in pretty much any situation to find the comedy in it. MTV took a bunch of mumbling Southern California teens and convinced viewers at home they were documenting a reality TV show and not a poorly scripted drama that's about as entertaining as a root canal.
Article continues below advertisement
Sometimes, though, this resourcefulness can result in some unintentionally hilarious, "what were they thinking?" circumstances. Sure, the end result works but it's certainly not the most elegant or aesthetically pleasing of solutions. And if you shop online a lot through resellers, then you've probably come across some pretty creative packaging "solutions" from the folks you're purchasing from.
Something that TikToker Anna Molinari showcased in a now-viral TikTok where she presents her order of a vintage item that arrived in a Ziploc bag. You know the kind with the blue strip up top and the hard little plastic tab that's probably better suited to holding a bunch of grapes or strawberries.
But neatly packed in the Ziploc is what appears to be a lace clothing item of sorts.
Article continues below advertisement
Many viewers ascertained from the label on the Ziploc bag that the order came from Poshmark and her clip must've resonated with a lot of folks who quickly began sharing their own experiences of ordering through the platform.
Article continues below advertisement
"I love shopping secondhand online. It's funny to me because these sellers are so full of surprises when they ship you these items. You never really know what to expect. Your item could come in a plain gallon bag with the shipping label slapped on it. Without tape even, it could come. Just raw dog," Anna said.

Article continues below advertisement
Soon a conversation began about the wild discrepancies between the different types of sellers on the platform. Some users said that there are folks that they buy from who clearly put in zero effort when it comes to packaging.
Then there are others who go above and beyond and clearly delight in the fact that you're ordering from them.

Article continues below advertisement
A user who goes by Bad Lemon writes, "it's either this or an extremely delicious looking box with 12 lollipops 3 thank you cards and 1 fairy wish with some custom confetti no in between."

Article continues below advertisement
Another, Reygan Brunk said, "Ppl are getting lazyyyy I saw a girl who got hers in a cat litter bag."
But there were other TikTokers who couldn't believe that USPS allowed a package to just be shipped in a Ziploc bag like that...no box...no additional envelope...nothing.

Article continues below advertisement
Resellers in the comments section said that less effort gradually goes into their package as time progresses. Like Ramila who wrote: "I remember my first sale, I wrote thank u notes, cute tissue paper, & even added a sanitizer packet. My last sale, I put it in an Amazon envelope."

Article continues below advertisement
And then there was another user who said that they work at UPS and were shocked at the packaging methods customers get away with: "I work at UPS I cannot believe the way people thinking shipping things the way they do is acceptable."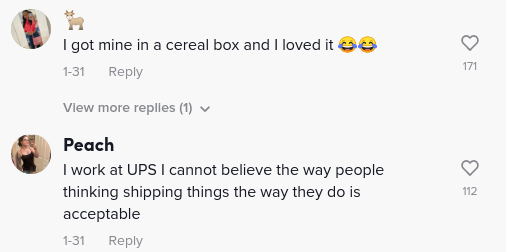 But there are customers who don't mind the creative methods in which they receive their goods, like @alienredemption who said, "I got mine in a cereal box and I loved it."