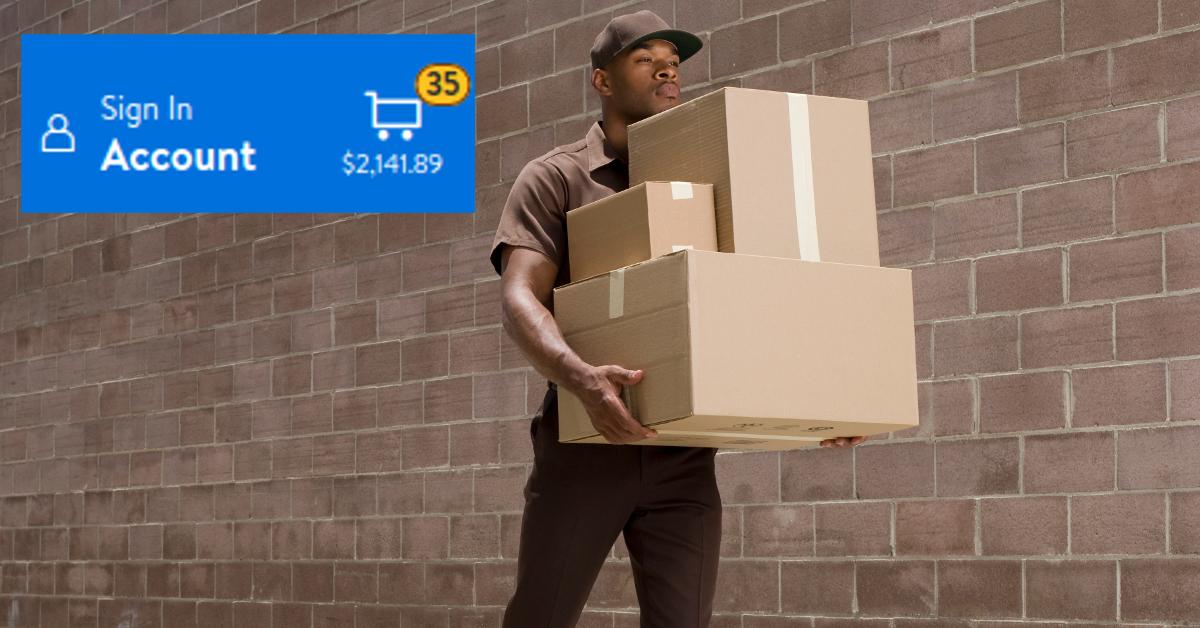 Toddler Accidentally Checks Out Mom's Online Shopping Cart, Orders $2,000 Worth of Stuff
The internet has kind of turned everyone into "knowledge squirrels" of some sort. Let's say you're scrolling through Instagram or Imgur or you come across an interesting web page, we have a desire to bookmark/save whatever cool post or photo dump we saw knowing darn well that we're probably never, ever going to sift through our stuff to look at it again.
Article continues below advertisement
And we all know someone and heck, maybe it's even us, who fill up our virtual shopping carts with a bunch of online retailers but never really pull the trigger. Or if we do it's after some serious edits and careful planning of sitting down and really deciding whether or not we want those products just chilling in internet retail purgatory.
So what would you do if you discovered one day that a bunch of items you had just chilling in your imaginary-baller-fantasy-splurge-land-mind automatically showed up at your house?
Would you think that Mr. Beast somehow caught wind of what you wanted to purchase? Or would you question if you were actually sober after the mess of cocktails you had the other evening and in your stupor, bought a ton of stuff you didn't even need?
Article continues below advertisement
Well, that's what happened to Madhu Kumar of Monmouth Junction, New Jersey. (The mass of packages showing up at her home and not the whole blackout drunk thing.)
She thought that maybe one of her children had played with her phone and accidentally accessed her Walmart shopping cart and purchased all of the items she had chilling in there.
Article continues below advertisement
She asked her two older kids, but they said that it wasn't them. Which led her to believe that her youngest, not-even-2-years-old Ayaansh Kumar as the one most likely to have accidentally made the purchase.
Article continues below advertisement
The little guy was playing with his mom's phone and was apparently getting really into playing around with numbers, but he got a little too overzealous with his early education and must've seen the grand total in Madhu's Walmart app's shopping cart and begin touching a bunch of prompts on the screen.
Article continues below advertisement
This has left Madhu with mounds of furniture, flower stands, and accent chairs among other home goods.
"He's so little, he's so cute, we were laughing that he ordered all this stuff," Madhu said.
The family says that while they're going to keep a few of the items for the home, they'll be headed to Walmart to get refunds for some of the other accidental purchases.
Article continues below advertisement
As for a means of making sure it'll never happen again, Pramod (Ayaansh's dad) said that "moving forward we will put tough passcodes or face recognition so when he picks up the phone he finds it in locked condition," in an interview with NBC New York.
The outlet also stated that even though he's not even two years old, he knows his way around a smartphone.
Article continues below advertisement
"Ayaansh knows what he's doing too. Using an NBC New York reporter's phone, he was able to close the calendar app, send an email to the reporter's mother and then search through the contacts."
Several folks online who've heard about the story do find it dubious, however, given the number of email confirmations that would presumably have been sent to Madhu after the purchase.