'Top Chef' Has Come Under Scrutiny More Than Once in Its 18-Year History
'Top Chef' gave rise to several scandals over the years. Some have been harmless. Others, not so much. Here's what you need to know.
Winner of Top Chef Season 18 Gabe Erales received widespread criticism after it was revealed that he'd sexually harassed one of his female co-workers at the Comedor in Austin, Texas. He was fired from the eatery in December 2020 for "repeated violations of the company's ethics policy," per Austin American-Statesman.
Gabe isn't the first Top Chef contestant to face a public backlash. Here are some of the worst scandals in the nearly two-decade-long history of Top Chef.
Article continues below advertisement
Cliff Crooks physically assaulted Marcel Vigneron in a Season 2 episode of 'Top Chef: Los Angeles.'
A particularly unsettling scene in Season 2, Episode 11 of Top Chef: Los Angeles shows Cliff Crooks as he pins Marcel Vigneron to the floor to shave his head. Elia Aboumrad, Ilan Hall, and Sam Talbot were also present.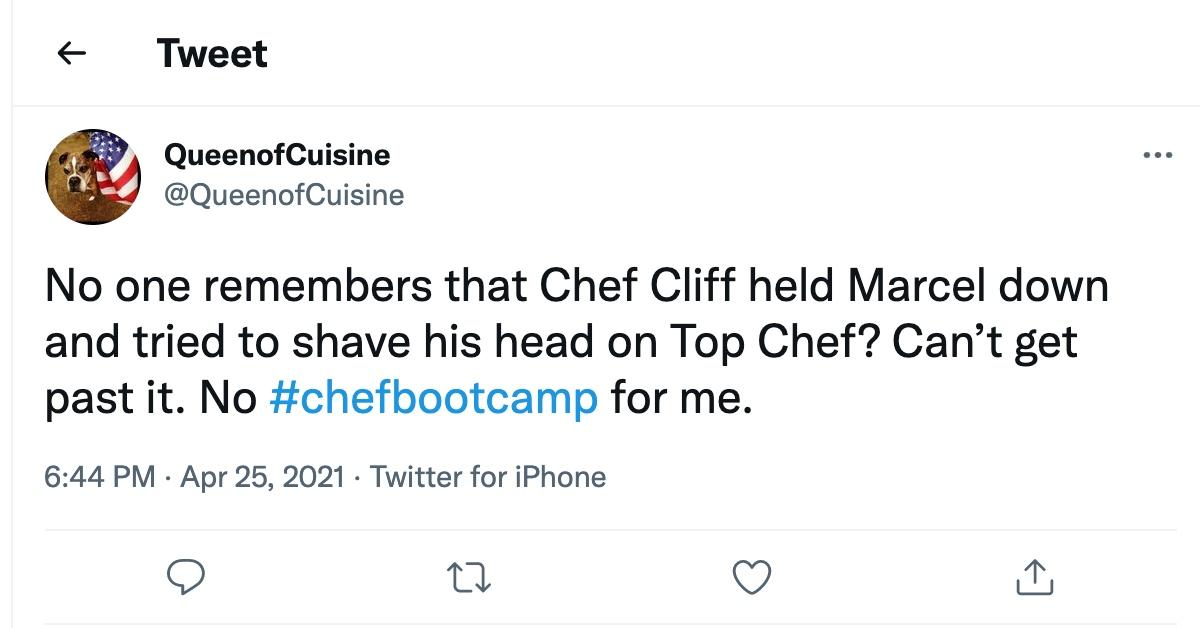 Article continues below advertisement
Visibly upset, Marcel manages to walk away before Cliff goes through with the heinous prank. It's understood that Marcel had trouble getting along with the contestants and that the incident was another manifestation of the deeply flawed group dynamic.
In an article published on Bravo, Top Chef judge Tom Colicchio compared the disturbing scene to rowdy bachelor parties. As he argued, it escalated from "a ridiculous — even cruel — act of juvenile intimidation" to a "goofy drunken idea," to ultimately, an "act of ugly stupidity."
Several Top Chef contestants were reportedly intoxicated that night, though that shouldn't serve as an excuse.
Article continues below advertisement
While many people were at the scene, only Cliff, the contestant who violated the code of conduct by "harming or threatening to harm" another contestant, was fired from Top Chef: Los Angeles. As Tom suggested in his article for Bravo, producers vetoed the proposal to disqualify bystanders Elia, Ilan, and Sam, "and let Marcel win by default."
Article continues below advertisement
'Top Chef: Texas' winner Paul Qui was arrested in 2016.
Paul Qui, a James Beard Foundation Award-winning chef, was arrested for unlawful restraint and assault causing bodily injury to a family member in Austin, Texas in March 2016.
As an affidavit quoted by The Washington Post states, Paul had "blood all over his face, arms, legs, and clothing," the apartment was "in complete disarray, and furniture and glass were broken," and there was "blood smeared on the walls and the floor."
Paul's then-partner had a "fresh cut on her right forearm and bruising on her upper arms," the affidavit continues. It appears that she and her son tried to leave the apartment, but Paul held them back.
Many magazines and publications decided to stop providing coverage of Paul's subsequent ventures in light of the revelations.
Article continues below advertisement
"Paul Qui was a staple of national food media prior to his domestic assault arrest; in the two years since, he's almost completely disappeared from the magazines and digital pubs," Helen Rosner, a staff writer at The New Yorker, tweeted in February 2018. "Bon Appétit and Food & Wine don't have reviewers, per se, but they made the choice, after Qui's arrest, to exclude him from coverage — to use their power of shaping the culinary culture to make a shape that excludes him."
The charges against Paul were dropped in April 2018. He is currently developing a new restaurant in Houston, called Outpost.