Man Says Uber Eats Charged Him an Additional $57 for Order, Won't Refund Him
An Uber Eats customer says that the application charged him an extra 57 dollars when he used "group ordering" and won't refund him his money.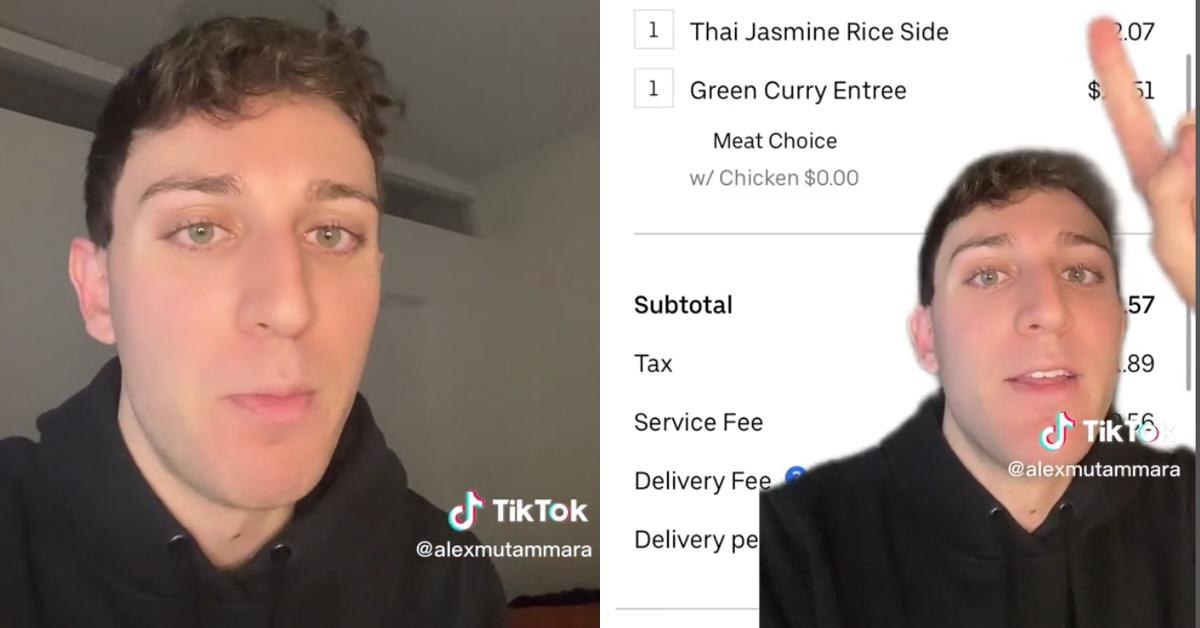 Uber Eats customer (well, more than likely ex-Uber Eats customer) Alex Mutammara went viral on TikTok after posting a video delineating his negative experience with the popular food delivery service, stating that the random bill showed up on his credit card after using the application's group ordering function.
Article continues below advertisement
If you're ordering for a large group of people on Uber Eats, then usually one person in the group covers the cost of the food. Then you have other folks covering their own meals by either Venmo-ing, Zelle-ing, Apple Pay-ing, or handing over the cash to whoever decided to use their card for the order.
But with Uber Eats' group ordering, everyone can cover the cost of their own food and share of the delivery charge and any subsequent tips as well. At least that's how it's supposed to work, and it doesn't seem like that was the case for Alex at all.
Article continues below advertisement
In his viral TikTok, Alex says that since he was the "leader" of the order, he ultimately ended up not only paying more than everyone else in the group, but he says he was slapped with an extra $57 charge out of nowhere.
Article continues below advertisement

What's more is that Alex went straight for Uber on TikTok, posting a stitched video as a response to a clip uploaded by the company that shows someone pantomiming touching their smartphone with a caption that reads: "When I go to request $ from my friends for the food I ordered on Uber Eats for us last night"
Article continues below advertisement

The clip then cuts to Alex talking into the camera stating: "This was supposed to be an ad for Uber's new group order feature which is basically like you don't have to Venmo people you just all put in your order in the group thing, but I tried it the other day with my friends and it overcharged me fifty dollars for being the group leader, like being the person that started the order."
Article continues below advertisement

Alex continued in his TikTok, showing off a series of screengrabs delineating his charges on a green screen for the order: "So $24.88 this was my receipt like the total for my specific order. Y'all know I got the green curry that's my favorite thing to get at Thai Places, and then these were my receipts like right here this was, this is actually correct, for my order this is the subtotal and the tip, but then the next day I got this random fifty seven dollar charge."
Article continues below advertisement

Alex decided to reach out to Uber regarding the charge and discussed his experience in dealing with the company's customer service department, "And I contacted them about it and they kept just saying...have the group order creator reach out. And so at this point every time I submit a new request to them they immediately cancel my thing and they just are like please rate your experience."
Article continues below advertisement

It's safe to assume that Alex's experience isn't so great. "I'm like, yes there's more that I need, I need my fifty-seven dollars back. All that to say, fifty-seven dollars is definitely gone by this point, I just want to come on here and say do not use Uber Eats, specifically the group order feature, cause they're gonna steal money from you."
Article continues below advertisement

Tons of other TikTokers responded to Alex's post and tagged Uber, asking the company to give him his money back. Others suggested that he just alert his credit card company and report the $57 charge as fraudulent.
Article continues below advertisement

Some users on the platform lamented that Uber's customer service is "trash" and that they've had experiences similar to Alex's. However, there were others who offered up practical explanations as to what could've been the culprit behind Alex's Uber Eats monetary woes: some of the folks in his group may've not had the money to foot the bill for their meals, leaving him with the bill.