"Unappreciated" Worker Quits Job Taking All the Documents She Created With Her, Gets Accused of "Theft"
A TikToker sparked a viral debate on the popular social media platform after stating that she left her former company in the lurch after quitting.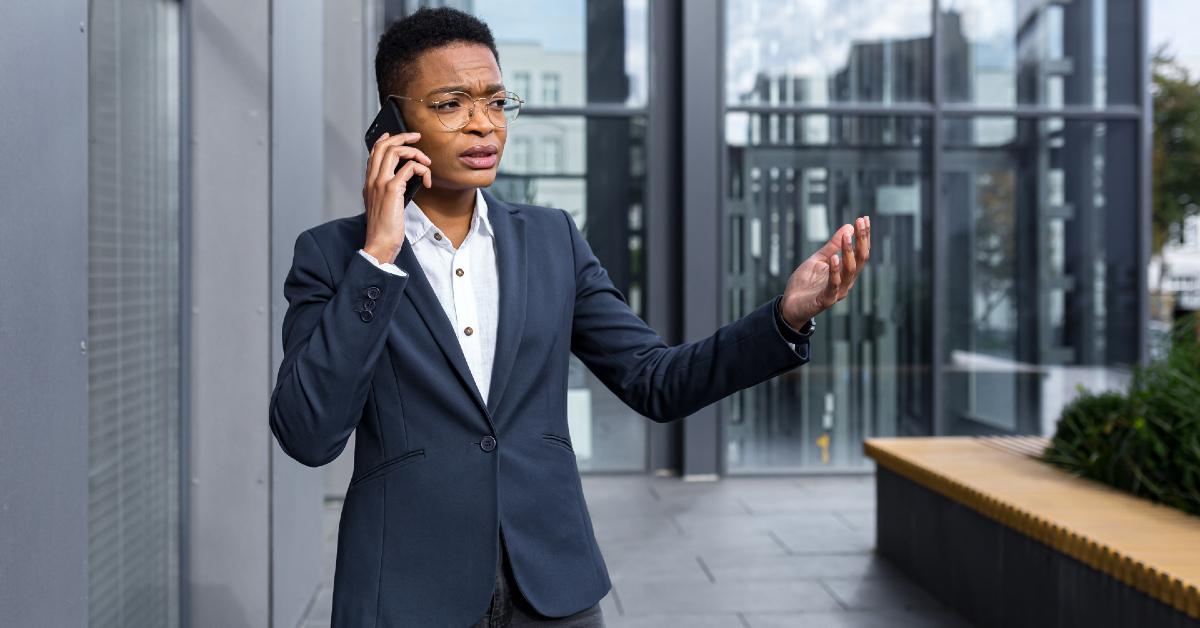 TikToker @_queerbigan sparked a viral debate about the ethics of leaving a position and taking the work you did with you while on the job in a recent post she uploaded to the popular social media platform.
Article continues below advertisement
She stated that she believes the company didn't value her as a worker and since she went above and beyond in her position and the documentation she created was outside the realm of her actual job duties, she felt she was in the right for taking them away when she left.
"It has been less than 24 hours since my last day at work on my way out of work I took all of the training documents that I created because they didn't have, honestly a lot of things, digitally, physically, systemically, before me. And I was happy to provide those things. I loved my job...even though they were underpaying me for even the work I was supposed to do."
Article continues below advertisement
The TikToker continued, "Let alone everything I was doing on top of it. And then they had the gall to you know, give the title and pay of what I was doing to other people, and when I asked for just a title change, no financial whatever I just wanted some recognition, they said no because it would be too confusing."
Article continues below advertisement
It seems like this response is what ultimately prompted her to quit and take the training documents that she created for the company, which was work additional work she was asked to do on top of her original responsibilities. "And so that's why I took my documents with me because clearly they don't value me, they don't actually appreciate me, and they don't know you know, what I do, because if they did understand what I do, then they would appreciate me."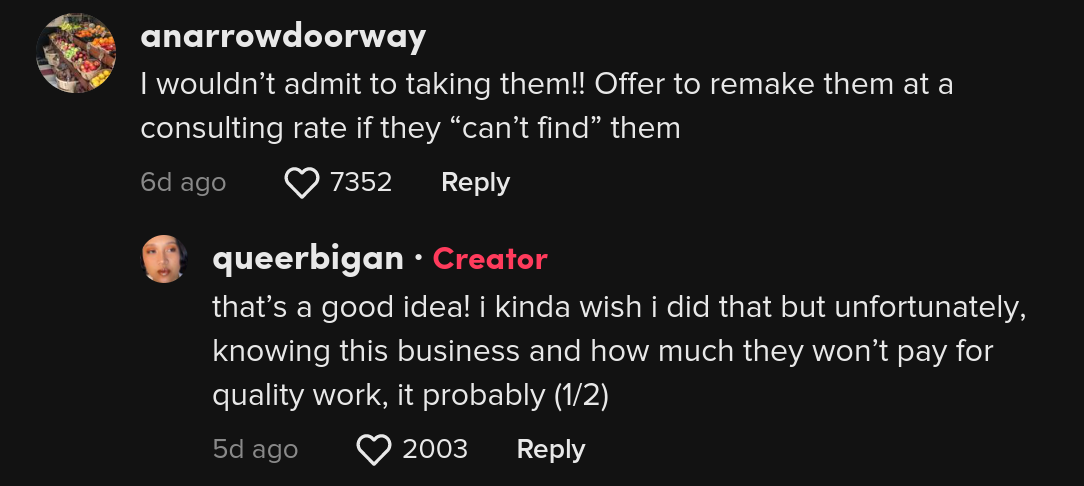 Article continues below advertisement
She ended her TikTok rant against her newly departed company by saying, "They would have no choice. And so it's been less than, like a day since I left and what are they doing? Asking for the documents."
At this point in the TikTok she re-positions her body to reveal the green screen text message exchange that she put in the video so viewers could get a better look.
The conversation goes as follows: "Hey ____ Hope you're doing well! I need to train someone and I was looking for the _____ folder."
Article continues below advertisement

Their former co-worker's message went on, "I know you asked me last time if I knew where it was. I was wondering where did you put it at after you used it? I was looking for it but I can't find it."
If you're wondering whether or not the TikToker played coy about not knowing where the documents were — she wasn't.
Article continues below advertisement
@Queerbigan responded, "Oh I took it with me."
Her follow-up message references the fact that she created everything while on the job there and it appears that she extended an offer for the company to purchase them from her if they like. It seems like she was able to create a severance package of sorts for herself with the move.

Article continues below advertisement
TikTokers seemed divided in the comments section. There were some people who expressed that OP's move to leave with the documents was a petty move, while some supported her decision. Others mentioned that because she created the training materials while on company time technically those materials belonged to the business and she should just handed them over.
She addressed these concerns in a follow-up video, writing: "I really didn't expect this to become so divisive, but you know, I guess it is. There's a lot of you that were like really supportive of me because I think you know you get it. If you know you know, and if you don't you don't."
Article continues below advertisement
@Queerbigan continued, "Those of you don't, and decided that somehow I was like, ending my career..and I was gonna get sued and my life ruined or whatever...you're assuming a lot about stuff that I didn't actually detail."
The TikToker then delineated what the nature of her job and role with the company was, "Contractually these documents existed outside the scope of my position."
Article continues below advertisement
"That and other reasons I just don't think that they would have a case if they did take it to court. But even then, like, litigation wise, I highly doubt that that's happening. It would be a terrible financial decision on their part. It would be in their best interest to work it out with me outside of the courts."

Article continues below advertisement
She also stated that since she was no longer an employee of the company, even though she had no obligation to respond to her co-worker's texts about the training materials she says that she "kind of felt bad for her" stating that the woman as an "incidental victim of this place's exploitation of their workers."
She added that going forward she's not going to engage further with her former employer, "I did let her know that I wasn't contractually obligated of me to leave these documents with them, and I also let her know that like I don't have any further obligations to this company."
Article continues below advertisement

The TikToker ended her post that she thought it was grimy of the company to make this woman she was interacting with "do their dirty work" and she feels like this employee is going to be exploited in the same way she believes she was, but she's going to keep "moving on" and "keep it trucking."