"Was She Trying to Steal It?" — Uber Eats Driver Asked to Deliver iPhone They "Bought" Shady Deal
An Uber Eats driver was asked to deliver an iPhone for a customer, but came across what seems to be a common scam involving item delivery.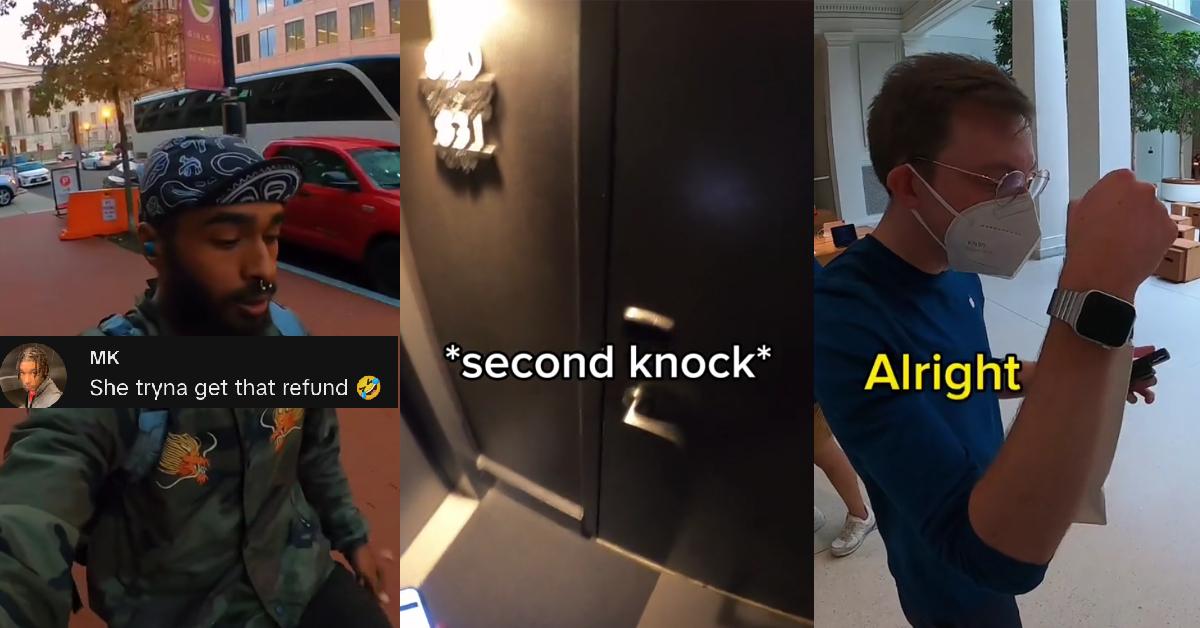 Uber can be used for a variety of transport needs: want to call a cab? The app connects you to independent contractors with their own vehicles who can take you to and from a location. Want food delivered to you? The app covers that as well.
Another feature you may or may not know that Uber offers is same-day package delivery, which could be useful in a variety of different scenarios.
Article continues below advertisement
Let's say you made it home after a night out partying with your friends, only to realize that you left your phone at their place. If getting up and grabbing a car to go and get it yourself is out of the question or they can't bring it to you, you could use Uber to perform a one way trip to bring your phone to you.
Or sometimes folks will use the service simply to deliver purchase that they've made directly to their place, which is what happened with an order that delivery driver and TikToker @bikingdc was asked to make of an iPhone that they thought seemed a bit shady.
Article continues below advertisement
The TikToker documented the experience on their bicycle, which starts with a text overlay that reads: "Deliving an iPhone to a suspicious customer."
His clip begins with him walking into what looks like the lobby of a swanky building where a man greets him holding a mobile POS system.
Article continues below advertisement
"Doing a pick up order?" the person in the building asks.
"Yeah for Uber," the man responds.
@bikingdc scans the bag, which contains an iPhone from a woman who holds it up for him. She thanks him in sign language as he walks outside to his bicycle which he speedily rides to his destination.
The TikToker arrives at his destination, a hotel, and locks his bike up before heading inside to call up the recipient of the package. He calls 1, 2, 3...4 times and still doesn't receive any type of response.
Article continues below advertisement

Not content to mark the order as un-deliverable he decides to go above and beyond and hop into an elevator to see if he could reach the unit that the delivery was made to in an attempt to knock on the person's door so he could fulfill the delivery.
Article continues below advertisement
"People make delivery so difficult," he says to himself as he rides the elevator before adding, "I really shouldn't even be up here right now," he says as he walks through the hallway of the building until he arrives to the hotel room.
@bikingdc knocks at the door several times until he hears someone from behind the door. "Jessica?" he calls out, but no one opens the door.
Article continues below advertisement

This must've sounded off alarm bells in his head and he decides to leave the apartment building with the pricey item. "This person thinks I'm going to leave an iPhone just outside of a hotel door?" he asks, returning to the elevator.
Article continues below advertisement
Downstairs in the lobby, he decides to talk to the hotel receptionist to see if he's got the right room number for the order, and the hotel worker decides to call up into the room to see if they could get a hold of Jessica in a last-ditch attempt to contact the delivery recipient.
But they don't answer the room number and then they try and see if they have a phone number for the guest, but they say that they don't, which @bikingdc remarks is "very suspicious."
Article continues below advertisement

"All right well, that's unfortunate," he says before continuing to narrate what his next steps are going to be: "bring it back to the business return this order. Ahhh my, what a waste of time," he says as he walks out of the hotel and bikes back to the original location.
Article continues below advertisement
He finds the original person who provided him with the iPhone for delivery. @bikingdc tells them: "Bad news, she never came down so I gotta return this thing."
"All right let's do it," the man tells him.
"I think I get paid for the trip you know but it's still a hassle going back and forth."
@bikingdc processes the return and tells the man that the iPhone is still in the bag, which the man inspects before he leaves, hops on his bike, and hits the streets of DC again on his bike.
Article continues below advertisement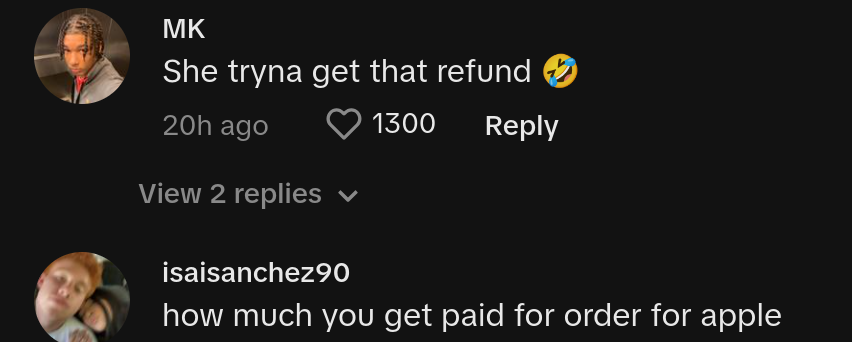 Several commenters seemed to agree with @bikingdc's assessment that the order was a scam, with numerous folks stating that the recipient probably hoped that he would leave the phone at the door in the hopes of just completing the order.
They would then claim they never received the phone and try to put the blame on Uber delivery for not handling the package properly, while still keeping the phone and getting a refund, or paying out of pocket for another and securing themselves two iPhones for the price of one deal.