TikTok Is Officially Obsessed With the "Vintage Acting Challenge" Guy
Chris Barnett is an actor and model who created the Vintage Acting Challenge" on TikTok. Once you watch one video, you're gonna want to watch them all.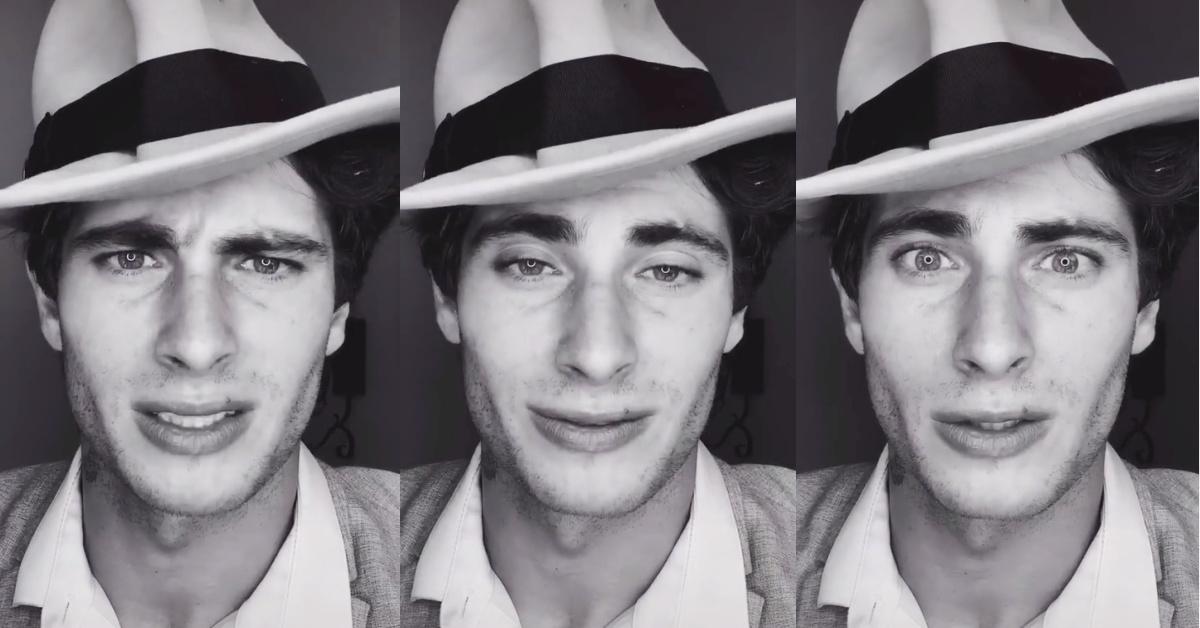 It is a truth universally acknowledged, that not all TikTok challenges are created equal. There are so many of them that are the perfect mix of funny and challenging, while others fall pretty short and miss the mark. Don't worry, though. The Vintage Acting Challenge is definitely one of the good ones.
Article continues below advertisement
That being said, we get the feeling that a lot of the challenge's success is due to the guy who developed the challenge. He's very talented and good-looking to boot! He appears to be a man of several talents and one of them is knowing exactly how to market himself. Without further ado, here's what we know about Chris Barnett, the Vintage Acting Challenge guy.
Article continues below advertisement
Meet Chris Barnett, the Vintage Acting Challenge guy from TikTok.
Some TikTok challenges take a little bit of digging in order to figure out exactly what they entail — not the Vintage Acting Challenge. After you watch one video of the challenge, you'll get it. And, let's be honest, you'll probably watch it at least one more time.
Basically, actor Chris Barnett records one half of a scene that feels like it was ripped straight from your favorite classic movie, then asks other people on TikTok to duet him and become his scene partner. It seems as though he writes the scenes himself, but they're clearly heavily influenced by classic films like Double Indemnity and The Maltese Falcon. Chris says his lines (in a perfect Mid-Atlantic accent, natch) to the camera and includes the text for duetters to perform.
Article continues below advertisement
The real magic is when you watch the duets themselves. There are some that really stop you in your tracks and almost convince you that you're watching an actual scene from a real movie… even if the two characters in it are only pretending to be in the same room. Obviously, we're not alone in finding the Vintage Acting Challenge videos alluring — Chris has more than 1 million followers on TikTok, and videos with the #vintageactingchallenge tag have more than 7 million views!
Article continues below advertisement
While the Vintage Acting Challenge videos have certainly taken off, Chris has made tons of videos featuring several other characters — a mad king, a mafia boss, a serial killer who can't stop laughing — the guy's got range.
Article continues below advertisement
Chris might be most well-known for his TikTok acting chops, but he also appears to have quite a bit of experience outside the realm of the popular video-sharing app. Judging by his posts on Instagram, he works as a model in addition to acting. He even has a Cameo account where fans can pay him to record video messages for them. It looks like he also has an Etsy shop where he sells his own merch as well as a clothing line he calls "Walking Red Flag."
Say what you will about TikTok (and goodness knows people have plenty of complaints about it!), but one of the coolest things about the app continues to be its ability to expose users to people they might not otherwise ever have heard of. So many people on TikTok are low-key (or not-so-low-key) obsessed with Chris and his Vintage Acting Challenge videos. We always love to see TikTokers who use the app to bring people together and bring a little more joy to the world!