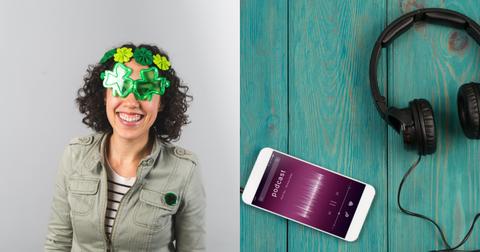 5 St. Patrick's Day Celebrations To Stream While You're Self-Quarantined
By Lizzy Rosenberg

Updated
Well folks, it seems as though most of us will be spending St. Patrick's Day indoors. Between cancelled parades and bars closing in most major cities, it brings me great sadness to say the annual drinking holiday has been greatly affected by the COVID-19 pandemic. But luckily, there are so many virtual St. Patrick's Day celebrations that you can livestream from the comfort of your home on Tuesday, March 17... you might ultimately forget that you're actually quarantined.
Dropkick Murphys' live-streamed concert
For us, it wouldn't be St. Patrick's Day without the Dropkick Murphys', and for the band, it wouldn't be St. Patrick's Day without a live performance. So, they came up with the concept of a live-streamed show called "Streaming Up From Boston," according to WCVB, which will be available for streaming on their YouTube, Instagram and Facebook Live pages at 7 p.m. E.T. on St. Patrick's Day.
Twitter's St. Patrick's Day party
In light of too many cancelled St. Patrick's day parades to count, one Twitter account, @stpatricksfest, is prompting the Twitterverse to post and tag them in pictures of at-home celebrations, using the hashtag #StPatricksDayTogether. Whether you're partying with your parents or drinking solo this St. Paddy's Day, don't forget to post! That way, we can feel like we're all partying in the same sea of green beer.
Milwaukee Irish Fest's Virtual St. Paddy's Day party
Milwaukee Irish Fest happens to be the largest Irish event in North America, according to Irish Central, so needless to say, its cancellation was a major bummer. But IrishCentral will be live-streaming performances, artist-curated videos, and throwback videos from the celebration to their Facebook, Instagram, and Twitter feeds, to ensure you don't miss out.
'Irish Dancing Magazine's Virtual Irish Dance Show
Irish Dancing Magazine is hosting a virtual dance show that starts the day before St. Patrick's Day, on March 16 at 3 p.m. CST, at it will go through the holiday on March 17. They will be featuring clips from dance schools around the world, and it'll definitely get you jonesing to do a jig.
Strong Rope Brewery's live-stream tasting
St. Patrick's Day Stout Tasting Live Stream tomorrow 7pm!! Join in for fun and beer tasting (virtually of course), If you're in NYC, come through and pick up a crowler of Fat Man Little Stout to be ready for the first Strong Rope livestream! https://t.co/GDaLV9U8sM

— Strong Rope Brewery (@StrongRopeBrew) March 16, 2020
New York City-based beer company, Strong Rope Brewery, is going to be hosting a live-streamed beer tasting on March 17 at 7 p.m., according to a Tweet from the brand's Twitter account. So make sure to tune into their social media pages, pour yourself a healthy pint of their Fat Little Man Stout, and drink up. Cheers to that.
While dressing up in green, drinking a ton of beer, and dancing to Irish music with all of your friends would make for a quintessential St. Paddy's Day celebration, it seems as though most of the festivities will be virtual this year, and if it means we'll avoid coming down with the coronavirus, that's fine by me! Let's celebrate from the comfort of our homes with some hand sanitizer, good beer, and — most importantly — WiFi. To be honest, we're feeling lucky already.