Walgreens Customer Accuses Cashier of Stealing Gift Card, Sparks Outrage
A Walgreens employee who was accused of stealing a gift card by a customer sparked a heated discussion about race and theft on TikTok.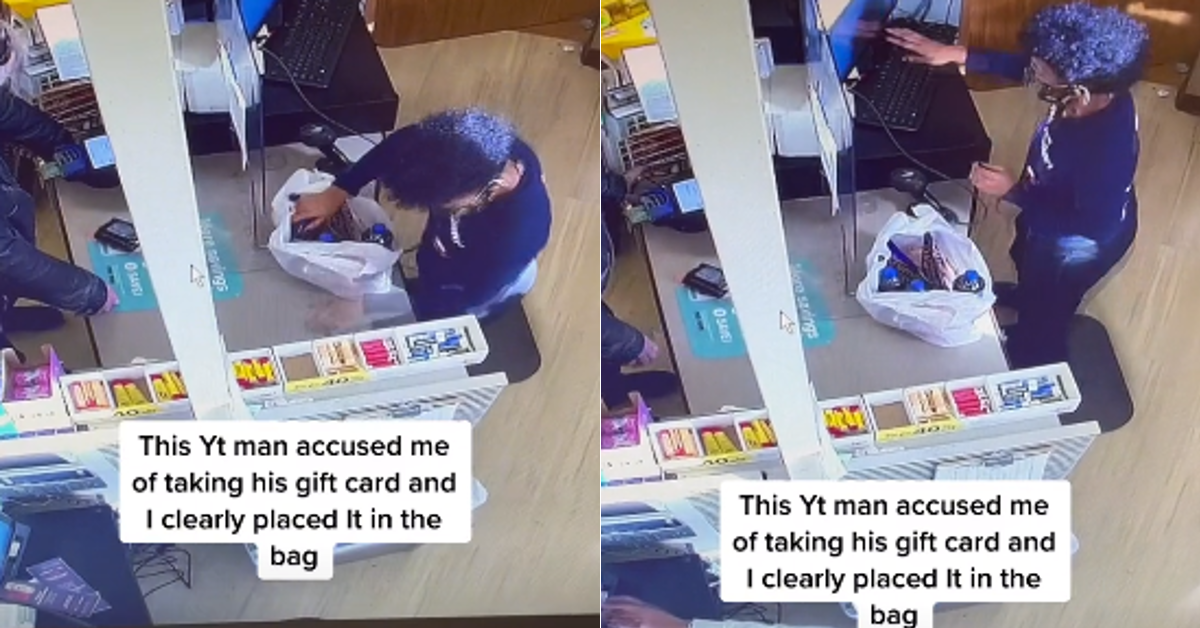 Working in retail isn't the most gratifying of experiences. Restocking and re-organizing shelves from indecisive and disrespectful customers is never fun. The relatively low wage, coupled with long hours and standing on your feet for the entirety of a shift is also problematic for a lot of folks. And now, because of the pandemic, many stores require that their workers wear face masks for as long as they're working, too.
Article continues below advertisement
And then there are the customer freakouts. From the folks who somehow think that employees have control over the SKU directory and can change the prices of items in the store, to people trying to pull one over on them, a worker's day can easily go from bad to worse in a matter of seconds just because a shopper chooses to engage in some skullduggery.
And there are a lot of people who think that TikTok user @kiarrawhitney encountered a customer who was attempting to "finesse" them after accusing the individual of stealing a gift card.
What's even worse, is that many believe it was an act of discrimination as the accusatory customer in question was white and the TikTok-er was a person of color.
Article continues below advertisement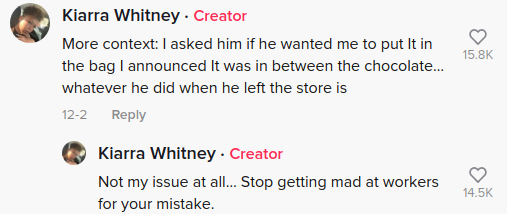 "This Yt man accused me of taking his gift card and I clearly placed It in the bag," Kiarra captions in the now-viral TikTok clip. She uploaded a screen recording of her altercation with the customer to prove that she not only placed the gift card that he purchased in his bag, but that there wasn't even the slightest inkling on her part that she had done so.
Article continues below advertisement
Here's what went down: the customer purchased a gift card and then stepped away from the register as Kiarra was bagging his items.
The moments directly after a gift card is purchased are when that card is most vulnerable and if one were to lose it, it's pretty much akin to losing cash. So if a bird were to swoop down and steal it, it looks like you just funded a nice new nest for an aerial-popping feathered terror.
Article continues below advertisement

When the man returns to get his items, he can't find his gift card in the bag, which was placed between what appears to be two other items.
Instead of double-checking the bag to make sure the gift card is in it, he immediately accuses the cashier of stealing the card.
Article continues below advertisement

There were some TikTok commenters who thought that the racial disparity between the customer and Kiarra was a big impetus for the interaction going down the way that it did.
"These people are not all living in denial….they know why it matters! BC if it was a YT boy or girl behind the counter he wouldn't have assumed that," user @intolerable_inlaws penned.
Article continues below advertisement

And then there were others who thought that Kiarra was out of pocket for mentioning that the customer was white (yt). "What does him being white have anything to do with this?" @_rook_star mused.
Article continues below advertisement

There were others who didn't think that Kiarra's mention of his race had anything to do with the matter and that she was simply describing his race and it would be the same as if the customer was Hispanic, Black, or Asian: "I'm white and all these comments r a joke, she had to describe the man it's not a crime to say white or black to describe someone."
Article continues below advertisement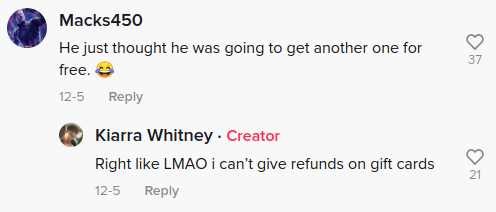 Kiarra has posted follow-up videos of other interactions she's had with customers as a Walgreens employee, too. Like when people call up the store to ask if they have an item and how she isn't interested in answering their questions.