"People Steal Them Like Crazy!" — Walmart Shopper Finds Security Tags on Steak
A Walmart shopper purchased steaks, only to hear a beep when they were trying to exit the store.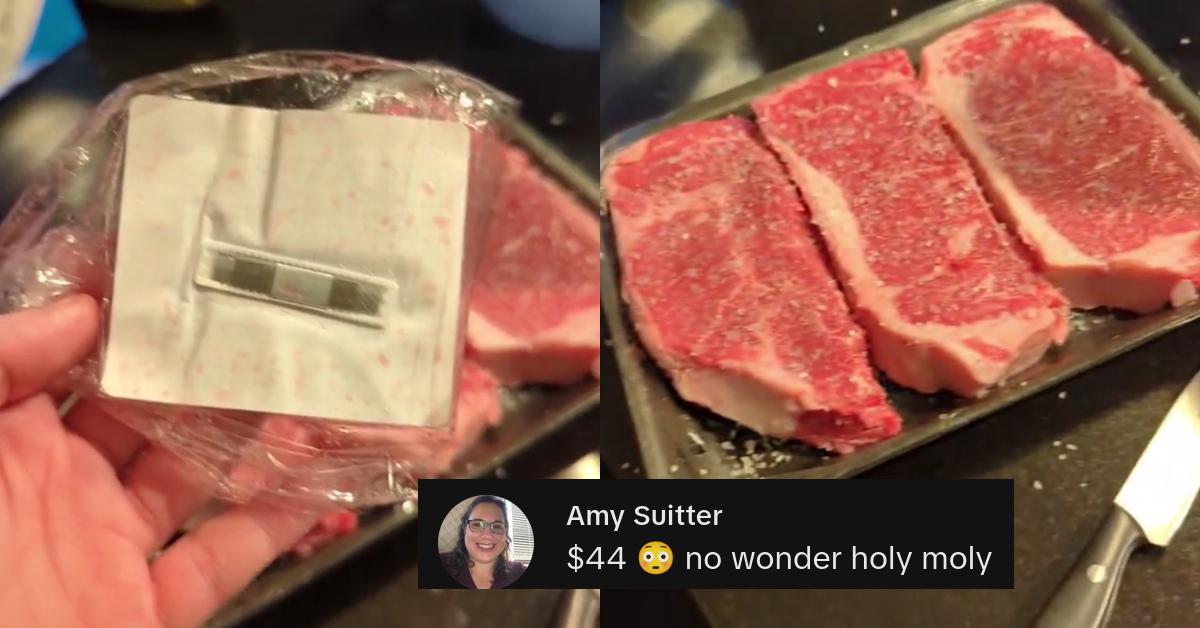 Imagine yourself at a Walmart. Now imagine all of the products you think would probably have a security tag on them. Videogames would probably fit that bill, they're relatively small and easy to tuck away into a purse, pocket, or someone's drawers if they're trying to get really intimate with that new copy of Street Fighter 6.
Article continues below advertisement
Other electronics that are tiny but rock high price tags, like an Apple Watch, AirPods, or smartphones and tablets, all of these things you think would probably have a security sticker slapped on it to go beep beep beep whenever someone tries to leave the store without paying for said item.
But what about food? Sure, maybe you'd expect that in a high-end grocery store, but it's not like Wally World is selling Beluga Caviar.
However, one TikToker, Kaitlyn Farrell (@chupachan) recently learned the hard way that the steak she purchased was under serious supervision.
Article continues below advertisement
In a viral TikTok that's accrued more than 1.2 million views, Kaitlyn recorded her Walmart grocery store haul while relaying what went down during her shopping store experience.
Article continues below advertisement
In short: she was surprised as all hell to hear the machine beeping after she began walking out of the store because all she bought was some food.
But as she states in the beginning of the clip: the steaks were hella expensive, which may be why Walmart's loss prevention department decided to slide one of those little beep signalers underneath the tab.
Article continues below advertisement

"Went to Walmart to get steak, don't ask how much it was. When we were leaving it beeped. We got corn, steak...baked potatoes. I don't know what the f--- was beeping."
Article continues below advertisement
It wasn't until she got home that Kaitlyn learned what was beeping: it was the steaks she had in her cart. "As I'm about to do the steak — a security tag underneath the tag of steak?"
She writes in a caption for the video: "like I know it was expensive but god damn! just trying to treat myself!"
Now you might be reading this and thinking to yourself: "seriously, who the heck would steal steaks, especially from Walmart?"
Article continues below advertisement

Well, there are a lot of people who are pilfering cuts of meat from Walmart, why else would the retailer put its $20 Ribeyes under lock and key? That's what shoppers of the retailer have reported seeing during their forays into the Oklahoma-based chain.
Article continues below advertisement
So how much did Kaitlyn's steak cost, which got Walmart all hot and bothered and quick to slap a security tag under the stick? A little over $43.
Which makes sense, especially if you've got folks nabbing package after package of grillable goodness (or badness, if you're vegan/vegetarian and the thought of someone eating animal protein makes you want to toss a Molotov cocktail into Peter Luger's).
Article continues below advertisement

One TikToker wrote: "i work at a grocery store. we have security tags on most steaks. people steal them like crazy!"
Someone else penned: "I found one on a 4-5$ pork tenderloin at Walmart"
And there was another former Kroger employee who said that all meat was treated equally: it would be regardless: "Used to work for Fry's (Kroger) and they do the same. All meat beeps."
Article continues below advertisement

Have you ever encountered security tags on steaks while shopping at your favorite grocery store? Or do you know where they're tucked away and are able to peel them off for a very cheap Labor Day celebration?