Woman Live-Tweets a Passenger Who Took His Pants off Mid-Flight
Everyone wants to travel in comfort, but one passenger might've gotten a bit too comfortable on a recent flight.
Travelling in constrictive clothing is not ideal, especially when you're seated for hours upon hours and hours. With delays, shrinking economy class seats, and a general lack of proper ventilation on an airplane, things can get uncomfortable quite quickly.
Article continues below advertisement
So it's best to wear light, breathable clothing that are elastic. Sweatpants and athletic wear, even though you're doing the opposing of participating in athletic activities, is probably you're best course of action when flying.
No one wants to be stuck on a plane in a 3-piece-suit and leather shoes.
You might even start removing articles of clothing, or kick off your shoes so you can wiggle your toes. Maybe don't kick your stinky feet up so they're all up in another passenger's grill, but you probably won't offend anyone by getting comfortable that way.
What you wouldn't want to do is take off your pants, as tempting as that might be. You'd think you wouldn't have to tell someone that, but Twitter user Lizzie Thompson found who is possibly the only man in the world that needed to be reminded of that in the pre-takeoff announcement.
Article continues below advertisement

She decided to live-tweet the offending passenger's shameless flight attire and provided pictures to prove that yes, someone actually thought that this was acceptable behavior. Strangely enough, no one else on board, not even the stewards and stewardesses, told the guy to please put some pants on.
To be fair, this instance probably wasn't in the training manual.
Article continues below advertisement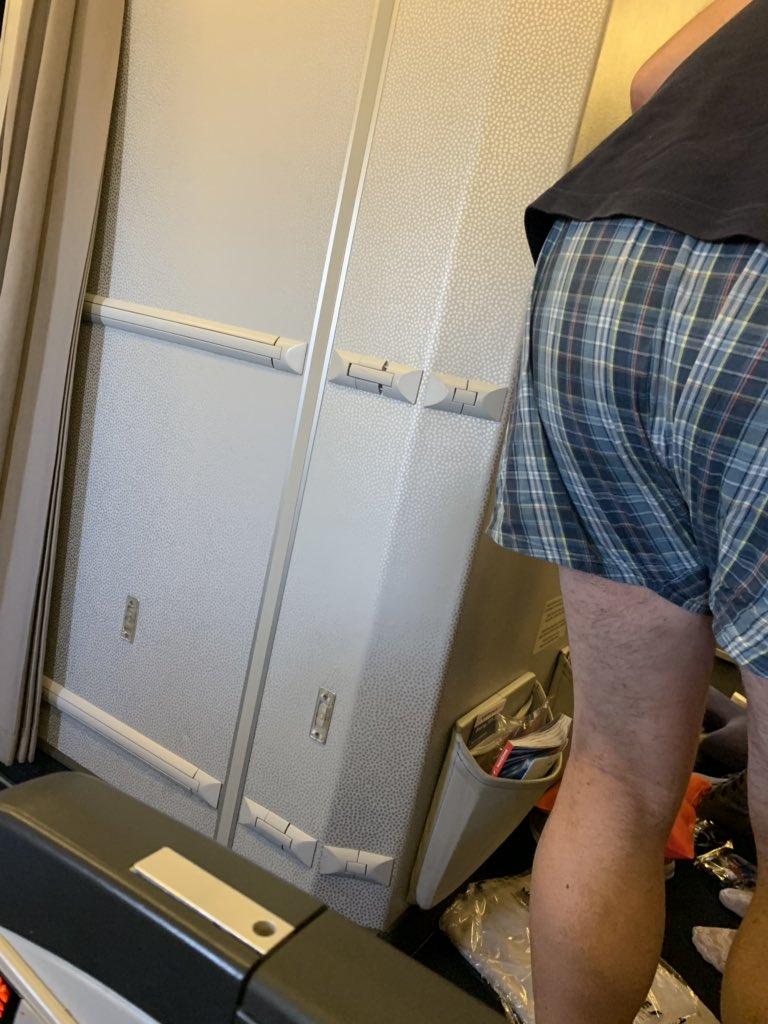 It turns out that the man removing his pants was only the tip of the iceberg of absolute weirdness. He then proceeded to remove his shoes and socks. Because at this point, you know, why the heck not?
Article continues below advertisement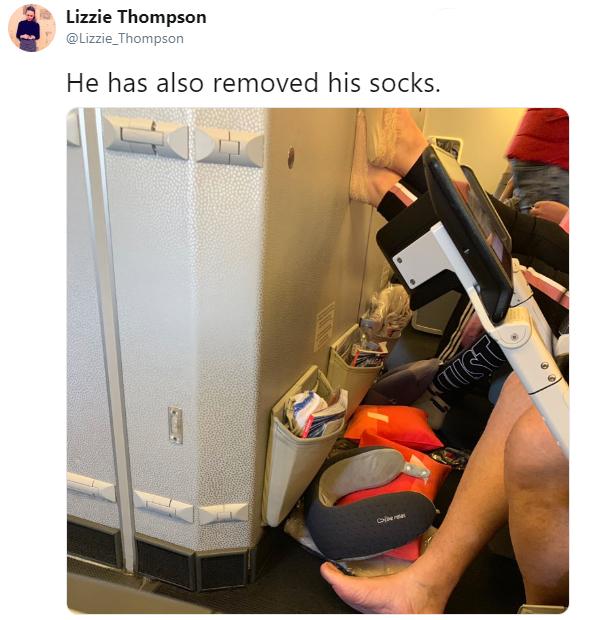 Things got surprisingly stranger when the pantsless man began calling even more attention to his pantslessness by calling out to random strangers on the flight, like a dude who walked on with a ukulele. "Let me serenade everyone with the 'Ballad of Lost Trousers!'" Seriously this is like something out of a David Lynch film.
Article continues below advertisement

When Lizzie attempted to point out to a flight attendant that the man should be told to put pants on, she was met with a shrug and the option to move her seat. Problem was, she'd be giving up the bulkhead, which is primo territory in economy class.
She might be grossed out by the dude with no pants, but not that grossed out.
Article continues below advertisement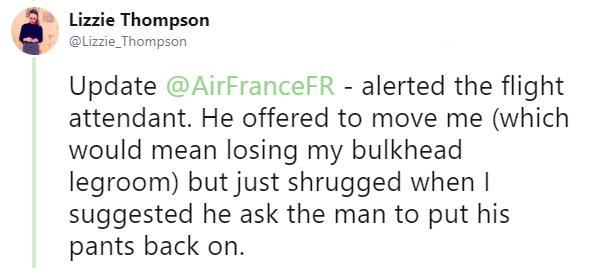 His in-flight activity revealed somewhat of an explanation for his behavior: homeboy was hitting the sauce. Now I've never been so tipsy that I took off my pants on an airplane, but maybe some people are hit harder by wine than others?
Also, the comedy of a man walking around without socks and in boxers on a flight, who then got so cold he had to put his coat on, but not his pants, is comedy gold.
Article continues below advertisement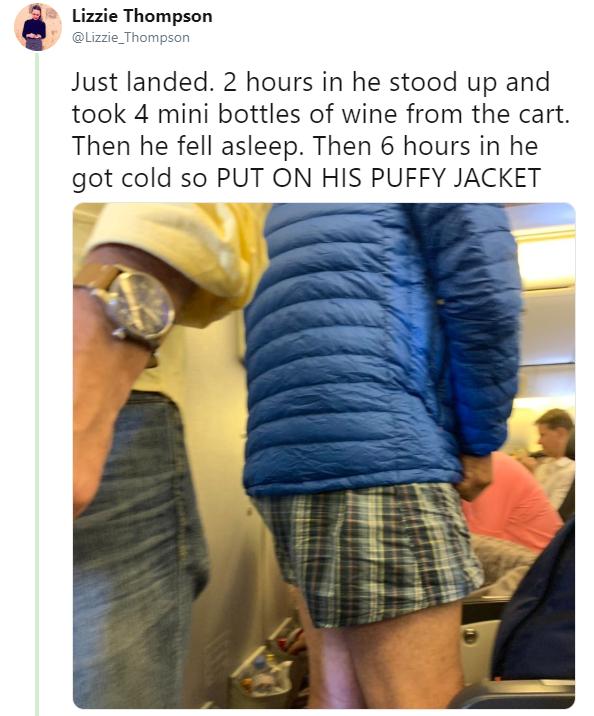 There was a silver lining during this whole ordeal, however. The flight attendants, not wanting to deal with the pantsless man at least did work to make Lizzie's time on the plane a bit more endurable.
Article continues below advertisement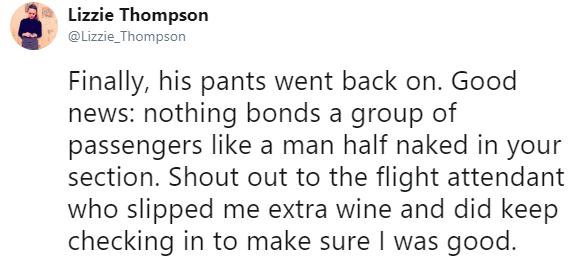 People were equally horrified by Lizzie's experience, but they admitted that free win is a plus. Still, it would've been nice if the guy just decided to act like, you know, a normal human being in a very common social setting.
Article continues below advertisement

People shared their own stories of people donning attire that's probably best suited to being worn only in the comfort of their own home, but they weren't nearly as bad as Lizzie's.
Article continues below advertisement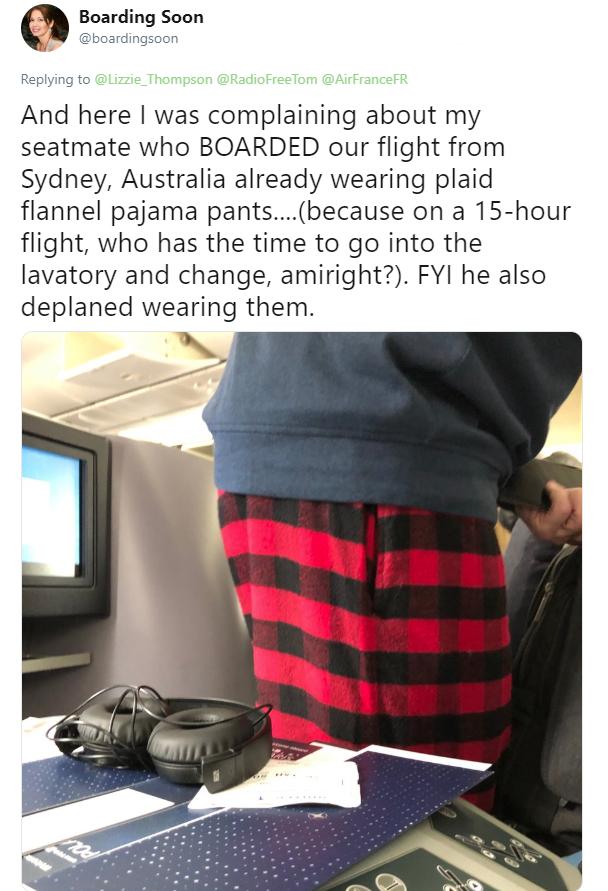 Lizzie also hopped back on the thread to answer people's most burning questions about the whole debacle.
Article continues below advertisement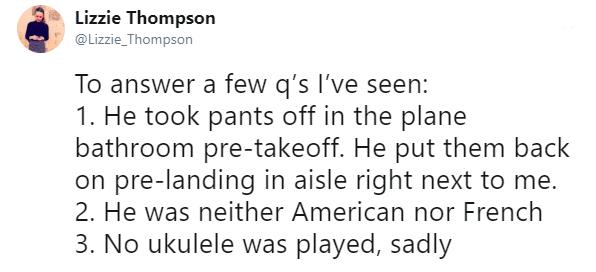 Just because this guy got away with it, people, that doesn't mean you should try it on your next flight. Please, please, please keep your clothes on at all times. Thank you.