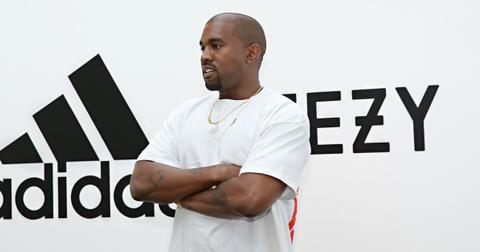 Kanye West's Latest Tweetstorm Involved Screenshots of Jennifer Lawrence
By Joseph Allen

Updated
The latest Twitter tirade from Kanye West contained some unusual digressions. The rapper, who is currently mounting a rather unconventional run for presidency, recently posted a series of tweets that have since been deleted from his account. In the tweets, Kanye claimed that his wife Kim Kardashian was trying to have him locked up and he also posted screenshots of Google search results for Halle Berry and Jennifer Lawrence.
What did Kanye West say about Jennifer Lawrence?
In his tweet, Kanye didn't actually say anything about Jennifer Lawrence. Instead, he simply posted screenshots of Google search results comparing the results for Jennifer with those for Halle Berry. If he was trying to make a point about the difference between the two images, it was definitely lost on some people.
"Why did he google Jennifer Lawrence and Halle Berry??? I'm confusion," one user wrote on Twitter.
Others thought that Kanye was making a point about the difference between the results for a Black actress and a white actress. Halle's results were links to gossip sites, while Jennifer's were focused more on her biography and accomplishments.
"Oh so he's saying Halle Berry isn't treated like a professional actress when you google her. But Jennifer Lawrence is treated like a professional actress," one user wrote.
What else did Kanye West write in his tweets?
In addition to somewhat obscure tweets about Jennifer Lawrence, Kanye's tweets also suggested that Kim Kardashian and his mother-in-law Kris Jenner were trying to have him locked up with a doctor. He then compared himself to Nelson Mandela and said that the movie Get Out was based on his life. He also shared a screenshot of a text he had sent to Kris.
In the text, Kanye said that he was ready to talk and asked Kris if she was still avoiding his calls. He also made allusions to Kim's 2007 Playboy cover, saying that his children would never do anything like that. Given the erratic nature of these tweets, fans of the singer and other public figures began expressing concern about Kanye, who has discussed his struggle with bipolar disorder in the past.
Kanye West's struggle with bipolar disorder has been ongoing.
Fans first became concerned about Kanye's mental health after it was reported in 2016 that he had been hospitalized for a psychiatric emergency following a series of concert appearances in which he spent large portions of the show speaking to the crowd. Halsey, who has also been open about her bipolar disorder, posted a series of tweets about her own illness after Kanye's tweets without mentioning him by name.
"A lot of people you know probably have bipolar disorder and you aren't aware of it," the singer wrote. "Taking this opportunity to make offensive remarks and villify [sic] people with mental illnesses is really not the way to go...this is the exact triggering s--t that causes people to keep quiet about it." The singer continued, calling on her fans to take mental health issues and refrain from making jokes.
Following Kanye's tweets, the hashtag #PrayforKanye began trending. For all of the snarky comments, there were plenty online offering sincere concern for the rapper.