Joe Kelly Got Suspended for Eight Games for What He Did and Said to Carlos Correa
LA Dogders pitcher Joe Kelly got in trouble for throwing a ball near Astros' player Carols Correa's head, and then telling him something pretty offensive. Here's what Kelly said to Correa.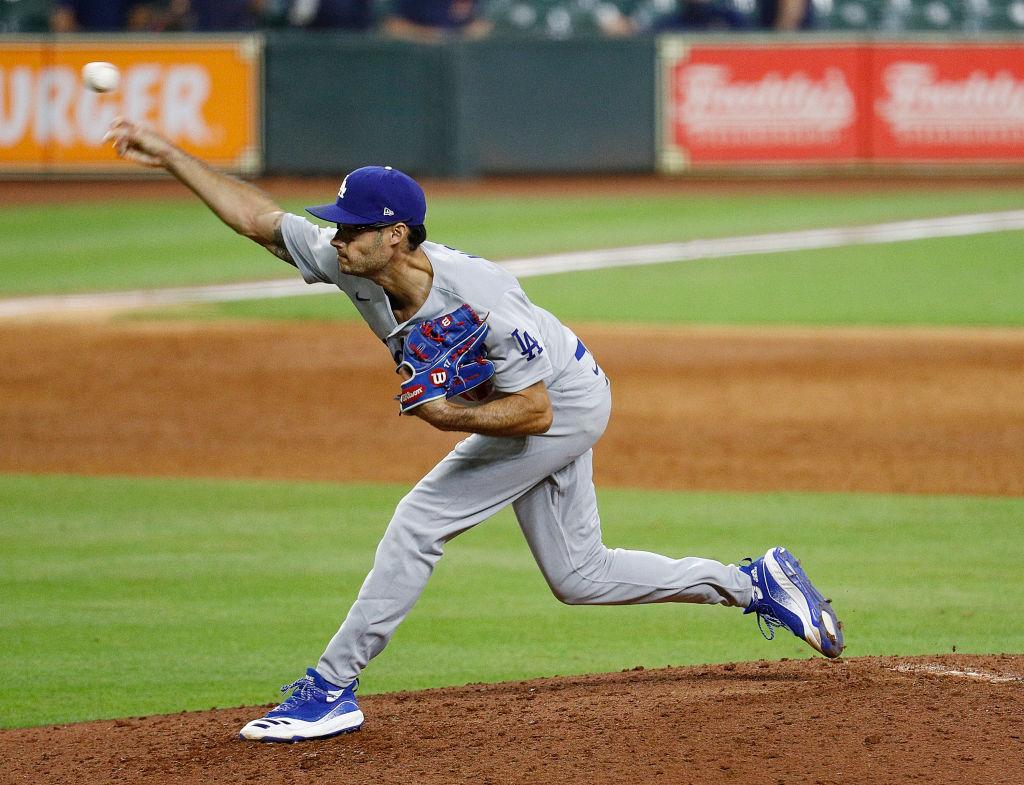 Things got a little heated in a game between the LA Dodgers and Houston Astros, and now, Dodgers pitcher Joe Kelly has been suspended for eight games by Major League Baseball. While many agree that what Kelly did (and said) was worthy of consequence, a lot of baseball fans are miffed that Kelly got suspended (along with Dodger manager, Dave Roberts), while the Astros have notoriously gotten away with cheating.
Article continues below advertisement
What did Kelly say to Correa?
First, Kelly threw the ball near Carlos Correa's head on purpose earlier during the sixth-inning at-bat. After, Kelly made a face at Correa, and told him, "Nice swing, bitch," while walking past him. Per ABC, the Astros manager Dave Baker, stated, "Balls get away sometimes, but not that many in the big leagues. When you throw a 3-0 fastball over a guy's head, you're flirting with ending his career." Kelly threw the ball at Correa after he also pitched it at Alex Bregman. Watch the play here:
Article continues below advertisement
Baker stated, "What really enraged everybody...is when he told him, 'Nice swing, bitch.' What are you supposed to do then?" Baker was asked if Correa had done or said anything to specifically provoke Kelly, and Baker responded, "We didn't say anything. We don't start nothing. But we don't take nothing, either." Kelly denies purposely throwing the ball so it could hit Correa.
Many people believe Kelly's actions have to do with the Red Sox vs. The Astros game in the AL Division Series in 2017. The Red Sox, which was Kelly's team at the time, lost. "No. When I was with the Red Sox, we beat them in '18. It's one of those things that I pitch competitively. With no fans here, it's easy to hear some stuff...there's something they apparently didn't take too kind too." When asked if Kelly's throws were because of Houston cheating, Kelly kind of shrugged off the answer, saying "I really don't know, to be quite honest."
Article continues below advertisement
People on Twitter are divided. Some are upset that Kelly got suspended (it's his second time getting suspended — two years ago he got in trouble for the same thing). "Joe Kelly isn't even on my team anymore and I'm outraged at that 8 game suspension. He got 2 less games for actually hitting a guy 2 years ago. Now he's missing 5% of the season because Correa got his feelings hurt. #FreeJoeKelly," one Twitter user wrote.
Article continues below advertisement
Another baseball fan on Twitter admitted that what Kelly did was just straight-up unprofessional. "Stop my bro. He knew what he was doing. Dude making 10 million a year to throw a baseball. It is what it is. I said him throwing a ball at 97 (at someone head) on 3-0 was unprofessional. That's big facts. Everyone want to point out our mistakes but we ain't talking about that," they wrote in response to another Twitter user claiming Kelly didn't purposely throw the baseball at Correa.
Article continues below advertisement
Currently, Kelly is trying to appeal the decision to suspend him.