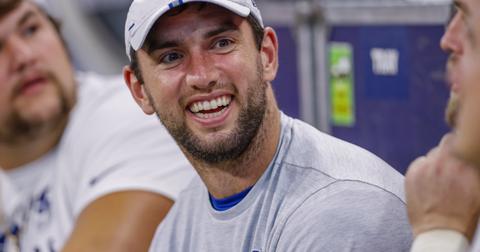 Andrew Luck Abruptly Walked Away From the Indianapolis Colts, but What Is He Doing Now?
By Samantha Faragalli Younghans

Updated
NFL fans were stunned back in August when they learned that Andrew Luck would be leaving the Indianapolis Colts after seven years. But now that the 2019-2020 football season is in full swing, fans are wondering what the former NFL quarterback is up to today. Scroll down for everything we know about his life off the field.
What is Andrew Luck doing now?
It's not totally clear what Andrew Luck is doing since he retired late in the summer, but we have a feeling it has nothing to do with football considered he dissed the sport in his retirement announcement.
"This is not an easy decision. Honestly, it's the hardest decision of my life. But it is the right decision for me," he emotionally revealed at the time. 
"I've been stuck in this process. I haven't been able to live the life I want to live. It's taken the joy out of this game... the only way forward for me is to remove myself from football," Andrew added.
Perhaps the former athlete has moved on to education. When talking to a Washington Post reporter in March 2018, he was asked what he'd want to do after his football career and he responded "Honestly, I think I could be very happy teaching high school history." 
That actually wouldn't be a surprise considering he is still passionate about the Andrew Luck Book Club, which he kicked off three years ago. His Instagram page for the initiative has a description that reads: "The mission of the Andrew Luck Book Club is to share my joy of reading and to build a team of readers by engaging through social media."
But even though he retired in late August, he still managed to post his book club selections for September. However, we are now one week into October and Andrew has yet to share his picks for this month. Has he moved on from the Book Club now that his football career has ended? Time will tell...
Why did Andrew Luck ultimately retire?
Andrew ultimately called it quits on the game at 29 years old because of all his injuries, including an ankle, rib, and shoulder injury, and rehabilitation. 
"It's been four years of this injury-pain rehab cycle, I can't live the life I want to live moving forward ... I feel quite exhausted and quite tired," he admitted. "I know I am unable to pour my heart and soul into this position... and it's sad, but I also have a lot of clarity in this."
"I've been stuck in this process. I haven't been able to live the life I want to live. Taken the joy out of this game and after 2016 when I played in pain and was unable to regularly practice, I made a vow to myself that I would never go down that path again. I find myself in a similar situation and the only way for me is to remove myself from football and this cycle I've been in," Andrew added.
"I've come to the proverbial fork in the road and I made the vow to myself that if I ever entered this situation again, I would choose the innocence."
But Andrew wants everyone to know that he'll forever be grateful for his seven seasons with the team. "My wife and I are so proud when people ask us where we're from. We say Indianapolis... I want to thank football for so many moments in my life," he shared. "It's the greatest team sport in the world."   
How are the Colts doing without Andrew Luck?
Since Andrew has departed from the AFC South squad, the Colts have a record of 3-2. Their next game is on Sunday, Oct. 20 at 1 p.m. against the Texans. Hopefully Andrew's replacement, Jacoby Brissett, will bring the team to 4-2.