Aside from Elf, The Santa Clause, and — of course — The Grinch, one of my all-time favorite holiday movies has to be National Lampoon's Christmas Vacation. Watching the Christmas classic starring Chevy Chase has been a tradition in my family for several years now, so you could imagine how thrilled I am that it's coming back to theaters in time for the holiday season. 
If you don't remember what the movie is about, let me jog your memory.
In National Lampoon's Christmas Vacation, Clark Griswold (played by Chevy Chase) simply wants to have a classic and relaxing family Christmas. He convinces his wife (played by Beverly D'Angelo) and children to make sure they get the perfect tree and the best decorations. 
But things go seriously wrong when his strange cousin Eddie (played by Randy Quaid), and the rest of his family show up unannounced. They decide to live in their trailer outside the Griswold's house. Let me tell you: it's a real disaster... a hilarious disaster, that is.
Now that you're caught up, here's where to watch National Lampoon's Christmas Vacation.
If you'd like to see National Lampoon's Christmas Vacation on the big screen for the first time since 1989, now is your one and only opportunity. According to Delish, all AMC Movie Theaters are showing the holiday classic for $5 per showing. In the wise words of Uncle Lewis, "the BLESSSSSING!"
You'll be able to catch it today through Dec. 12, and like I said, it's only five buckaroos per ticket. Yes, you heard that loud and clear, folks, and if you're dying to see it like I am, make sure to check participating AMC locations and purchase your tickets on the AMC website before time runs out.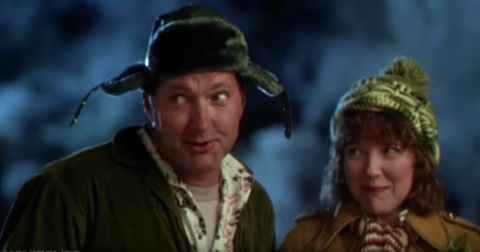 If you want to watch it from the comfort of your couch, though, you can do that too.
Between work, school, and all of the holiday shopping you probably still haven't taken care of, though, there's a slight chance you won't have time to see it in theaters. But luckily for all you busy bees, National Lampoon's Christmas Vacation is available for streaming, too.
You can watch the Griswold sulk in "the thresholds of hell" on YouTube, Amazon Prime, iTunes, Google Play, Vudu, and Fubo. Unfortunately, it isn't currently available on Netflix, HBO, or Hulu (aka any of the streaming services I subscribe to), but don't freak out... maybe it'll be different next year.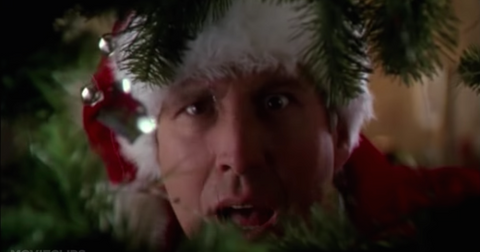 National Lampoon's Christmas Vacation is a total must-watch this holiday season — because really — what is Christmas without cousin Eddie and the entire Griswold family? Whether you decide to see it in theaters this holiday season, or if you'd rather watch it from the comfort of your own home is entirely up to you. Just remember: "Nobody's walking out on this fun, old-fashioned family Christmas."