Former Neonatal Nurse Lucy Letby Was Convicted of Murdering Seven Babies — Why Did She Do It?
Why did Lucy Letby do it? The former neonatal nurse was sentenced to life in prison for the deaths of seven babies. Here's what we know about her crimes.
Lucy Letby has been dubbed the worst child serial killer in Britain's history. Her crimes are horrific and are made worse by the documented ways in which she acted during these times. The former neonatal nurse would seemingly revel in the grief of the families who were mourning the loss of their babies and would often seek out their social media profiles on the anniversaries of their children's deaths.
Article continues below advertisement
It's almost impossible to wrap one's mind around these acts, and yet there must be a reason for them. A person doesn't simply wake up one day and decide to commit such atrocities, or do they? Why did Lucy Letby do it? Here's what we know.
Article continues below advertisement
Why did Lucy Letby do it? There are several theories.
We might never know why Letby did what she did, but there are multiple theories as to what propelled her to such an awful place. According to The Guardian, jurors were given a number of possible motives by the prosecution during the nurse's 10-month trial at Manchester crown court."
Prosecutor Nick Johnson KC put forth the idea that Letby was suffering from a God complex. It all came down to an interest in harming the babies, then being the first to let doctors know their health was declining thus giving her control over their lives. "After her final murder in June 2016, she said to doctors: 'He's not making it out of here alive, is he?'" It was as if Letby enjoyed being the bearer and cause of such tragic news.
Article continues below advertisement
A more disturbing theory paints Letby as someone who got a thrill out of the deaths of these babies. The parents of one little girl, known as Child 1, recall Letby "smiling and going on about how she was present at [Child I's] first bath and how much she had loved it." This occurred after their child suffered repeated attacks by Letby which resulted in her death. She also searched for families on social media, one after the other, as if she was "hunting for grief," per The Guardian.
Article continues below advertisement
Was all of this born from her need to catch the eye of a married doctor Letby was allegedly engaged in a secret relationship with? Texts between Letby and this doctor were displayed in court, revealing the "pair messaged regularly, swapping love heart emojis, and met up several times outside work — including on a day trip to London — even after Letby was removed from the neonatal unit in July 2016." He was frequently the doctor Letby called when a baby's health was deteriorating.
One of the more upsetting theories is that Letby was merely acting out of boredom. Evidence provided during the trial showed that Letby "agreed that she found work less stimulating when she was assigned to babies who did not need as much medical attention."
Article continues below advertisement
Finally, the most damning evidence lodged against Letby came in the form of handwritten Post-it notes discovered in her purse after the arrest in July 2018. These notes support a theory that Letby felt she wasn't good at her job and was caught in some sort of cycle. "I killed them on purpose because I'm not good enough to care for them," she wrote on one. "I AM EVIL I DID THIS," Letby scribbled on another. Letby claimed these were the "ramblings of someone in mental anguish," written after she was suspended from work.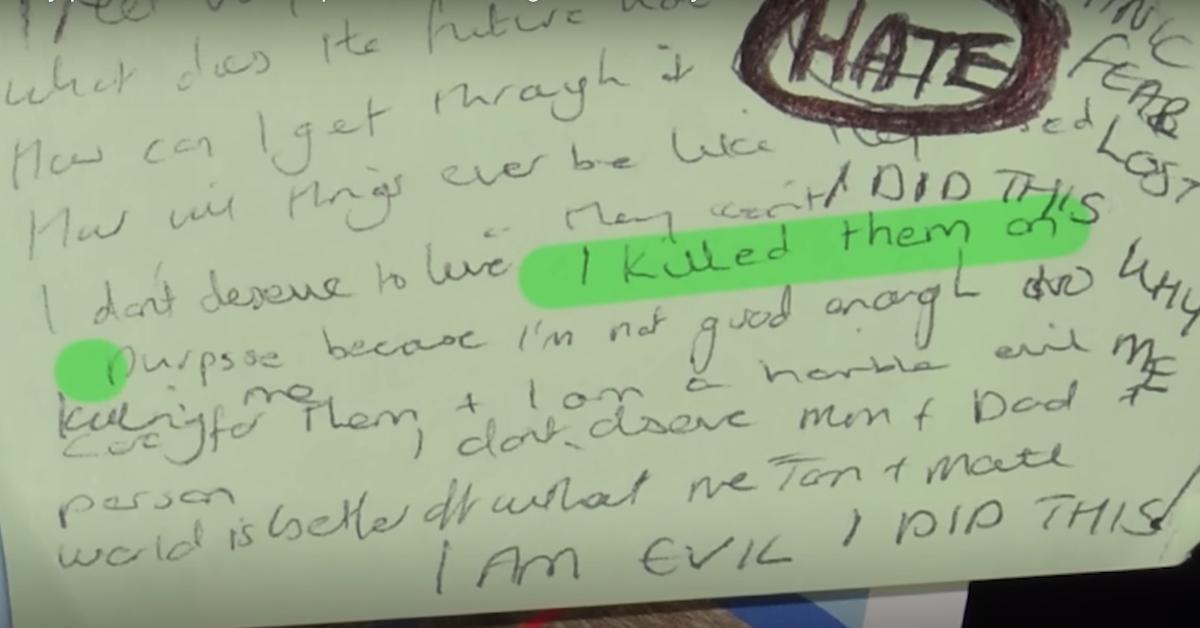 Article continues below advertisement
The judge handed down a rare sentencing.
Letby is only the third woman alive to receive a life sentence in the United Kingdom, and Justice James Goss did not hold back while handing it down, via Guardian News. "This was a cruel, calculated, and cynical campaign of child murder, involving the smallest and most vulnerable of children," he said. "Knowing that your actions were causing a significant physical suffering and would cause untold mental suffering."
He went on to specify how Letby ensured her tracks would be covered by removing and retaining "confidential records" that were related to her crimes then "checked up on bereaved parents." This next part was difficult to hear: "There was a deep malevolence bordering on sadism in your actions."
There was also mention of Letby's own reactions during the trial. She was cold and lacking in accountability while staunchly denying she did anything wrong then attempted to blame others for her own crimes. "You have no remorse," said Justice Goss.