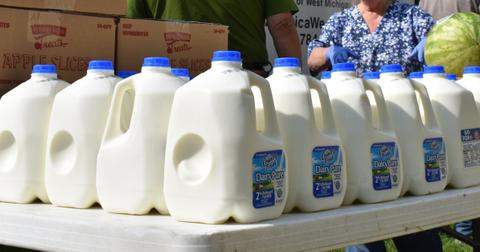 This Is Why Milk Jugs Have Those Circular Dimples on Their Sides
By Abi Travis

Updated
Since humans first appeared on the Earth, they've been asking huge, life-changing questions. Why am I here? Why do bad things happen to good people? What would I do for a Klondike bar?
Today, we're exploring another big question that humans have pondered over for years. Why do milk jugs have circles built into their sides? OK, maybe you haven't actually actively pondered over the design of milk jugs, but you clicked on this headline, so you're obviously at least a little bit curious. We were too. Here's what we found out!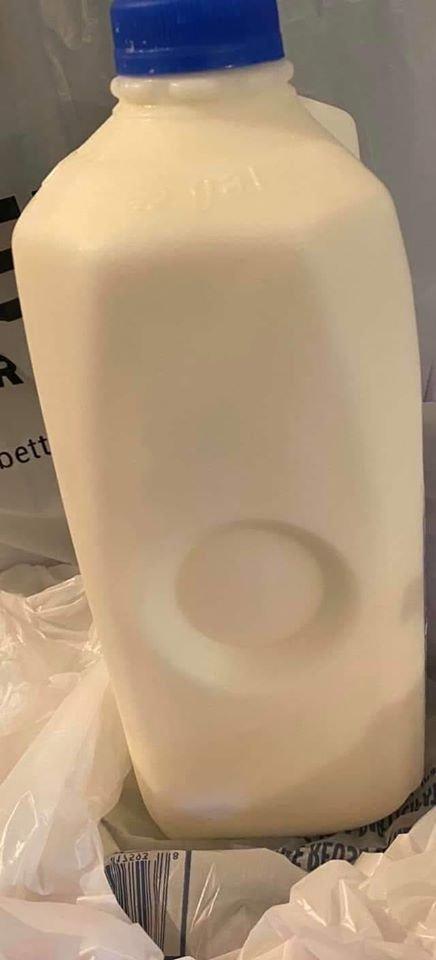 Why do milk jugs have circles built into their sides?
We'll start out by saying that, obviously, not every milk jug has the same shape. You can find square gallons of milk just about everywhere, and in a lot of places, milk doesn't come in a jug at all! In Canada, for instance, it's not uncommon to buy milk in plastic bags which you then cut the corner off of and store in a designated pitcher in the fridge. But when you picture the quintessential gallon of milk, it has circular dimples on its sides.
The circles built into milk jugs provide several benefits, but the specific reason those circular dimples exist actually isn't specific to milk at all. The circular indentations allow the milk jug to flex slightly, rather than keeping a solid, rigid shape. This is super important if you ever happen to accidentally drop a gallon of milk. Rather than cracking or shattering, the semi-flexible plastic used to make the jug, along with the indented design, allows the jug to take a harder hit.
This is because the indents provide a place for the jug to expand outward when the pressure spikes (kind of like how water balloons sometimes just sort of squash outward and then bounce up unharmed when you drop them on the ground). Obviously, it's still possible to drop gallons of milk hard enough to break them open, but the circular indents prevent this from happening more often than not.
That's not the only benefit to those circular indentations.
The indents also come into play even if the milk doesn't get dropped on the ground. During a gallon of milk's shelf life, some (non-harmful!) bacteria produce gas inside the closed jug. The indentations allow the jug to expand slightly to accommodate that extra air, which is why you sometimes see the indentations poking outward. That's also a good indication to double-check the expiration date. The older the milk is, the more likely the jug is to bulge outward.
If you tend to buy more milk than you can use before its expiration date, you can totally freeze it — also thanks to those indentations. Like water, milk expands as it freezes. The circular indentations allow the jug to expand as the milk freezes, then pop back into place whenever you eventually thaw the milk out.
So, there you have it. That's probably more than you ever thought you'd know about the design of milk jugs, but hey — knowledge is power, right? Now you've got an interesting factoid to share at the breakfast table!