Yoko Ono Is Trending Today and It's Clear People Still Believe This Old Myth
Yoko Ono is a name that if you ask anyone, they will give you their opinion of her without knowing her well. So, why do people hate Yoko Ono?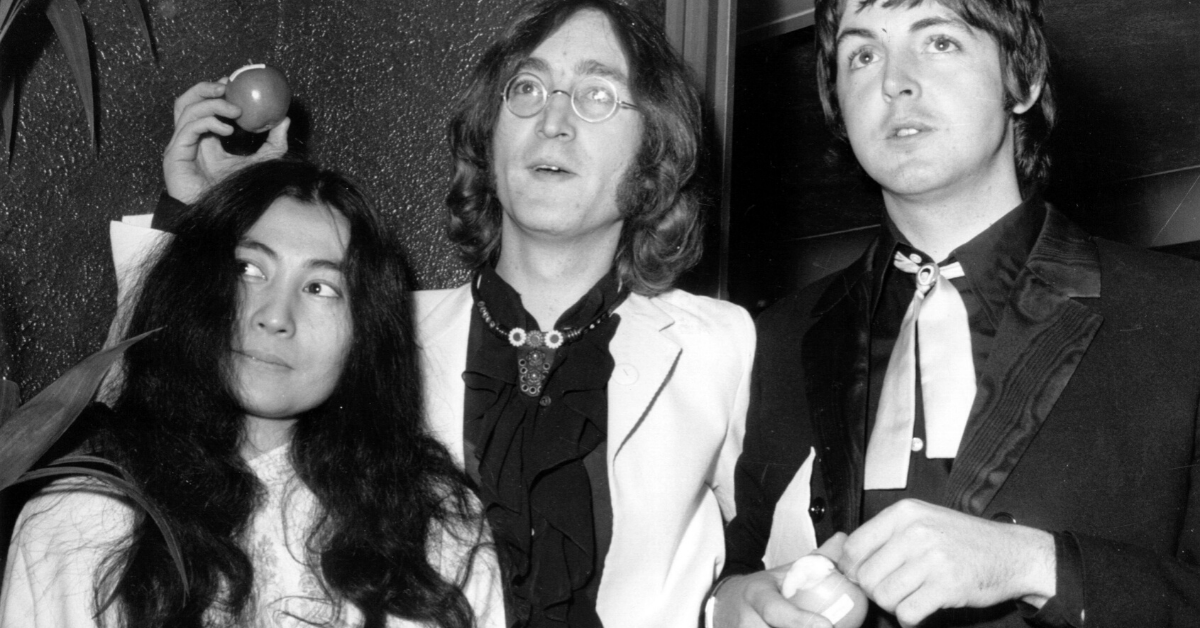 Ask any big Beatles fan about this one person and they will give you an opinion. No, they're not one of the members of the band but none other than Yoko Ono. The eventual partner of John Lennon, Yoko was 33 when she met the then-26-year-old Beatles member. She was relatively unknown, an artist from New York who had moved to London, England, and her life changed. She became one of the most hated people in the world, but why do people hate Yoko Ono? Turns out racism and misogyny play a big role.
Article continues below advertisement
Why is Yoko Ono trending?
Twitter is buzzing with tweets talking about Yoko Ono today with the majority of them starting off saying some variation of "I don't know why Yoko Ono is trending today but…" Apparently the owner of the Indianapolis Colts offered to give away gift cards to anyone who could answer what happened 48 years ago on The Dick Cavett Show. The answer? John Lennon and Yoko Ono performed live together.
This question sparked a large discussion from Twitter on Yoko, her life, her place in Beatles history, and why people hate Yoko Ono.
Article continues below advertisement
So, why do people hate Yoko Ono?
It starts with a lot of racism and a touch of misogyny – Yoko Ono, a relatively-unknown Asian woman, was romantically involved with arguably one of the most popular people on the planet at the time. Back in November 1966, John and Yoko met and they got married not long after, in March 1969.
Article continues below advertisement
At the time these two got together, John and the Beatles were at the height of their fame, but inside the group was struggling and arguing with each other. Biography writes, "The grueling touring schedule of the past five years had stopped, their recording label Apple Records was created, Lennon's substance abuse was getting out of hand [...] But it was the sudden death of longtime manager Brian Epstein due to an accidental drug overdose on August 27, 1967, that left Lennon, McCartney, George Harrison and Ringo Starr reeling and adrift."
Article continues below advertisement
There was a lot going on in the band that the pubic didn't see at the time, but when the Beatles broke up, Yoko was to blame.
"There is not a Beatle fan out there that doesn't have strong feelings toward her, either hating on her or thinking she and John had the greatest love story ever," Robert Rodriguez, author of Revolver: How The Beatles Reimagined Rock 'n' Roll, told Biography.
People on Twitter are pointing out what that hate toward Yoko Ono is really about.
Yoko isn't perfect and certainly has done things in her past that warrants criticism, but one person on Twitter points out that people hated her before getting to know her.
Article continues below advertisement
"Since Yoko Ono is trending i would like to bring up the fact that she is a brilliant artist who has been subjected to insurmountable amounts of racism and misogyny for so many years of her life and your harassment of her, and jokes about her are not funny," writes the Twitter user.
Article continues below advertisement
Another person writes, "*deep inhale* Yoko Ono is an important feminist that's been subjected to racism and misogyny for the crime of *checks notes* John Lennon falling in love with her," Continuing, they say, "She is also a non-black person of color who thinks she can use the n-word for a feminist statement (she can't.)"
Article continues below advertisement
Another user points this out as well, writing, "you can criticize yoko ono without being racist or misogynyst [sic]," over and over again.
The love story behind John Lennon and Yoko Ono seemed quite genuine, and it's unfortunate that people hate Yoko simply because she was blamed for being the reason the Beatles stopped making music.