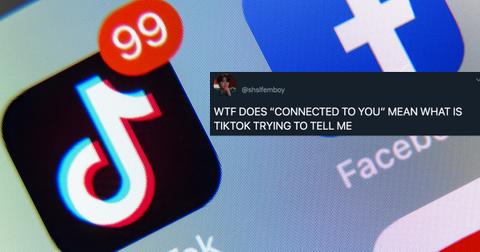 This Is What TikTok's 'Connected to You' Video Tag Actually Means
By Lizzy Rosenberg

Updated
Many of us could spend hours scrolling through TikTok's 'For You Page.' Between useful viral kitchen hacks, dances, and conspiracy theories, the app's general "feed" generates several hours' worth of seriously entertaining content. However, a new type of video has begun appearing on 'For You Pages' across the nation, and it's led to tremendous amounts of confusion (and panic!).
If you've noticed an influx of familiar faces on TikTok's For You Page, with the inexplicable tags that say 'Connected to You,' you aren't alone. Stay tuned for the meaning behind FYP's mysterious 'Connected to You' tag.
We've finally found the meaning behind TikTok's 'Connected to You' tag.
Amid some late-night scrolling via TikTok's 'For You Page,' you may have encountered a slew of videos that feature someone familiar, whether it be your ex-friend from high school, an old camp friend, or a one-night-stand from last summer. And although it was most likely a jarring and unwanted experience, it can be attributed TikTok's latest feature, the 'Connected to You' tag.
Earlier this month, TikTok users began complaining that videos of non-friends — but familiar faces nonetheless — were appearing on their 'For You Pages,' accompanied by the 'Connected to You' tag on the bottom left corner. Basically, the 'Connected To You' tag will appear with videos featuring people whose number you have saved in your contacts, or if they have your number saved in their contacts, according to The Android Soul.
The app's brand-new 'Connected to You' feature only appears to those who have linked their number to their TikTok account, or who have shared their contact details with the app. It's apparently rolling out worldwide, and sometimes, it shows up as 'Suggested Account' instead. Either way, though, it's creepy (and somewhat jarring) nonetheless.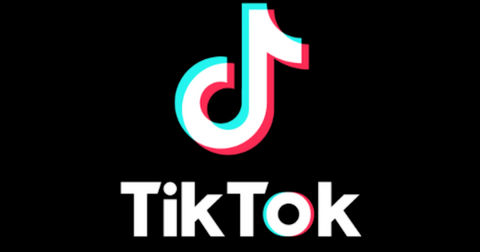 TikTok users are understandably creeped out by this stalker-ish new feature.
Theoretically, TikTok's ability to generate people you may be friends with through the 'Connected to You' tag would be useful for finding friends through the app. However, it has inadvertently brought tremendous anxiety to users. Seeing someone you severed ties with years ago, or your boss isn't necessarily what you were hoping for upon logging into TikTok. Plus, the fact that the app uses your contacts — and others' contacts — may be a little too advanced for this lifetime.
As we all know, Twitter loves to complain more than life itself. So, as expected, angry users have taken to the social media platform to air their frustrations regarding TikTok's 'Connected to You' feature. Clearly, users are shaken and disturbed by what feels like a major privacy breach. Check out what they've had to say about it below.
tiktok has now changed "connected to you" to "from your contacts" oof

— alex?¿ (@alexwestnyc) May 8, 2020
Me: *unfollows people I went to high school with*
Tiktok: CoNnECTeD tO yOu

— Claire Booker (@BookerCbooker) May 28, 2020
IM SORRY WHAT IS THE CONNECTED TO YOU THING ON TIKTOK? I WISH TO NOT SEE PPL I WENT TO HIGH SCHOOL WITH ON MY FYP – 👄 –

— money ☆彡 (@dayseis) June 9, 2020
Whenever I get a "connected to you" suggestion on my burner TikTok account FYP I'm just like "aah aaah too close too close"

I can't be REVEALED.

— Rachel Bruce: Quarantine Edition (@rachelabruce) June 9, 2020
TikTok's new 'Connected to You' feature may be attempting to bring people together, but let's be honest, it's only bringing more anxiety and confusion to the situation. In actuality, nobody wants their co-workers to see their late-night dances and comedy videos in their TikTok feeds.