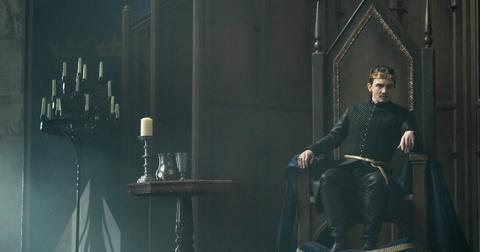 'Cursed' Fans Can't Help but Notice Uther Pendragon's Strange Quirk
By Jacqueline Gualtieri

Updated
Warning: Spoilers for Season 1 of Cursed.
In Le Morte d'Arthur, Uther Pendragon never exactly got the spotlight. The famous tale told the story of his son instead. Although Uther played a significant role in who Arthur would grow up to be, the king himself wasn't very present in the tale, dying early on. He's hot headed and some might even say villainous, but he was never quite the villain that future adaptations made him out to be. Cursed is no exception to that rule.
Season 1 of Cursed introduced another version of the king, one rather incompetent, widely hated, and perhaps a little mad, filled with some rather strange quirks. One such quirk that fans of the new series couldn't help but notice was that he would sometimes refer to himself as "we." So, why exactly does he say that?
🚨 cursed spoilers (maybe) 🚨

-
-
-
-
so is there an explanation i missed for why uther always refers to himself pluarally??? or do we just not know?

— si (@trissifer) July 20, 2020
Why does Uther refer to himself as "we" in 'Cursed'?
Uther shows himself to be pretty incompetent throughout Cursed. He does demonstrate that he's perhaps not as inept as some might believe him to be towards the end of the season, which isn't necessarily a good thing, as he's a major antagonist who allows the Red Paladins to murder magical beings. He's widely despised, not just by magical creatures, but by his kingdom as a whole as he rules with fear.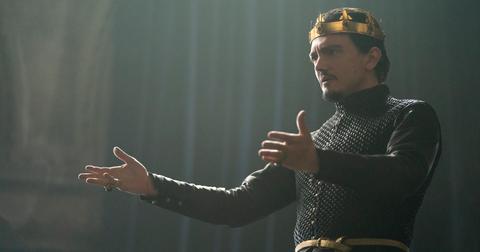 Uther also has a powerful ego, which may be why he refers to himself as "we." Although it's never said outright why he refers to himself as such, some postulate that it's because he's using the royal "we." The royal "we" got its name because it is typically used by royals, and its use has early origins. In 1169, King Henry II used it, with its meaning being "God and I." King Richard I would later use it as well, which coincided with his staunch belief in his divine right to rule.
Although Uther doesn't exactly have any right to rule, or perhaps because he doesn't but needs to constantly try to prove he does, he may be also using the royal "we" to mean "God and I," suggesting a belief in his divine right to rule.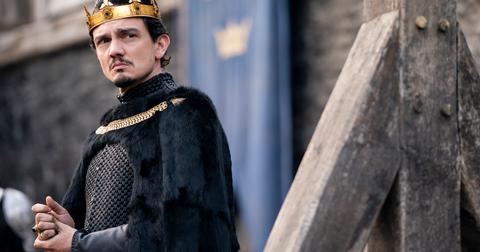 Could there be any other reason he uses "we"?
There's potentially another reason why Uther refers to himself as "we." Cursed has already strayed very far from the original lore, to the point where Uther isn't even Arthur's father. Perhaps there is even more about the character that Cursed has changed. Could this power-hungry ruler actually have warring consciousnesses? Might we be watching the development of a mad king?
Although the original lore does not have Uther as anything more than a deceptive, covetous side character, all bets are off when it comes to Cursed. But until we see that side of Uther developed in a second season, we may want to chalk his use of "we" up to the royal "we."
Season 1 of Cursed is streaming on Netflix now.