McFlurry Spoons Are Shaped the Way They Are for a Good Reason
Why are McFlurry spoon shaped the way they are? A recent TikTok video that went viral explains the reason behind their unusual look.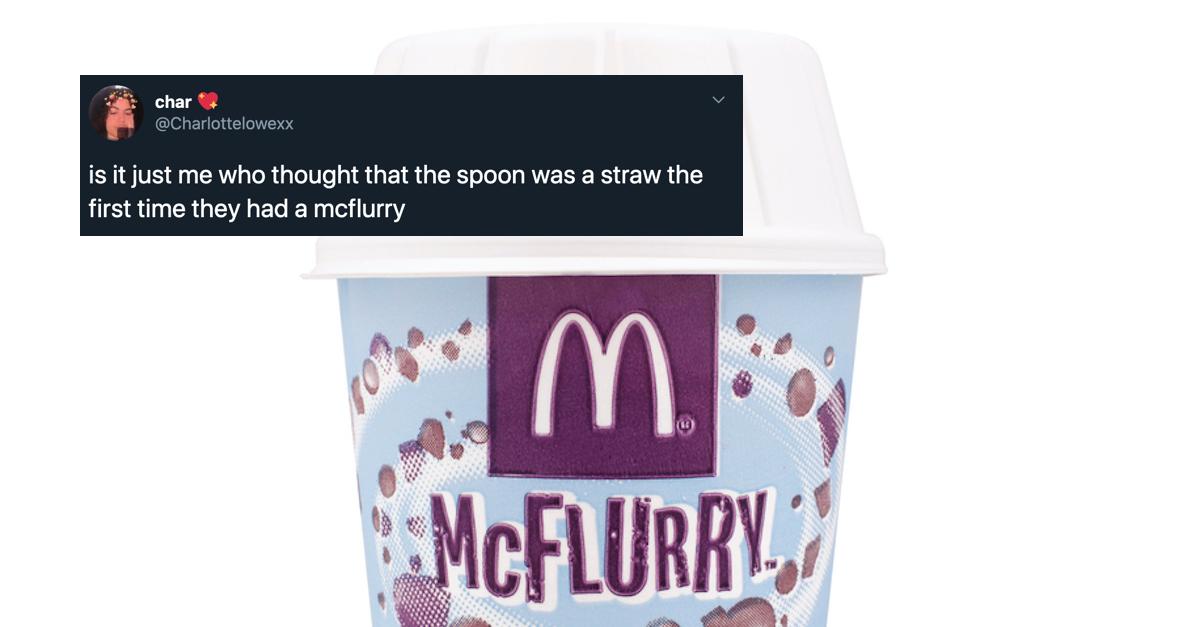 Although McDonald's ice cream machines are infamous for breaking down, there's no denying that a McFlurry is truly one of life's greatest gifts. One thing that almost everyone has pondered at some point or another, though, is the unusual shape of the spoons McDonald's serves with them — it's been a widely speculated mystery since the treats first appeared on the menu in 1997.
Article continues below advertisement
Article continues below advertisement
A TikTok video has emerged, answering all of our McFlurry-related inquiries.
TikTok user, @marzpire — who goes by Mar — reportedly works at McDonald's, and took to TikTok to answer all of our lifelong questions: why are McFlurry spoons shaped like that, and although they have an opening on top, why don't they work as straws? Her video, which was posted back in March, is seriously blowing up right now.
The video basically shows the McDonald's employee examining the open end of the spoon, before going through the steps to make a McFlurry. Once she puts the ice cream and toppings in the cup, she sticks the spoon in the center, and attaches the straw-like opening to a motorized mixer that is used to blend the toppings into the ice cream. It's truly genius — check out the video below.
Article continues below advertisement
This video has left the internet dumbfounded.
TikTok was obviously enthralled by this highly important news — a slew of shocked users responded to the video, admitting they had no idea why the spoons looked that way, and had previously assumed they were simply given a broken straw for no reason. One user even said this had just crossed their mind: "I literally got a McFlurry yesterday and was wondering about the spoon."
Article continues below advertisement
The McFlurry discussion has moved beyond TikTok to Twitter, where users were continuing to express pure shock. Twitter user @Charlottelowexx said, "is it just me who thought that the spoon was a straw the first time they had a McFlurry," while @JScandalousQ reflected on what they just learned, saying, "Soooo... the mcflurry spoon from mcdonalds was never a straw? #mychildhoodwasalie." Check out what the Twitterverse is saying below.
Article continues below advertisement
Article continues below advertisement
So real talk: Why are the McDonald's ice cream machines always down?
Apparently, the mystery behind McDonald's ice cream finicky machines has been solved as well. According to My Recipes, the chain's ice cream machines are required to undergo four-hour cleaning sessions to prevent the spread of germs and the cleaning requires partial disassembly. The pieces all need to dry completely before reassembling, and putting it all back together can be a long process.
Conspiracy theorists have claimed that employees decide to clean their machines at peak hours out of laziness, despite the fact they are encouraged to clean them at night, when demand is lower. This, however, is yet to be confirmed.
Article continues below advertisement
There is so much mystery behind the elusive McFlurry, but thankfully, we can now go to sleep soundly knowing the reasons behind the unusually shaped dessert spoons and unreliable machinery. Sweet dreams.