"Of Course You Can't See It" — Dog Owner Explains Why You Shouldn't Buy Red Toys for Pups
This pet owner on TikTok take the time to explain why you should not get dogs red toys to play with. His quick video explains what they're seeing.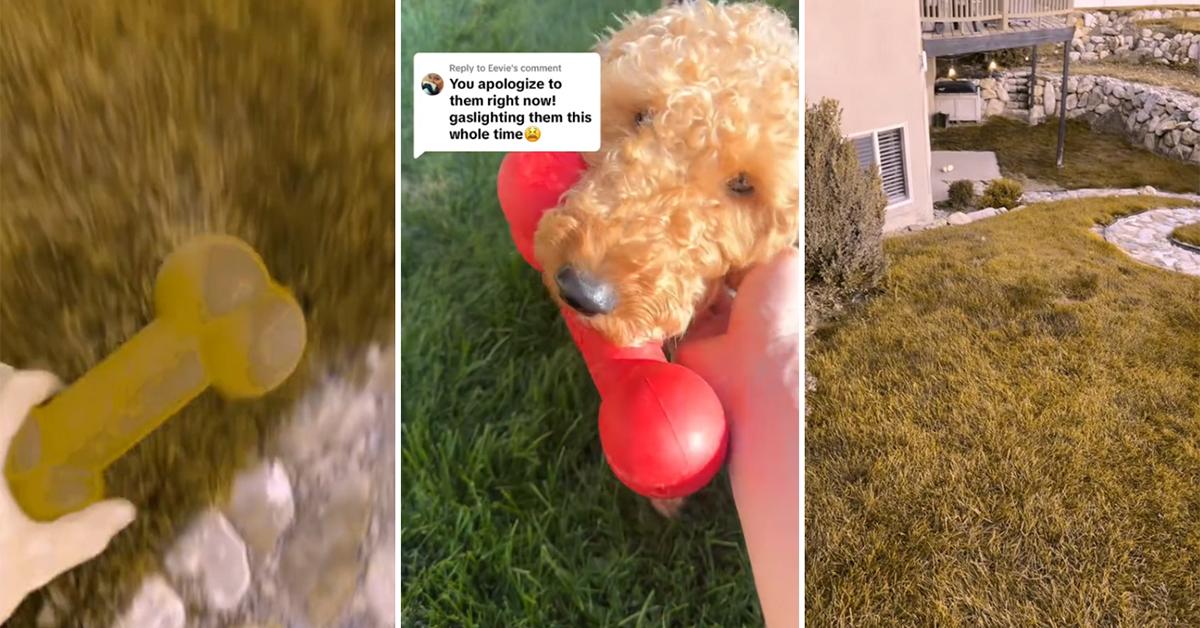 If you're the loving adoptive parent of a dog, then you probably know that dogs are famously colorblind. As such, you probably wouldn't expect them to have a favorite color. By that same measure, you may have never considered what color of dog toy to get your canine companion whenever you find yourself at the pet shop to treat them to something new to play with. However, it may surprise you to know that the color of their dog toy matters more than you think.
Article continues below advertisement
As Ashton Olson on TikTok (@smashtonstudios) explains in his video, you'd be wise to avoid red toys for your dog, as their specific kind of colorblindness would render red dog toys completely ineffective. Let's break down the intriguing reason why you should not get dogs red toys.
Article continues below advertisement
There's an interesting reason as to why you should not get dogs red toys.
In his video posted in early October 2023, Ashton made an interesting observation when it came to playing with his dog, Daxter. His initial TikTok was viewed over 40 million times as of this writing and has likely given some sorely needed cues to dog owners around the world as to what kind of toys they should get for their dogs.
In his TikTok, Ashton uses a special filter that replicates a dog's specific version of colorblindness. Thanks to this filter, Ashton saw that the red-colored squishy toy he'd gotten for Daxter had its color altered in such a way completely blended in with the grass, where dogs love to play.
Article continues below advertisement
Article continues below advertisement
"No freaking wonder you can't find this red squishy," Ashton stated in his initial video upon discovering what Baxter was seeing. "Of course you can't see it!"
Sure enough, Ashton's dog was unable to pick out the red toy from among the grass since all of it looked to be the same color. Even when he saw it being thrown, Daxter immediately lost track of the toy and ultimately couldn't find it.
Article continues below advertisement
Thankfully, this problem has a remarkably easy solution. If dogs can really only perceive yellow and blue properly, just get them yellow or blue toys! To that end, Ashton went to the pet store to find a new blue toy of Daxter to play with.
Article continues below advertisement
The results were almost immediate. In a few subsequent videos, Daxter can be seen playing excitedly with his new blue toy. When it was thrown out for him to fetch, Daxter was able to dart right to the toy since it likely stood out among the same-colored environment. It has since become Daxter's new favorite toy.
Article continues below advertisement
You might ask yourself at this point, why do dog toy manufacturers make red toys in the first place? One TikToker posted an interesting theory in the comments. They suggested, "Most dogs are using their nose to find it after watching it fall."
If it falls too far, however, they may not be able to discern it through sight or smell.
Dogs will probably appreciate the toys you get them no matter what color they are, but now folks are firmly aware that they'll likely get the most out of blue or yellow toys.