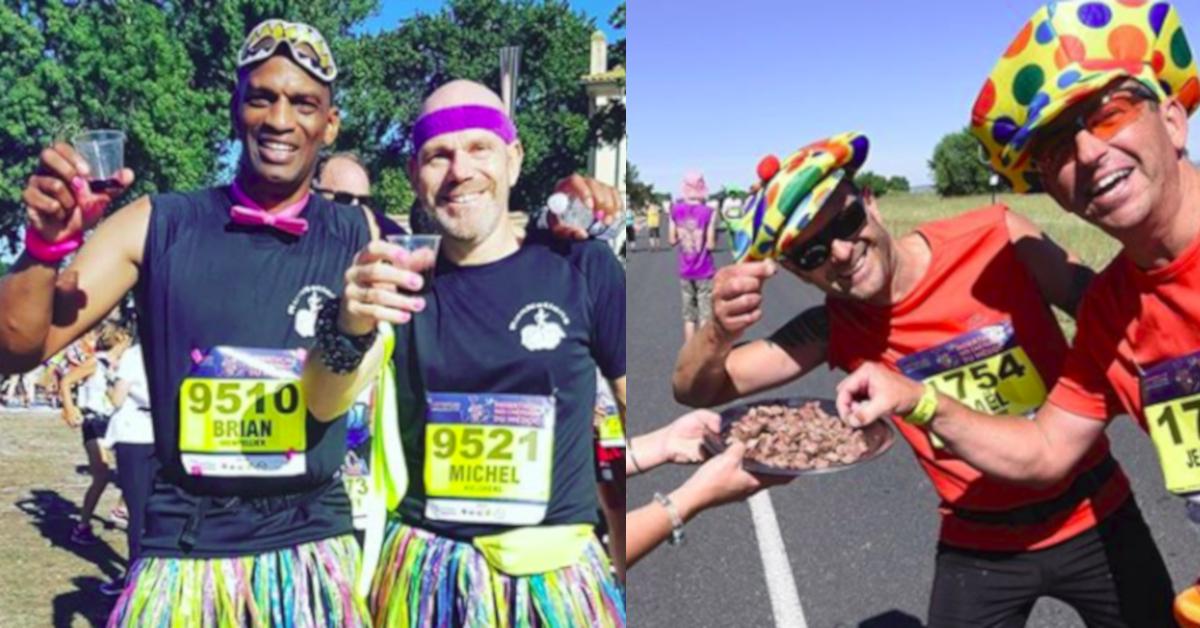 There's a French Marathon Where Runners Stop for Wine and Cheese
If you like the idea of running a marathon but hate the thought of slurping down "energy gels" and sport drinks during the race, then France might have the run just for you.
It's called the Marathon du Medoc and it removes a lot of the ultra-competitive, serious nature of running 26.2 miles, replacing it with fun, festivities, and a kind of weird playfulness that is undeniably French. Which makes sense, because it takes place in France.
Article continues below advertisement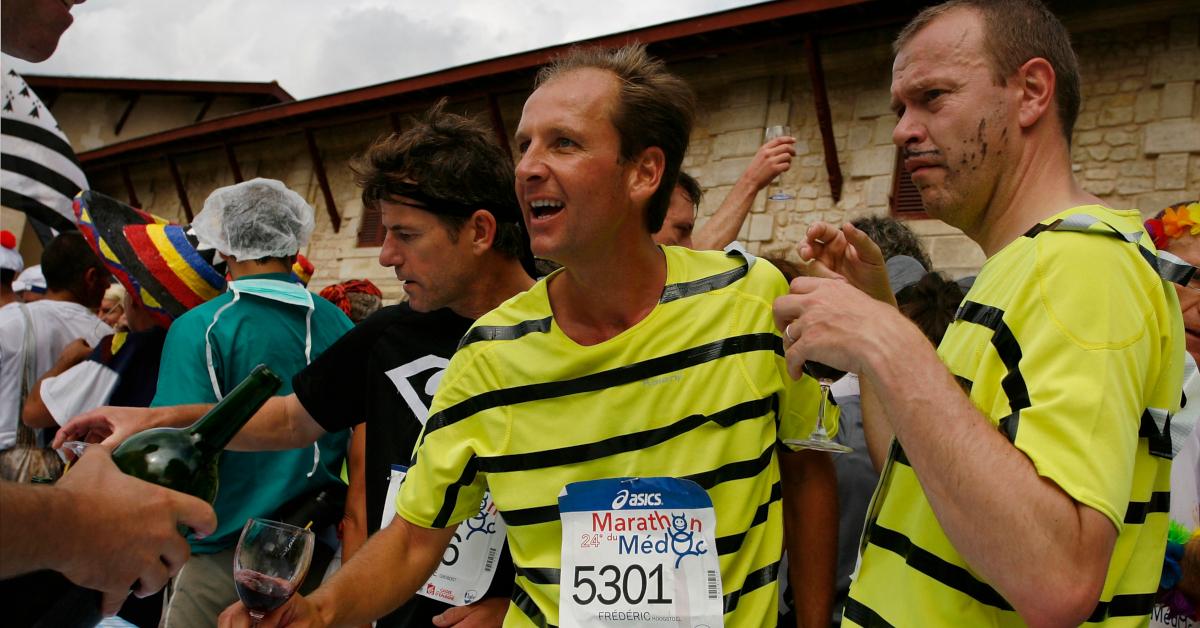 Held in Bordeaux, the marathon takes runners on a fantastical trail through vineyards, sprawling estates, and old-timey castles. It's definitely a much more picturesque route than one would typically find in long-distance running events.
Folks are also highly encouraged to don special garb throughout the race. It's not uncommon to see people rocking strange costumes as they pound the pavement.
Article continues below advertisement
The best part of the whole affair? In addition to traditional water stations, the Marathon du Medoc puts a decidedly "French" spin on the marathon by offering wine and cheese outposts as well.
That's right, you can scarf down some brie and gargle some cabernet to take the edge off of your aching knees and burning hamstrings right in the middle of the race.
Article continues below advertisement
Personally, when I'm all sweaty and gross and hating life, the last thing I want to do is eat anything, especially something as heavy as a wine and cheese pairing. Then, to top it all off, I'm expected to go and run several miles, while being exposed to the elements and I'm dressed up like a Motley fool from The Hunchback of Notre Dame cartoon? No thanks.
But there are different strokes for different folks, I guess, and the race is wildly popular.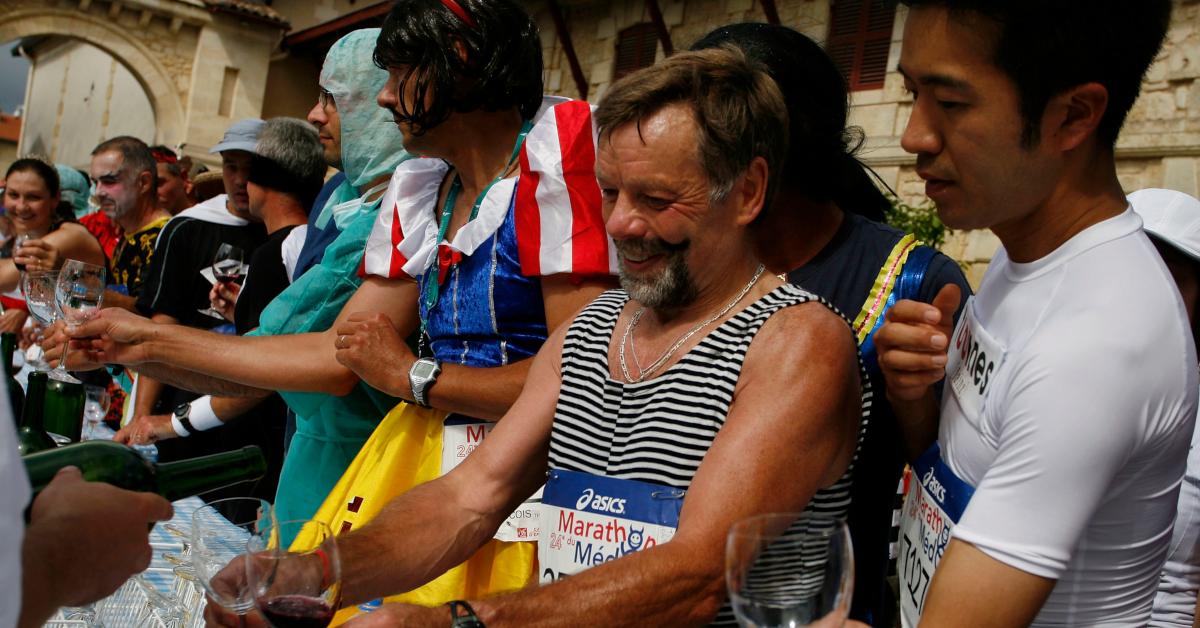 Article continues below advertisement
In addition to water, wine, and cheese, the food and beverage selection gets even weirder. You know what isn't usually offered at marathon rest stops? Oysters. You know which Marathon does offer them to runners? Medoc.
There's a selection of ice creams and grapes that participants can eat while they're trying to catch their breath, too.
Article continues below advertisement
There's a ton of prizes for runners to earn in the race, too. You obviously get a medal for completing it and another for coming in first (duh), and if you happen to have the best costume of the marathon, there's a special distinction waiting for you at the finish line for that one as well.
In order to qualify, however, you'll need to finish the race in the maximum time: 6.5 hours.
Article continues below advertisement
While that might sound like plenty of time to complete the Marathon du Medoc, it's important to remember that this run is more of a social gathering than an actual competitive race at the end of the day. It's not uncommon for people to stop running entirely to start dancing, carousing, or generally get down. I'd imagine there are plenty of people who say halfway through, "Man, forget this" and opt to drink and party instead.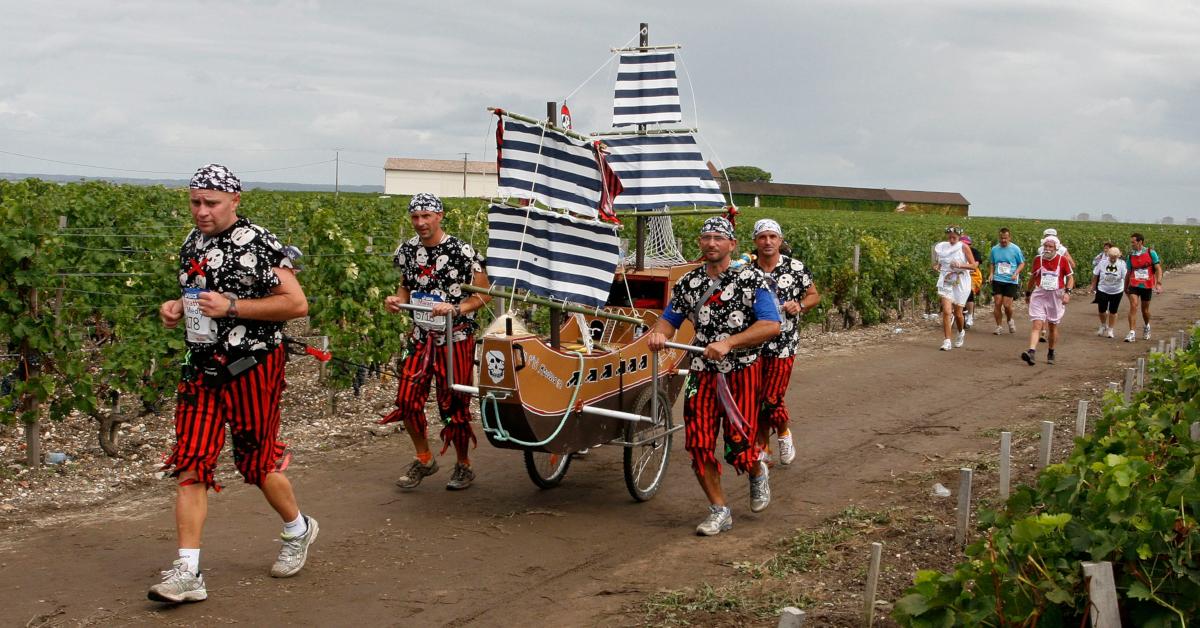 Article continues below advertisement
Let's also not forget the location of the race: it all takes place in the southwest of France, so if the food, drink, ridiculous costumes, or decadent partying don't stop you in your tracks, then the stunning views surely will.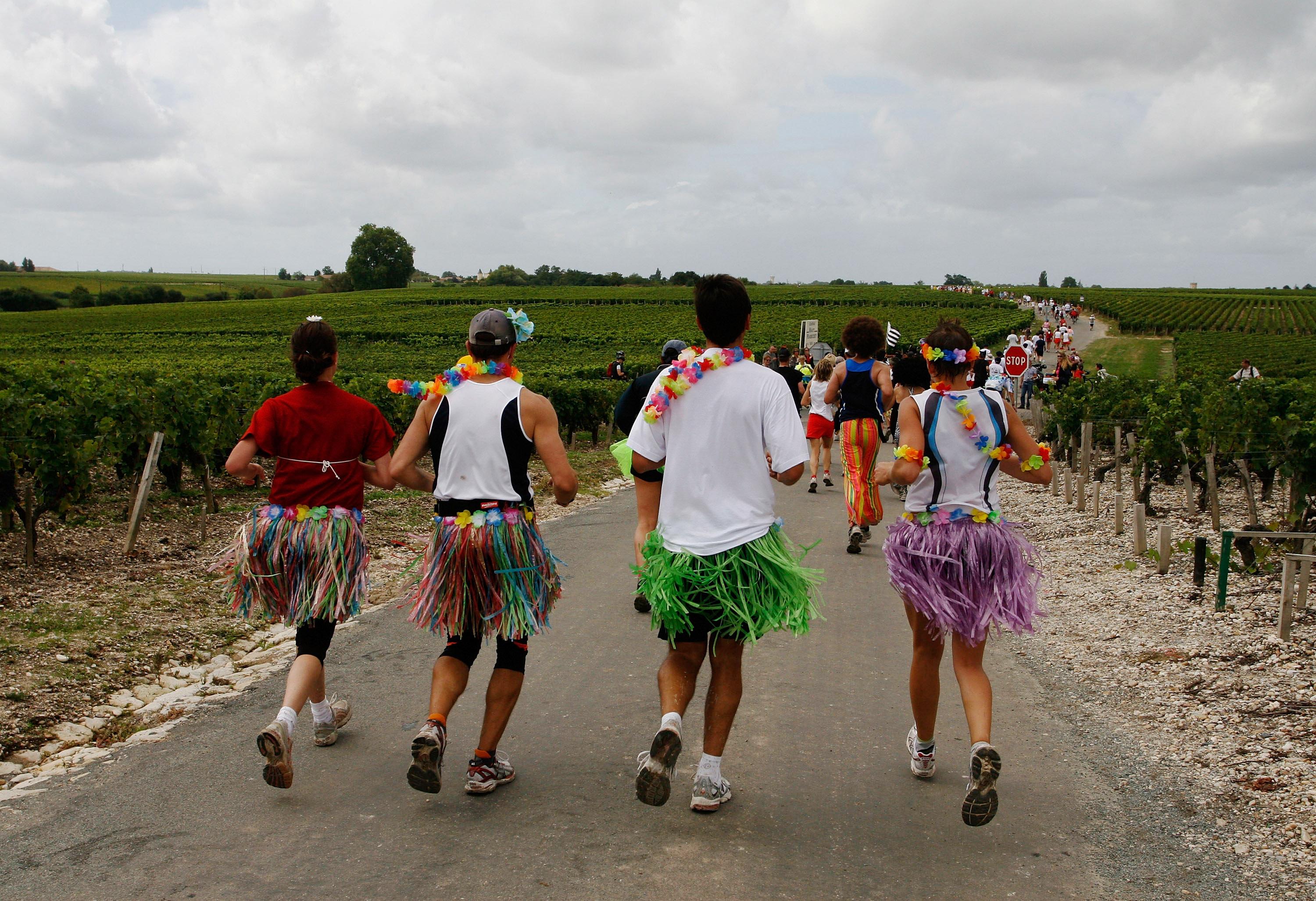 Article continues below advertisement
If running the Marathon du Medoc seems like your thing and you want to run, then you've got some time to plan your trip. It takes place on September 7, 2019, and you can learn more about registering here.
However, as of this writing, it seems like registration is closed and you'll need to be placed on a waiting list. So you might have to wait till 2020 to actually run.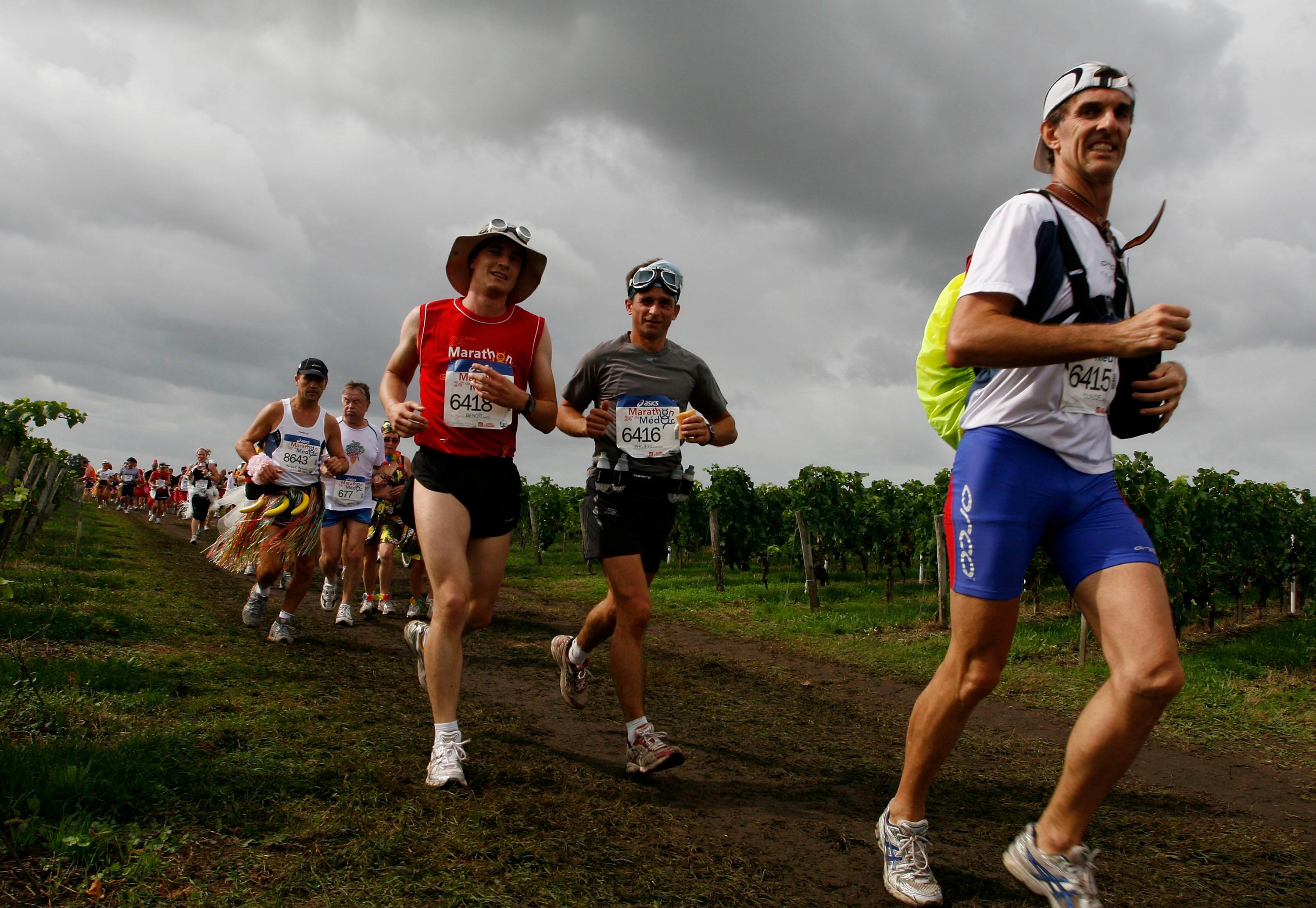 Personally, I'd probably just slap on a fake number and join in on the race. Sure, you won't get an "official" medal, but I'm sure you'll be able to sneak in some booze and cheese while you're there. Plus, looking at all that insanity in person is free.