This Woman Divorced Her Husband to Pursue the Acting Dreams She Put on Hold — Is She Wrong?
A woman decided to divorce her husband after a marriage that lasted nearly two decades so she could become an actor. But, there is more to the story.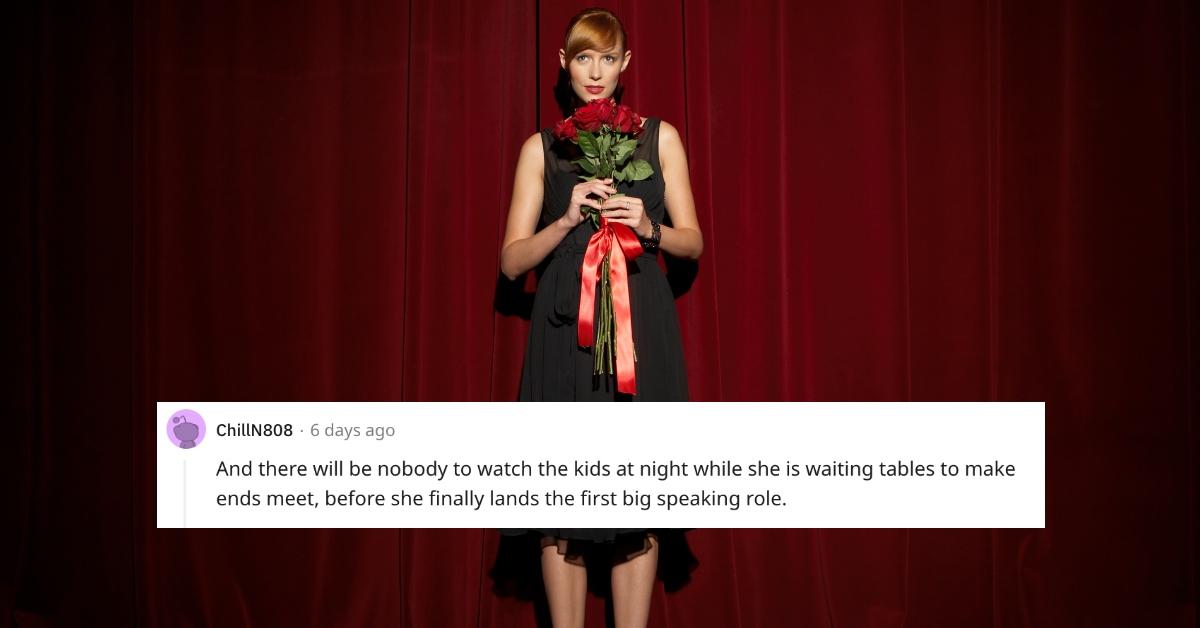 As of the time of this writing, both the WGA and SAG-AFTRA unions are on strike. After negotiations with the Alliance of Motion Picture and Television Producers (AMPTP) stalled, due to the fact that the AMPTP offered shoddy deals and refused to return to the tables, it was time to go. What are they asking for? Well, they want "crazy" things like livable wages.
Article continues below advertisement
The messaging around acting is that it's difficult, and surviving on acting alone is impossible. Of course, that might be because of the aforementioned wage issues. Despite the hardships that come with working in entertainment, Reddit user r/Throwawaymelk wanted to pursue her dreams later in life after she had a family and spent almost 20 years raising them while her husband worked. When he was less than supportive, she divorced him to become an actor and asked Reddit if that was the right move.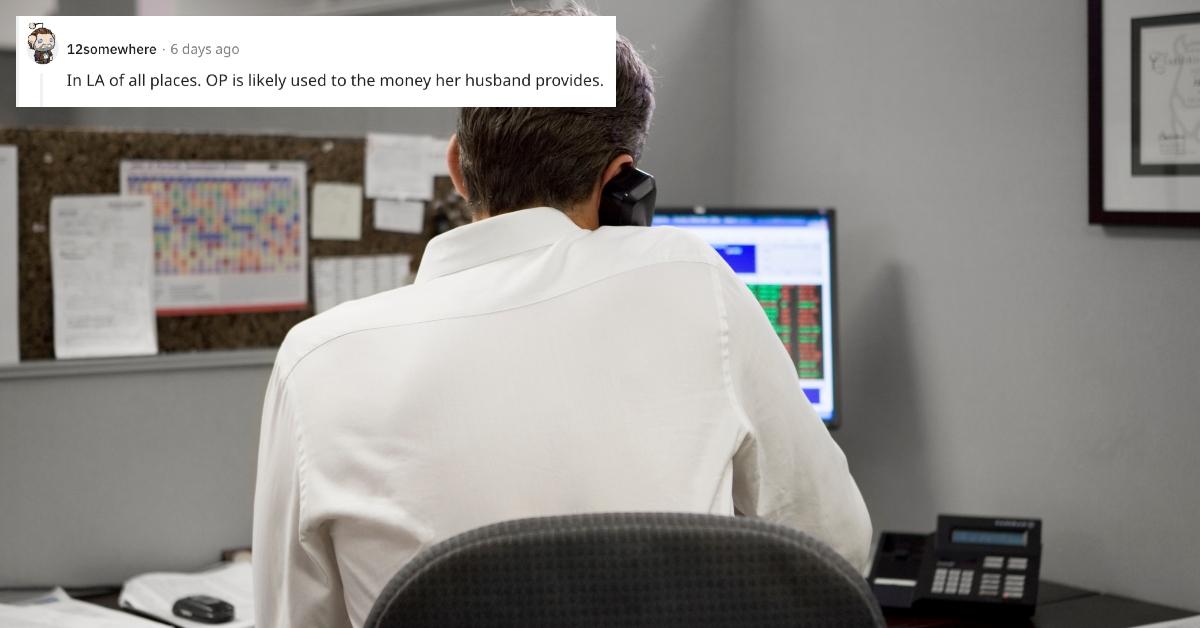 Article continues below advertisement
Was it OK for this adult woman to divorce her husband so she could pursue acting?
The Original Poster (OP), who we are calling Mae, has since deleted her question, but the internet always comes through with screenshots. Essentially, Mae (41F) and her husband "Joe" (43M) started dating when she was 22 and fresh out of college. Mae had just finished her theater program after spending four years at a performing arts high school. She clearly loved acting.
"By age 25, I was a married mom," she wrote. "We have a 16 year-old daughter, 13 year-old son, and 11 year-old daughter." In Mae's own words, and again we are only getting her side, she felt pressured into this life. "I had to conform to his frame of mind, and prop up his vision for how life should be." What was Joe's vision? It's complicated.
Article continues below advertisement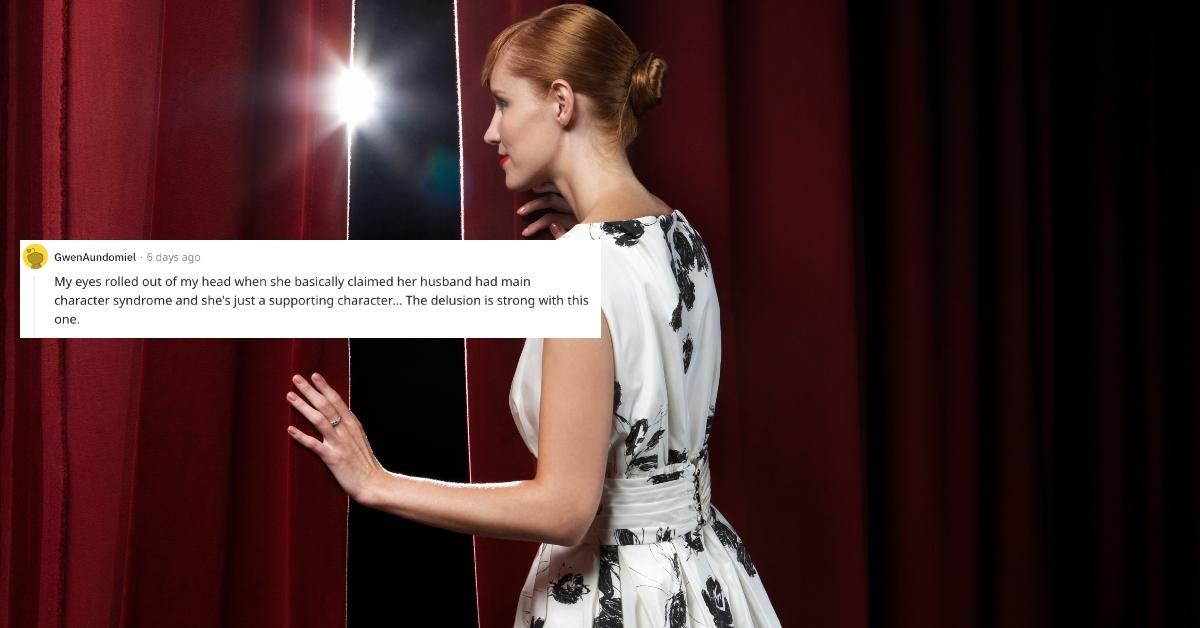 When Joe needed to work late, Mae was there to care for the children. This meant she couldn't book any last-minute jobs because his "clients would flip if he walked out during meetings to take our kids to the doctor's, or pick them up from school." In defense of a client, no one should just leave a meeting, but Joe should be able to help raise his own children in the same way Mae has been.
Article continues below advertisement
According to Mae, she did try to act during her twenties and thirties when she would be more likely to succeed. Sadly, even when she booked a role or a commercial, she could never fly to places like New York or Atlanta for a few weeks. Again, with planning this probably possible but it seems like all of these jobs were booked at the 99th hour.
Joe claims a nanny was out of the question for financial reasons, but is a full-time nanny needed for such things? Surely Joe could drop the kids off at school and have someone pick them up. If it's during the summer, a quick Google of summer youth programs in San Francisco, where they lived, yields a ton of results. Also, Mae doesn't mention friends or family but surely someone could have stepped in.
Article continues below advertisement
It's also not uncommon for the oldest sibling to watch the younger siblings, and their oldest daughter was 16. It's not cool to turn your kids into a babysitter all the time, but on the rare occasions Mae had to travel, everyone could have pitched in.
Article continues below advertisement
Admittedly, Mae starts to look kind of bad at this point as she randomly mentions the fact that people think she looks like Margot Robbie and also her daughter now wants to act. Evidently Mae manages her social media which could land her in Kris Jenner/momager territory. Apparently Mae's love of acting was reignited after driving her daughter auditions. There are good ways and bad ways to look at that. Either she's inspired by her daughter, or is threatened by and jealous of her.
Joe's contribution to the household seems to be minimal. Sometimes he'll cook a meal or two, but that's it. He's not OK with their daughter acting, which is giving Jonah Hill controlling vibes. After a "failed counseling session," Mae put a two bedroom apartment in Los Angeles on her credit card, and filed for divorce. While her daughter insisted on joining her, the two younger kids stayed behind at Joe's behest.
Article continues below advertisement
She's now worried about the younger being distant when they visit, but feels free from what was binding her in San Francisco. Folks have encouraged her to patch things up, but Mae wants to pursue her dreams and help her daughter do the same.
According to the comments, Mae is the jerk, but these comments are suspect.
The comments could not be laced with more misogyny if misogyny was an actual condiment you could pour onto your own keyboard. Several people asked Mae who would take care of the kids now that she was unable to do so 100 percent of the time, and to this I say, their own father. Once again, the world treats being a stay-at-home-mom like it's not a difficult job. Capitalism really has people thinking if you don't earn money, you aren't working.
Article continues below advertisement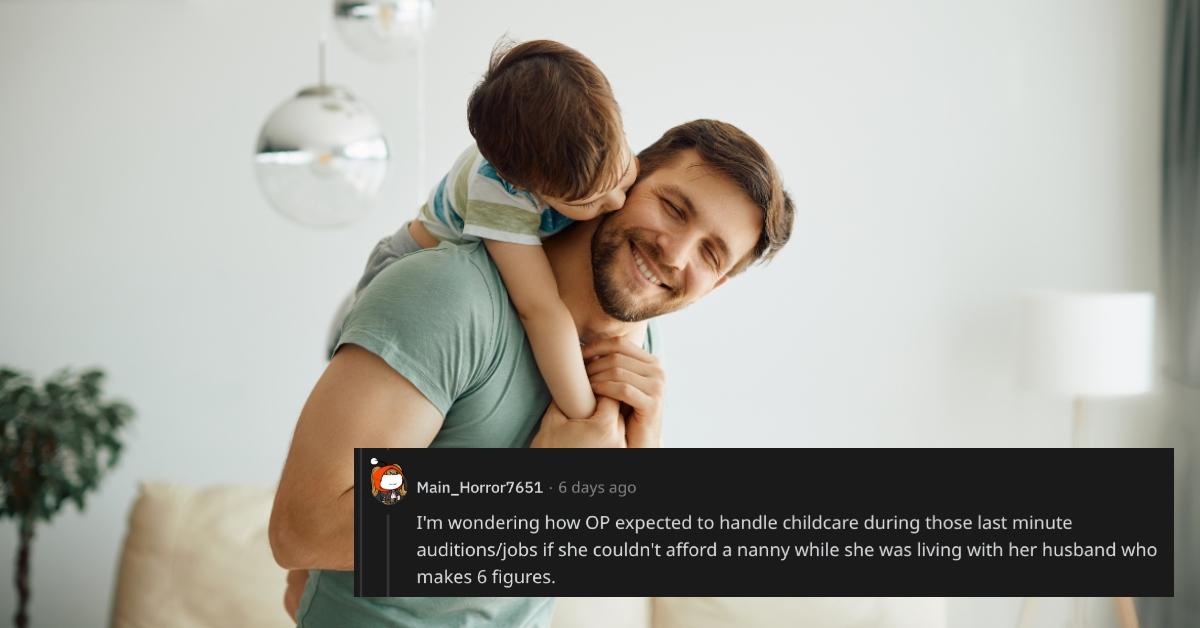 Here's the thing: Joe is able to earn money and have a family because Mae is around to raise his children and keep his home in order. The fact that the household chores aren't divided evenly after he gets home is telling. It feels like Joe has earned a right to relax after his work day while Mae has to continue on with her job of running the house because that's not really "work." Right? Well, it is.
Article continues below advertisement
People scoff at the Margot Robbie comment, and it was a strange thing to mention, but perhaps she felt the need to because acting is heavily-dependent upon one's looks and she already dropped her resume in the post. It's funny how people view the length of time between Mae's degree and her desire to act as a problem, but I bet if Joe wanted to pick up a brand new hobby, no one would blink twice at the amount of time needed to learn a new skill.
As far as breaking up her family goes, people get divorced all the time. The rate at which it happens doesn't make it any less painful, but it's not the pearl-clutching move that it once was. Mae also tried to keep her family together, but Joe wouldn't let her. She did not abandon anyone. The headline should read: Woman Pursues Dreams and Becomes Role Model for Her kids.