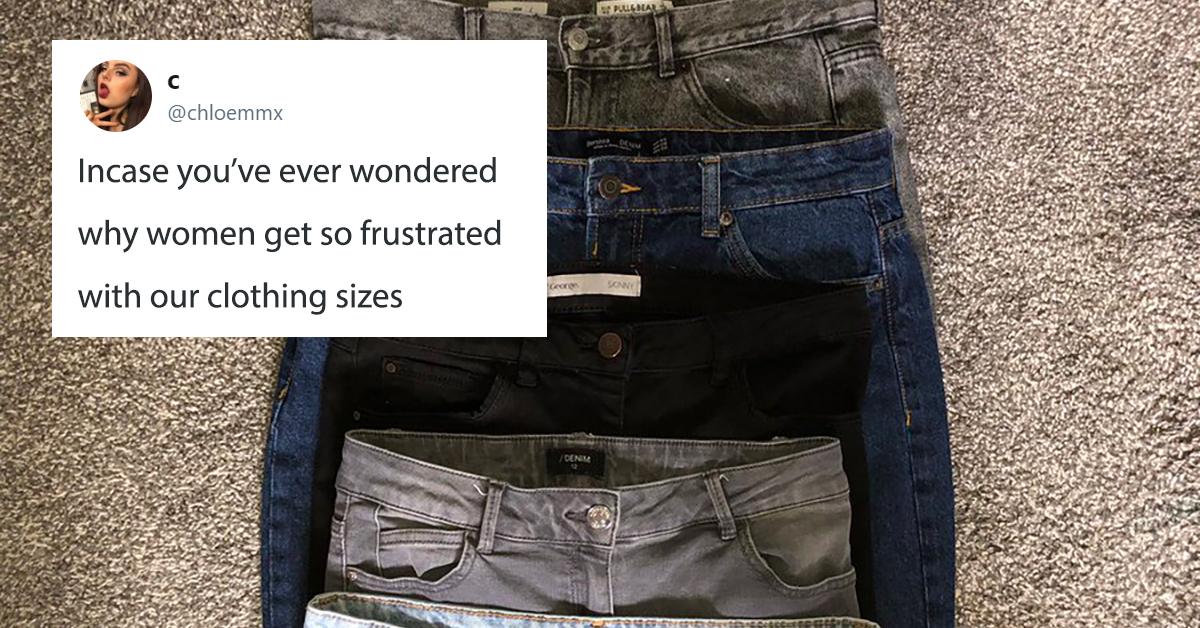 Woman's Post on Size 12 Jeans Highlights a Frustrating Problem With Women's Clothing
Buying clothes based on their size can sometimes seem like a roll of the dice. A size 12 from one brand can be a size 10 in another brand. And even within the same brand, individual pairs of clothes can vary greatly in size. Basically, you just need to hope for the best.
Article continues below advertisement
Twitter user @chloemmx from Scotland, recently decided to take to Twitter to illustrate the problem with an example. She shared a photo of her jeans lined up, writing alongside it: "In case you've ever wondered why women get so frustrated with our clothing sizes - every pair of jeans pictured, is a size 12."
Article continues below advertisement
"And you know what's even funnier," Chloe goes on to ask. "The very bottom pair fit me perfectly, the 2nd pair from the top, are too small, how does that even make sense when the top pair is bigger?"
"No wonder women feel so insecure," Chloe replied to another post. "I've had size 10 dresses, fit fine, then I'll try on size 14 jeans that won't even go past my hips, it's not right"
Chloe isn't the first to spot this problem. Back in 2017, Instagram user Katy posted a photo of herself trying on two pairs of denim leggings at Express, which were allegedly the same size and cut.
Article continues below advertisement
"If you ever find yourself in a fitting room ready to bust into tears when something doesn't fit (we've all been there, myself included... millions of times... ask my mom) REMEMBER THIS PIC! There are times I'm a small, times I cant even muscle into a large, times a 10 falls off my hips & times, like this, it doesn't even get past my thighs."
"Sizing is silly...no one will know if you had to bump up or down because of the cut, style, or likely completely wrong sizing on the store's part. You mean so much more than fitting into the smallest size you can. Our value should never come from a number...on the scale or in our clothes."
Twitter users also seemed to relate with Chloe's issue.
"I remember years ago a friend and I bought the same trousers from H&M in the same size," one person wrote. "Mine were too big and hers were too small so we swapped! Ridiculous. I just want to go shopping and not take the same item to try on in 3 different sizes!"
Another user joked: "No wonder we all just live in leggings and yoga pants now."
Article continues below advertisement
While some Twitter users shared other crazy examples.
Clothing brands, take note. It's about time we standardize the sizes to make finding the right fit easier. If shoe companies can get on board -- we think anyone can.