Woman Rants About How "Insanely Difficult" It Is to Take Your Spouse's Name After Marriage
A newly married woman struggles to get her last name legally changed. See why many people in her situation gave up on the chaotic process.
No matter how glitzy or modern the wedding, one thing about marriage remains the same. When the officiant says, "I now pronounce you," the couple in front of everyone officially goes from two individual souls to one new lineage.
With any lineage comes a last name that will carry on for a new generation. Historically, the bride would take her groom's last name, and they would continue on his legacy.
Article continues below advertisement
Some LGBTQ+ couples have adopted this method, though many have also found combining their names to become one new name.
Whichever way one changes their name, if they want to do so legally, it's a bear of a process. One woman has discovered how wretched it can be as she shared on TikTok her journey of taking her new husband's moniker.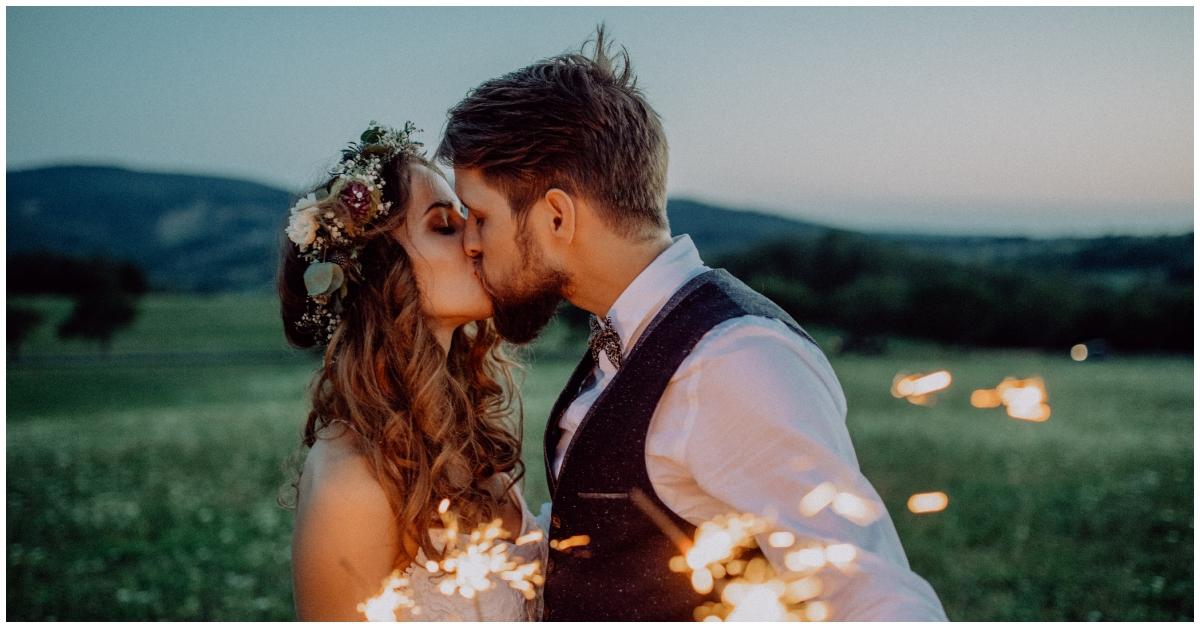 Article continues below advertisement
A woman recently started legally changing her last name after getting married.
While surely no one will tell someone during their pre-wedding nervousness about the mess ahead for them in the social security office, more people should know how chaotic taking your spouse's last name can be before they say "I do." Thankfully, one TikTok user, Delanie Kristek (@chiknnuggiesinmytummy), is helping some future spouses learn from her experience.
In September 2023, Delanie, who was recently married, said that "men in heterosexual marriages will never understand the mental load and time invested in changing your last name." She then said she had changed her last name to her husband's on social media, but when she tried to do it the legal way, things became murky.
Article continues below advertisement
The woman discusses the "mental load" she's taken on since trying to take her husband's name.
Although one might naively think someone's married last name rolls over for them after their officiant signs their marriage certificate, or that it's as easy as just signing up for Newly Named (a go-to marriage guide for changing your name, which is a wedding gift I regret not asking for), Delanie shared that the process requires far more dedication. She said she had only changed her social security card and was ready to change her driver's license for a trip she had coming up.
Article continues below advertisement
Delanie said changing her driver's license had even more steps she wasn't mentally prepared to take. For starters, applying to change her name on the driver's license meant applying to do it on the government's website, which is always a nightmare, or "trash" as Delanie says. However, she pushed forward with the application until she noticed she couldn't schedule an appointment until January 2024.
Article continues below advertisement
No big deal, right? Just a few months? Well, as previously mentioned, Delanie was planning a trip. And, for said trip, she booked the ticket under her married name.
Luckily, Delanie found a DPS (Department of Public Safety) that could assist her ahead of time. The DPS was 40 minutes away, but it was better than not going on the trip. Unfortunately, the situation reminded Delanie of all the other last-name updates she still needed to make, including "medical, car," and "rental insurance," and ALL of your doctors' offices, just to name a few.
Article continues below advertisement
"There are so many places where my name appears, and now I'm gonna have to go change it," Delanie complained, later adding, "Hetero men will never know!"
Article continues below advertisement
Due to the hassle, many TikTok users couldn't imagine legally changing their names.
As someone who has only been married one month to the day of the time of this writing, I will say that hearing Delanie's grief about changing her name legally makes me feel even more ready to push off doing so myself.
However, like Delanie, who said she's well aware she could avoid the chaos, I want to legally use my wife's last name and will go through the process in my own time. In the meantime, it's great to know I'm not alone in sticking to social media matrimony.
Article continues below advertisement
If you don't know, changing your name on TikTok, Instagram, or Facebook is less of a hassle than the social security office. Though, I would be remiss if I didn't mention Facebook is more complicated than it should be (but that's a rant for another time).
Article continues below advertisement
Several TikTok users agreed that changing your last name socially first is the method to go and then schedule a time to deal with the rest. Many admittedly said they've been married for years and still have no plans of making the legal switch.
"I'd never change my last name," one commenter wrote. "It's kind of an antiquated expectation, IMO, but still a personal choice."
Article continues below advertisement
"I like my last name and am lazy," another admitted. "I can't even remember to change my address when I move. I will keep my name; best of luck to y'all, though, lol."
"In Hispanic culture, we don't change our last names," a third user mentioned. "Instead, our kids have parents' last names combined. I love it."